If you enjoy a shower to wake you up in the morning or to relax you later in the evening then you need a shower enclosure that's spacious, durable and modern. Thankfully the Diamond frameless sliding shower doors tick all these boxes and more with their durable 8mm thick safety glass and polished chrome accessories.
They're a great match for most bathrooms with a wide variety of sizes available for installation in an alcove. We even supply pack which include a high-quality, designer shower tray too so you can take the worry out of finding a compatible one.
The door slides behind another panel of glass allowing you plenty of entry space into the enclosure. They are fitted with high-quality rollers mounted at the top and then a clever guide system at the bottom to ensure the doors open smoothly and easily. A quick release mechanism on the bottom guide allows for easy cleaning of the panels.    
Frameless Design
Frameless shower enclosures have a high-end look and a minimalistic design style, requiring only wall channels to fix to your bathroom walls.
They make your bathroom look and feel bigger while taking up the same amount of space as a framed enclosure.

High-Quality CE Marked Product
These shower enclosures are built to an extremely high standard. 
They're CE tested to comply with BS EN 14428 meaning they've been put through rigorous testing for use on the UK market.

8mm Thick Thermally Toughened Safety Glass
The 8mm glass used is of the highest standard. It conforms to EN12150-1 meaning that it's been rigorously tested and thermally toughened for superior safety and strength.

Easy Clean Glass Panels
A special coating has been applied to the glass panels to ensure cleaning is fast and easy. 
A simple wipe down will bring back crystal clear glass time and time again.

Extra Tall 1950mm Glass Panels
Standard shower enclosure panels tend to be 1750 - 1800mm high, but these are a full 1950mm high giving you extra splash protection and a fantastic high-end look
Top Door Rollers & Bottom Guide System
These 8mm shower doors need to operate easily and smoothly which is why they're fitted with high-quality rollers mounted at the top and then a clever guide system at the bottom.
They use stainless steel & aerospace grade plastic parts to create rollers that are silky smooth and they even have a quick release mechanism on the bottom guide, for easy cleaning of the panels.
The wheels have been tested by 20,000 openings which equates to nearly 55 years of daily showers!

Adjustable Profiles For Uneven Walls
It's quite common for homes to have walls which aren't quite true or straight which is why these stunning wall channels come with an added 15mm of adjustability to ensure everything is fitted neatly.

Hidden Wall Fixings
Being our flagship model these beautiful shower enclosures benefit from concealed fixings for a seriously stylish and streamline look. You won't even have to worry about those pesky screw cap covers being on display!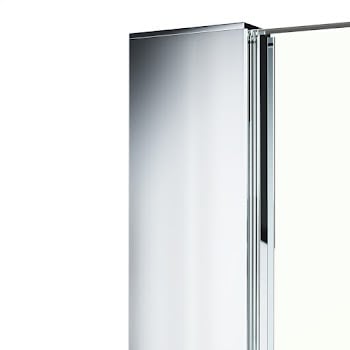 Quick & Easy Installation
These shower panels have been designed so fitting is quick and easy. 
A professional installer needs as little as 30 minutes from unpacking the box to finished installation

Polished Aluminium Wall Channels
The wall channels are made from aluminium so they're light for easier installation. 
They're also finished in a stunning polished chrome to complement the rest of your bathroom.

Designer Stainless Steel Handles
Stainless steel is a great material to use in the bathroom due to its high-end look and rustproof properties which is exactly why it's used for these handles. 
They're sleek, stylish and blend perfectly with the rest of your bathroom.

The Strongest, Toughest Shower Tray You Can Buy
The patented construction of the Podium shower tray uses the latest high tech materials taken from Formula One motor racing and the aerospace industry
Creates the strongest and most durable shower tray available. 
Pictured here with a 44 tonne lorry driving over it, the tray remains totally undamaged.

Advanced Anti-Slip Technology
Around 235,000 people are admitted to A&E every year with slip injuries sustained in the shower.
Podium Shower Trays are tested using the UK Gold Standard, HSE approved, BS 7976:2 Pendulum Slip Test.
A score of 35 is required to achieve the top anti-slip rating.
The Podium Trays achieved a score of 71, more than double the required standard.
You are 5,000 times less likely to slip on this surface than on a standard shower tray

Includes Mineral Torsion Beams For Extra Rigidity
The fusion of space-age high-tech materials and natural minerals in the form of torsion beams give the Podium Tray extra rigidity.

65% Lighter Than Equivalent Size Stone Resin Tray
The days of needing two burly men to haul a shower tray up the stairs are gone!. 
This Podium shower tray is 65% lighter than a stone resin tray of the same size and can be easily lifted and installed by one person

Cut To Fit - Goes Where Stone Resin Trays Can't
Podium shower trays can be easily cut to a shape which means a Podium tray can be installed in locations that simply couldn't be done before!

Podium Shower Trays Are WRAS Approved
All Podium Shower Trays conform to British and Unified and European Standards and are made in England.
They are manufactured with 100% WRAS Approved Phthalate free Materials

25 Year Guarantee
So confident are the manufacturers of the quality of Podium shower trays that they back them with an unprecedented 25-year manufacturer's guarantee.
This means you can buy with confidence, safe in the knowledge that your new shower tray will be good for at least the next quarter of a century!

Comes Complete With High Flow Waste
The included Hi-Flow Waste enables water to flow from the shower tray at a rate of 28 litres per minute.
Manufactured to BSEN1329/1:2000 and BSEN1451/1:2000
Vented dome to allow higher flow
Top access for easy maintenance
Quick release inner unit for ease of cleaning
Shower Door Dimensions:
.

Side Panel Dimensions:

Shower Tray Dimensions: