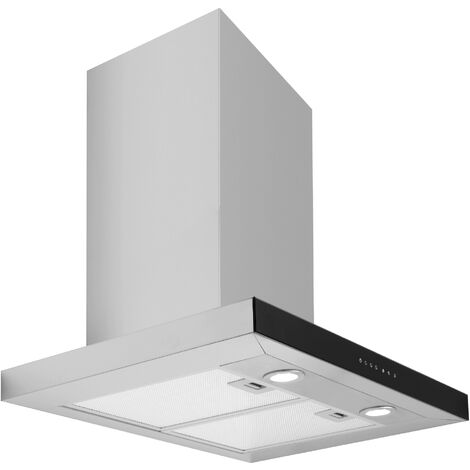 ART28104 CHANDELIER ICON ISLAND HOOD
Description
Design and efficiency
Bring style and sophistication to your kitchen with this amazing chandelier extractor!
The chandelier island cooker hood has a stainless steel finish and an adjustable wire fixation to set the perfect height.
The dishwasher safe aluminium filters capture all the grease and cooking particles when the hood is in use. These are simple and easy to remove which should be cleaned every couple of weeks depending on usage to obtain the best results.
Please Note
This model is designed to be recirculated only. Carbon filters are included within the model so you do not need to purchase these separately. We recommend that these are washed every 3 months and changed every 2 years depending on usage.
We do not offer an installation service. If you are looking for an installer, please check out www.myappliances.net/installation
This appliance does not come with a plug. A cable is attached and we recommend fitting this to a fused spur unit.
A minimum of 750mm clearance is required above a gas hob and 650mm above an electric hob.
Please check the dimensions before you purchase. Items that do not meet your measurements must be returned at your own cost.
Please do not organise fitters or book days off work for the installation of appliances until you have received your products. We cannot be held liable for any costs incurred relating to this.
Product Specification
Carbon Filter : Yes
Carbon Filter Code : Included
Chimney Extension : 600-1600mm
Colour : Stainless Steel
Controls : Push Button Control
Electrical Supply : 3 amp
Finish : Stainless Steel
Grease Filter : Yes
Installation Warning : Should be installed by suitablly qualified persons
Lighting : LED
Product Dimensions : 351.5mm x 600-1600mm
Warranty : 5 Years Parts 2 Years Labour Guarantee
Width : 350mm
Carbon Filter : Yes
Carbon Filter Code : Included
Chimney Extension : 600-1600mm
Colour : Black
Controls : Push Button Control
Finish : Black
Grease Filter : Yes
Installation Warning : Should be installed by suitablly qualified persons
Lighting : LED
Product Dimensions : 351.5mm x 600-1600mm
Warranty : 5 Years Parts 2 Years Labour Guarantee
Width : 350mm
Carbon Filter : Yes
Carbon Filter Code : Included
Chimney Extension : 600-1600mm
Colour : Black
Controls : Push Button Control
Finish : Black
Grease Filter : Yes
Lighting : LED
Warranty : 5 Years Parts 2 Years Labour Guarantee
Width : 350mm
Carbon Filter : Yes
Carbon Filter Code : Included
Chimney Extension : 600-1600mm
Colour : Copper
Controls : Push Button Control
Finish : Copper
Grease Filter : Yes
Lighting : LED
Warranty : 5 Years Parts 2 Years Labour Guarantee
Width : 350mm
Carbon Filter : Yes
Carbon Filter Code : Included
Chimney Extension : 600-1600mm
Colour : Copper
Controls : Push Button Control
Finish : Copper
Grease Filter : Yes
Installation Warning : Should be installed by suitablly qualified persons
Lighting : LED
Product Dimensions : 351.5mm x 600-1600mm
Warranty : 5 Years Parts 2 Years Labour Guarantee
Width : 350mm
Carbon Filter : Yes
Carbon Filter Code : Included
Chimney Extension : 600-1600mm
Colour : Copper
Controls : Push Button Control
Finish : Copper
Grease Filter : Yes
Installation Warning : Should be installed by suitablly qualified persons
Lighting : LED
Product Dimensions : 351.5mm x 600-1600mm
Warranty : 5 Years Parts 2 Years Labour Guarantee
Width : 350mm
Carbon Filter : Yes
Carbon Filter Code : Included
Chimney Extension : 600-1600mm
Colour : Stainless Steel
Controls : Push Button Control
Finish : Stainless Steel
Grease Filter : Yes
Lighting : LED
Warranty : 5 Years Parts 2 Years Labour Guarantee
Width : 350mm
Carbon Filter : Yes
Carbon Filter Code : Included
Chimney Extension : 600-1600mm
Colour : Stainless Steel
Controls : Push Button Control
Electrical Supply : 3 amp
Finish : Stainless Steel
Grease Filter : Yes
Installation Warning : Should be installed by suitablly qualified persons
Lighting : LED
Product Dimensions : 351.5mm x 600-1600mm
Warranty : 5 Years Parts 2 Years Labour Guarantee
Width : 350mm
Carbon Filter : Yes
Carbon Filter Code : Included
Chimney Extension : 600-1600mm
Colour : Black
Controls : Push Button Control
Finish : Black
Grease Filter : Yes
Installation Warning : Should be installed by suitablly qualified persons
Lighting : LED
Product Dimensions : 351.5mm x 600-1600mm
Warranty : 5 Years Parts 2 Years Labour Guarantee
Width : 350mm
Brand

INNOCENTI

Warranty

2 years

ManoMano Reference

ME15729269

SKU

ISOLA ICON