What's Included:
Ceramica Arles Space Saving Close Coupled Toilet & Soft Close Seat
Ceramica Arles Full Pedestal 550mm 1 Tap Hole Bathroom Sink
5mm Shower Screen
Ceramica L Shaped Right Hand Shower Bath - 1600mm
Ceramica White Gloss L Shaped Shower Bath Front Panel - 1600mm.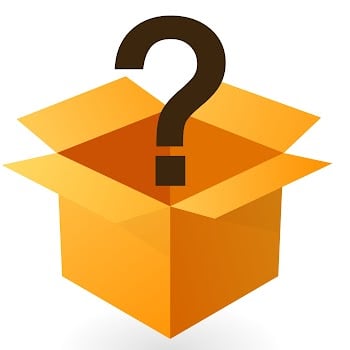 Space Saving Toilet Seat Design
Most of us of struggling for space in our homes and the bathroom is certainly no exception being one of the smallest rooms. This common issue is exactly why you need one of our space saving toilets. The projection from the wall is shorter than standard giving the whole room a bit more space. A space saving toilet is the ideal choice for any bathroom whether that be an ensuite, a cloakroom suite or the family bathroom. They pack all the punch of a full-size toilet without the premium footprint!  

Soft Close Seat
What is it about dropping the toilet seat the scares the hell out of us?! Drop it in the middle of the night, scares us. Drop it in the middle of the day, scares us. There's just something terrifying about the bang it makes! But you don't need to live with this kind of torment, not with a soft close toilet seat. They benefit from a clever mechanism that stops the seat from dropping quickly, making sure your bathroom stays forever a stress-free environment.
Dual Flush Cistern
Getting a good flush out of your toilet is important but that doesn't mean you need to waste water while you're doing it. It's not good for the environment and it's not good for your bank account! With a dual flush cistern you get two different levels of flush. A large one for solid waste and a smaller one for liquid waste.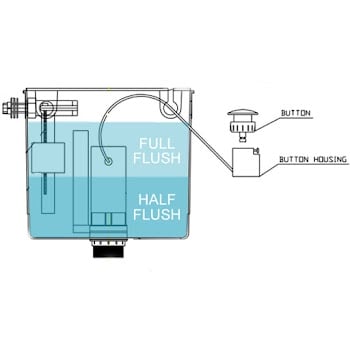 Single Tap Hole Design
Gone are the days of needing to fit separate hot and cold taps to your basin. Gone are the days of either scolding hot or freezing cold water. Gone are the days where you need to worry about your bathroom taps any more, thanks to the single, pre-punched tap hole in this basin. A single tap hole basin allows you to fit a basin mixer to suit your style and needs, providing you with total control overflow rate and temperature. All at the flick of a lever!

*Tap Not Included*

Full Pedestal
If you haven't thought about using a pedestal in your bathroom then maybe you're unaware of they're benefits. A full pedestal provides added support to the underside of the basin to strengthen the entire installation up, plus, they're a great solution to hiding any unsightly pipework that would normally be on show. Really including one in your bathroom is a no brainer.  

Easy Clean Ceramic
You really can't beat the use of the ceramic in the bathroom. It's resistant to chemicals so keeping everything clean and more importantly hygienic is easy. The smooth surface reduces the amount of grime build-up and allows for an easy wipe clean after use. It's also a breeze to keep onto of any limescale deposits should you live in a hardwater area.  

L-Shaped Bath For A Modern Look
When it comes to modern bathrooms you really don't get much better than an L shaped bath. They're contemporary, stylish and practical, saving you valuable space by combining both a shower and bath tub in one tidy product.

 Large Capacity For Ample Showering And Bathing
Save water by showering or sit back and relax in this brilliant offering. The huge 235 litre capacity allows space for a person (or two!) to soak for hours, with the L allowing you to spread out and calm those aching muscles.

 Multiple Tap Mounting Locations
Our L shaped shower baths are all about flexibility and the option to mount the taps in a number of positions proves this point nicely. The tap holes are not pre-drilled so they can be fitted at the waste end or along the back wall to give you that added freedom.

High Quality Materials
A bath needs to be able to take a fair amount of use, most of us use them daily if not twice daily so a good strong acrylic which has been strengthened with a thick base board and encapsulated with fibreglass is more than welcome.

 Fixed Shower Screen
To stop your floor from getting wet during a shower we supply a fixed shower screen with the bath. Fixed screens tend to last longer as there is less wear the seals, providing your mini shower enclosure with a longer lifespan. The glass is CE marked and made from 5mm thick toughened safety glass and the wall channel has 25mm of adjustment to allow for any untrue walls.

Supplied With A Panel
The L shaped shower baths can be fitted in either a corner or an alcove. It comes with a front or side panel so an alcove is perfect but an end panel will be needed for installation within a corner. These can be purchased separately if required.

 Fine Quality CE Marked
These shower screens are manufactured to a very high standard with the glass being CE tested to ensure compliance with BS EN 14428. This means that strict testing has been carried out to guarantee safety for use here in the UK.

 5mm Thick Glass Bath Screen
This panel is made using a thermally strengthened glass which is not only stronger than standard glass but safer too. It's lighter than 6mm glass which makes it both cheaper to buy and easier to fit.

1400mm High Shower Screens 
When sourcing these shower screens we have taken into consideration the average size of a British bathroom to ensure they're compatible with most heights while still providing ample protection for your floor from water overspray.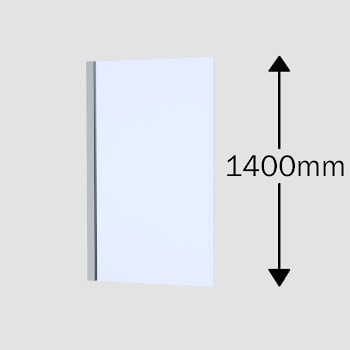 Polished Chrome Wall Profiles
Securely fixing this bath screen to your wall is the gorgeously finished, polished chrome wall profile.  They're made from aluminium for longevity and weight reduction meaning they won't just look great but they'll be easy to fit too.

Toilet Fixings Included
With the pan you'll be supplied with the necessary fixings to be able to securely fix it in place. Because let's face it the last thing you'd want is for your toilet to move, and it won't when installed with this fixing kit.

 10 Year Guarantee As Standard
When buying products for your home you need to know that they're going to stand the test of time, especially in a moisture rich environment like the bathroom. This is why this product comes with a fantastic 10 year guarantee against any manufacturing defects should the worst happen and the product is not up to standard.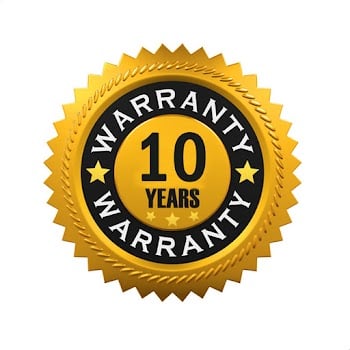 Bath Dimensions: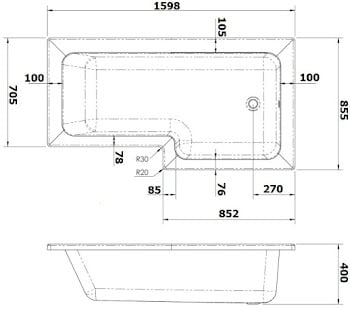 Bath Panel Dimensions:

Bath Screen Dimensions:

Toilet Seat Dimensions:

Toilet Dimensions:

Toilet Dimensions:

 Cistern Dimensions: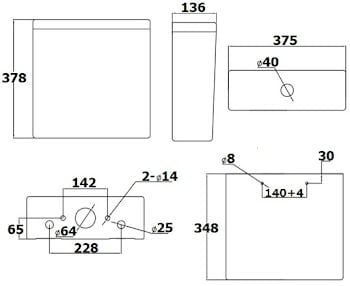 Full Pedestal Dimensions:

Basin Dimensions:

Basin & Pedestal Dimensions: