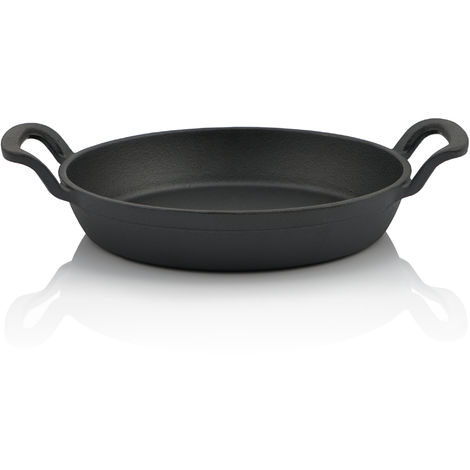 BBQ-Toro serving pan | Ø 20 cm - round | Cast iron grill pan
Description
BBQ-Toro cast iron serving pan | Ø 20 cm - round | black - already seasoned

The cast iron pan from BBQ-Toro is the ideal addition to your barbecue kitchen, camping or barbecue. The cast iron pan is already burnt in and can be used immediately. Bake or gratinate with our cast iron pan. Tip: Arrange your dishes in the frying pan. Your guests will be amazed.

The pan is thermally resistant and therefore ideal for refrigerator, freezer, oven and grill. You can also put the grill pan directly into the fire or on the hot embers.

Highlights:
- Ideally suited for stews, casseroles and desserts, for baking and gratinating
- Fits almost all gas, electric stoves, other cookers or directly in the fire or in the grill
- Suitable for: Fridge, freezer, oven and grill
- As an extension for the grill kitchen, camping or barbecuing
- Material: Cast iron
- Finish: preseasoned
- Diameter: Ø 20 cm
- External dimensions: 26.5 x 20 x 5.5 cm
- Weight: 1.2 kg
- Thermoresistent
- Serve your dishes in style

Information on branding
This BBQ Toro cast iron pan is already seasoned and can be used immediately. If a new seasoning is necessary: To do this, clean the pan with hot water. Then rub this with tasteless, vegetable fat (e.g. coconut fat). Place the pan upside down for one hour at 200 ° C in the oven (or better, outside in a hot kettle grill). Rub off any remaining fat. Done. Repeat this treatment regularly so that the pores fill and the pan is optimally protected from rust.

Info on cleaning/care
Hot water is sufficient for cleaning - scrub off coarse food residues with a brush. Never use soap or harsh detergents. These destroy the fat layer and the pan must then be seasoned again (see above). Do not keep any leftovers in the pan. Remove ashes immediately after use, as this can cause rust when combined with moisture.

Storage information
Grease with good cooking oil and place in kitchen paper. So the pan can easily survive longer storage times.

Order the cast iron pans from BBQ-Toro now and enjoy your grilling and cooking results in a good mood and perfectly equipped!

Brand

BBQ-TORO

Material

Cast iron

ManoMano Reference

ME10398588

SKU

PAN10