Large & Small Flush Options
The best thing about a dual flush cistern is the ability to choose between a small or a large flush. Small for liquid and large for solid waste. This small flush delivers 3 litres of water while the large delivers a huge 6 litres.

 Dual Flush Cistern
Getting a good flush out of your toilet is important but that doesn't mean you need to waste water while you're doing it. It's not good for the environment and it's not good for your bank account! With a dual flush cistern you get two different levels of flush. A large one for solid waste and a smaller one for liquid waste.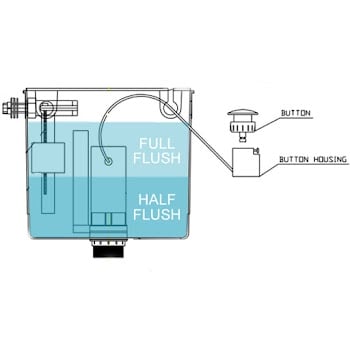 Concealed Cistern Installation
The best way to create a minimalist look in your bathroom is by using a wall hung or back to wall pan. They're ideal for smaller bathrooms with the cistern being fitted within the wall, controlled using a push button installed somewhere next to the toilet. It really is a far superior way of keeping your whole room less cluttered!
 Guarantee
For peace of mind this product is supplied with a 1 year guarantee against any manufacturing faults.