Affordable shower enclosures don't have to look basic or cheap and the Hydrolux pivot door shower enclosures are a perfect example of this. They're designed specifically for installation within the corner of a bathroom and come complete with the door and side panel.
The glass is thermally toughened for superior strength and safety and encased within gorgeous chrome profiles.
Hinges are used to allow the door to swing open and closed. These offer maximum entry space and make the door feel like it's floating.
Easy Access Pivot Door
Some shower enclosures can be a squeeze to get into but with pivot shower doors this isn't a worry. The silky smooth pivoting door opens wide to allow a large opening space, giving you plenty of room to get in and out of your shower comfortably.  

Lightweight, Polished Aluminium Frames
Not only does this enclosure look great with its polished wall profiles and top tracks but its lightweight too due to its precise aluminium engineering. A major benefit of this is that a lightweight product makes for faster and easier installation.  

636mm Entry Width
The shower door projects 630mm into the room when fully open, giving you a fantastic 636mm of space to get in and out of your shower comfortably.  

1850mm Shower Door Height
This shower enclosure has a height of 1850mm giving you both more height to stop water splashing over the top and giving a genuine high-end luxury look.  

4mm Thick Safety Glass
4mm glass is the best of both worlds when it comes to this shower enclosure. It provides a study feel while being light enough to function well on rollers or hinges. The 4mm glass is thermally toughened for added strength and safety.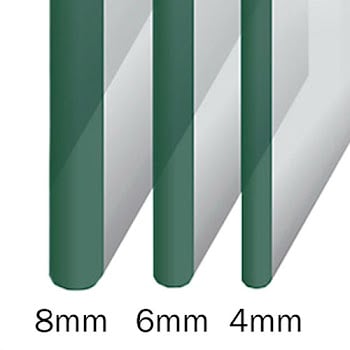 Watertight Magnetic Closing Mechanism
The last thing you want when using a shower is for water to escape the enclosure. These doors feature a watertight magnetic closing mechanism which secures the doors to stop any spray from your shower escaping.
Reversible Wall Fixings
These enclosure doors have reversible wall fixings, allowing you to choose whether you'd like your door to open out to the left or to the right, giving you flexibility on your placement.
Stylish Easy-Grip Door Handle
The details of a shower enclosure can make all the difference which is why this shower door comes with a beautifully rounded minimalist door handle. It's easy to fit, easy to get hold of with wet hands and give your bathroom that 5 star hotel look.  

Quick & Easy Installation
These shower panels have been designed so fitting is quick and easy for your bathroom installer. Meaning you'll be enjoying your new shower enclosure before you know it!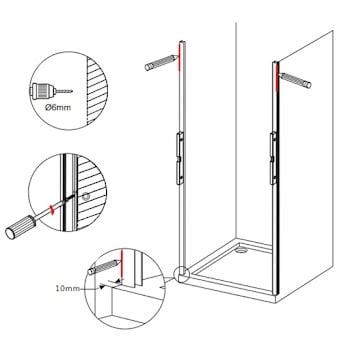 High-Quality CE Marked Product
These shower enclosures are built to an extremely high standard. They're CE tested to comply with BS EN 14428 meaning they've been put through rigorous testing for use on the UK market.  

Comes Complete With High-Flow Waste
The included Hi-Flow Waste enables water to flow from the shower tray at a rate of 28 litres per minute.
Manufactured to BSEN1329/1:2000 and BSEN1451/1:2000
Vented dome to allow higher flow
Top access for easy maintenance
Quick release inner unit for ease of cleaning

Standard 40mm Connection
These shower wastes have a standard 40mm connection size so you shouldn't have any issues fitting it to your existing plumbing system.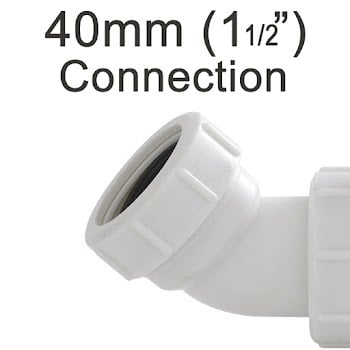 10 Year Guarantee Against Manufacturing Issues
We use the highest quality parts and materials for our shower enclosures, which makes us sure of great functionality and performance, which is why we guarantee the enclosure for 10 years against manufacturing defects.

What's Included:
Shower tray
1 x 90mm Waste
Riser kit containing:
2 x 1225mm straight panels
3 x Panel joining brackets
8 x Feet
6 x Panel upright brackets & hook and loops
8 x Circular base plates & adhesive pads
4 x Floor fixing brackets
Screws

Pivot Door Dimensions:

Side Panel Dimensions:

Shower Tray Dimensions: