Technology is taking over our lives which in most cases certainly isn t a bad thing. Our homes are becoming tech havens and the kitchen is definitely no exception.
These taps are designed to dispense cold, hot and filtered boiling water so you can not only get rid of your kettle but your traditional kitchen tap too! The boiling aspect of these taps allows you to easily make hot drinks, prepare food and even warm a spoon for digging smoothly into ice cream, all instantly! You ll wonder how you d coped without one previously and how you had the patience to wait for water to boil.
The tap has a beautiful polished chrome finish which will seamlessly blend in with the the existing d cor of your kitchen. The safety lock on the lever stops small children from selecting the wrong mode and the anti-drip design helps prevent any painful scalding. Sitting neatly underneath the sink is the brains of the operation; the compact yet powerful tank. This boasts a digital touch display which is super easy to use and as it is compact it fits neatly under the sink.   The tap comes with a fantastic FREE 2 year guarantee for complete peace of mind.
Instant filtered boiling water
No more waiting for the kettle to boil with our Sauber kitchen taps. They deliver instant boiling water, meaning you ll never have to boil a kettle again! They're designed to dispense your standard hot & cold water and filtered boiling water all in one convenient tap.  

Cheaper than boiling a kettle
According to N Power, the average cost to boil a full kettle is 2.5p whilst with a boiling water tap the costs are significantly lower, at as little as 1p per litre. With a boiling water tap you can get instant access to the exact amount of hot water you need, so you don t waste electricity or water. Also, the filter does not need to be changed as often as a standard water filter jug, reducing the amount of waste.  

Instant filtered boiling water for hot drinks and cooking
The instant boiling water feature is perfect for not only quickly making hot drinks but also for filling pots and pans ready for cooking too, saving you important cooking and prep time.  

Compact 2.4L hot water tank with digital touch screen display
Introducing the brand new, state of the art hot water tank from Sauber! It is compact yet powerful, providing you with all your instant hot and boiling water needs. The tank has been cleverly designed to fit in the cupboard underneath your kitchen sink without taking up too much space. The fantastic 2.4L capacity means you get approximately 12 cups of tea per tank!

The tank also features a fantastic digital touch display. It's not only super easy to use but features the very latest technologies to ensure that your boiling water tap runs as smoothly as possible. You ll be able to set your preferred temperature of water and it'll alert you when the filter needs to be replaced.  


Filtered boiling hot water for better taste
This boiling hot water tap provides standard hot and cold water like any other tap but their party piece is the filtered boiling hot water. Cleaner, purer, better tasting water each and every time!  

Long-life with 2-stage filtration process
Water is first passed through a calcium filter to remove any limescale or calcium before it even enters the tank. Once inside the tank, the water goes through a carbon filter which removes 99% of natural waterborne contaminations such as bacteria, metal contaminants, micro debris contaminants, and even chlorine.

The filter is designed with a 5,600L capacity, which works out as roughly just over 2,000 full tanks worth of filtered water before you have to think about changing it. This means you only have to purchase a new filter approximately once every 6 months!  

Child safe twin lever
The boiling water lever has been designed to be child-proof to ensure no wandering hands get scolded. There are two separate levers, the left lever is dedicated just for your boiling hot water and the right one is for normal hot and cold tap water. To use the boiling water feature you have to pull and turn the handle, whilst with the regular hot/cold handle you simply have to twist.   

Polished Chrome Finish
Polished chrome finishes are very popular in a bathroom, bringing style and important practicality. Chrome is super easy to clean and will match perfectly with other chrome fittings and accessories.  

180 Degree Swivel Spout
  Whether you've got a single or double bowl kitchen sink a swivel spout allows you the greatest flexibility when it comes to using the tap, enabling you to twist and move to direct the water where you need it to go.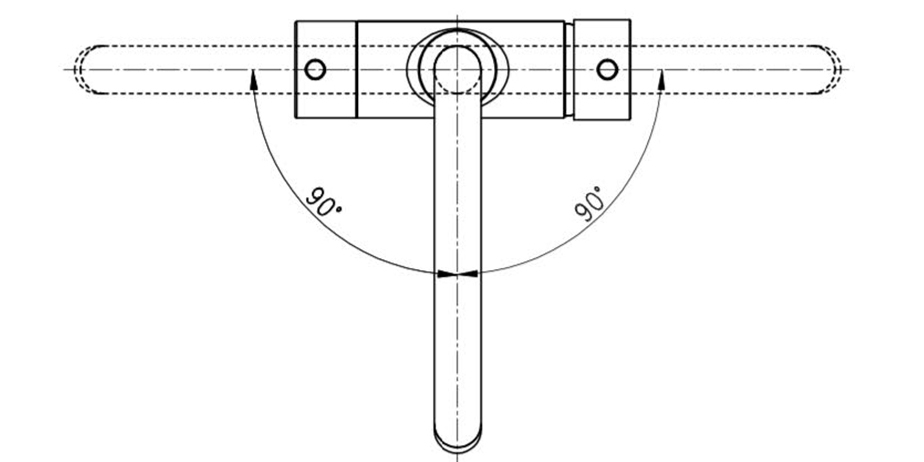 CE Marked Product
These products have been CE marked to ensure full compliance with BS EN 14428. This means that not only are they suitable for the UK market but they've been rigorously tested for safety.    

WRAS Approved for quality
If you re buying any sort of water fitting or product then it s important that its WRAS (Water Regulations Advisory Scheme) approved. It s the best way to work out if that particular product or part complies with the UK requirements for installation within the UK.  
2 Year Guarantee
For added reassurance, we have supplied these products with a brilliant 2-year guarantee, that will protect you against any factory defects that may occur.  

Dimensions: