K-Rad Laser Klassic Horizontal 4 Column Radiator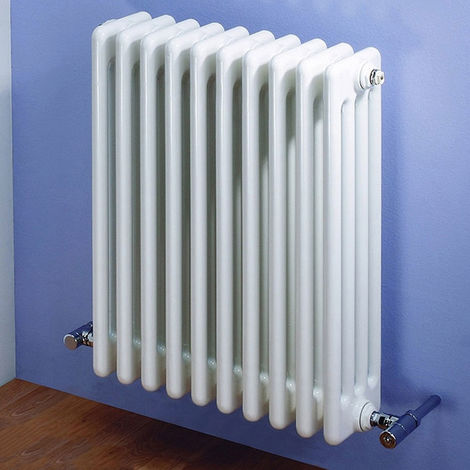 K-Rad Laser Klassic Horizontal 4 Column Radiator 750mm x 1010mm
View description
100% secure payment by debit or credit card
Free delivery (postcode specific)
Receive your order between Tuesday and Thursday
Delivery to British Isles (shipping may be restricted to mainland UK)
Description
Product Description Coming Soon


| Radiator Size (Height x Width) | Material | Radiator Colour | Radiator Finish | Ebay Fuel Type | Heat Output BTU (Delta T50) | Heat Output BTU (Delta T60) | Heat Output Watts (Delta T50) | Heat Output Watts (Delta T60) | Radiator Projection | Radiator Pipe Centres | Radiator Wall To Pipe Centres | Weight (Kg) | Guarantee Length |
| --- | --- | --- | --- | --- | --- | --- | --- | --- | --- | --- | --- | --- | --- |
| 600mm x 650mm 2 Column | Steel | White | | C | 2114 | 2707 | 619 | 793 | 66mm | 535mm | | 12.6 | 5 Year |
| 600mm x 830mm 2 Column | Steel | White | | C | 2718 | 3480 | 797 | 1020 | 66mm | 535mm | | 16.2 | 5 Year |
| 600mm x 1010mm 2 Column | Steel | White | | C | 3323 | 4255 | 974 | 1247 | 66mm | 535mm | | 19.8 | 5 Year |
| 600mm x 1190mm 2 Column | Steel | White | | C | 3926 | 5027 | 1150 | 1473 | 66mm | 535mm | | 23.4 | 5 Year |
| 600mm x 650mm 3 Column | Steel | White | | C | 2885 | 3694 | 845 | 1082 | 107mm | 535mm | | 19.6 | 5 Year |
| 600mm x 830mm 3 Column | Steel | White | | C | 3689 | 4724 | 1081 | 1384 | 107mm | 535mm | | 25.2 | 5 Year |
| 600mm x 1010mm 3 Column | Steel | White | | C | 4509 | 5773 | 1321 | 1691 | 107mm | 535mm | | 30.8 | 5 Year |
| 600mm x 1190mm 3 Column | Steel | White | | C | 5330 | 6824 | 1561 | 1999 | 107mm | 535mm | | 36.4 | 5 Year |
| 400mm x 650mm 4 Column | Steel | White | | C | 2619 | 3354 | 768 | 983 | 148mm | 335mm | | 16.8 | 5 Year |
| 400mm x 830mm 4 Column | Steel | White | | C | 3368 | 4312 | 986 | 1263 | 148mm | 335mm | | 21.6 | 5 Year |
| 400mm x 1010mm 4 Column | Steel | White | | C | 4115 | 5269 | 1206 | 1544 | 148mm | 335mm | | 26.4 | 5 Year |
| 400mm x 1190mm 4 Column | Steel | White | | C | 4865 | 6229 | 1425 | 1825 | 148mm | 335mm | | 31.2 | 5 Year |
| 600mm x 650mm 4 Column | Steel | White | | C | 3827 | 4900 | 1122 | 1436 | 148mm | 535mm | | 25.2 | 5 Year |
| 600mm x 830mm 4 Column | Steel | White | | C | 4920 | 6300 | 1442 | 1846 | 148mm | 535mm | | 32.4 | 5 Year |
| 600mm x 1010mm 4 Column | Steel | White | | C | 6014 | 7701 | 1762 | 2256 | 148mm | 535mm | | 39.6 | 5 Year |
| 600mm x 1190mm 4 Column | Steel | White | | C | 7109 | 9102 | 2083 | 2667 | 148mm | 535mm | | 46.8 | 5 Year |
| 750mm x 650mm 4 Column | Steel | White | | C | 4720 | 6043 | 1383 | 1771 | 148mm | 685mm | | 30.8 | 5 Year |
| 750mm x 830mm 4 Column | Steel | White | | C | 6068 | 7769 | 1778 | 2276 | 148mm | 685mm | | 39.6 | 5 Year |
| 750mm x 1010mm 4 Column | Steel | White | | C | 7388 | 9460 | 2165 | 2772 | 148mm | 685mm | | 48.4 | 5 Year |
| 750mm x 1190mm 4 Column | Steel | White | | C | 8764 | 11221 | 2568 | 3288 | 148mm | 685mm | | 57.2 | 5 Year |
| 300mm x 1010mm 6 Column | Steel | White | | C | 4620 | 5915 | 1353 | 1733 | 230mm | 235mm | | 33 | 5 Year |
| 300mm x 1190mm 6 Column | Steel | White | | C | 5460 | 6991 | 1599 | 2048 | 230mm | 235mm | | 39 | 5 Year |
| 300mm x 1370mm 6 Column | Steel | White | | C | 6300 | 8067 | 1846 | 2364 | 230mm | 235mm | | 45 | 5 Year |
The Features and Benefits
Range of standard and thermostatic valves available separately.
Central Heating.
CE Mark.
Designer Column Radiators - Explained!
Column Radiators use both Radiant and Convective methods to heat your room. Unlike the Convector's, Column Radiators do not contain Fins but do still have a large service area for the cool air to come into contact with and change into hot air. The Columns are designed to have spaces in between them so that there is plenty of room for the air to travel and become warm. The increase in Column number also means an increase in projection from the wall that the Radiator will be placed against, this is something to bear in mind when choosing a Column Radiator for your home. You should also consider the amount of space that will be left around the radiator as Column's perform best when there is open space around them for the air to flow.
Features
Fitting

Horizontal

Height

1010 mm

Length

750 mm

Color

White

ManoMano Reference

ME4202439

Warranty

5 years

SKU

LCL407522