Kohler Kitchen Sinks are the epitome of style. Constructed from durable stainless steel, you don t have to worry about corrosion or stains. The fantastic silent shield technology keeps noise to a minimum, so you don t have to worry about noisy clatters and bangs from your pots and dishes. Featuring handy drainers and half bowls in inset or undermount designs, Kohler Kitchen Sinks have a sink for every kitchen.

Modern Kitchen Sink With Left-Hand Drainer
The Mira Kohler True kitchen sink features a large single bowl with a second handy half-size bowl and a practical drainer located on the left-hand side. This sink has an incredibly stylish modern design finished in a stylish polished finish, making this durable stainless steel sink an excellent choice for your kitchen.
 

1.5 Bowl Sink
1.5 bowl kitchen sinks are great for busy multitaskers. These sinks give you the option to do multiple tasks, for example, you could be rinsing vegetable whilst the pans are soaking. This choice of sink is highly convenient for family kitchens and will look great in any kitchen, no matter the style.
Inset Installation
Inset sinks are to be installed on the surface of the worktop, making them extremely easy to install. They re supported by their frame and their versatility means that they re compatible with any worktop material.
 

SilentShield Technology
Washing up can be loud. Like, really loud! And a poor quality sink can only make things worse. With Kohler SilentShield though you don t need to worry. Sound absorption pads are applied to the underside of the sink. These are made using a rubber compound and significantly reduce any noise made by running water, waste disposal units, dishes and pans.
 

Minimalistic Overflow
Without an overflow you run the risk of overflowing your sink if you leave it unattended. You might be thinking that you ve never done that before but you wait until there are children bouncing around the house! These Kohler sinks do feature an overflow but it s discreetly fitted to the inside of the bowl for a truly minimalistic look. You probably won t need it but it s better to have one just in case! 

18/10 Quality Grade 0.8mm Stainless Steel
Stainless steel is stain resistant, hard wearing and easy to clean. However, not all stainless steel is the same. It actually comes in different grades and thicknesses. The highest grade 18/10 contains 18% Chromium and 10% Nickel, which gives higher rust resistance, better ability to hold a shine and greater rigidity for the same weight. This sink has a gauge of 0.8mm. 
600mm Cabinet Width
The style and size of your new kitchen sink is important but what a lot of people forget to check is the size of the cabinet that it s being installed into, especially if you ve had new worktops too. This sink has been designed to fit into a 600mm wide cabinet.
 

35mm Tap Hole To Fit Most Taps
These sinks are designed for total compatibility which is why their tap hole has a 35mm diameter. This is a standard size for the UK with most taps fitting perfectly thanks to their larger diameter. 

Tap not included.
 
Matching Basket Strainer Waste Included
Comes complete with high quality stainless steel sink basket strainer waste kit.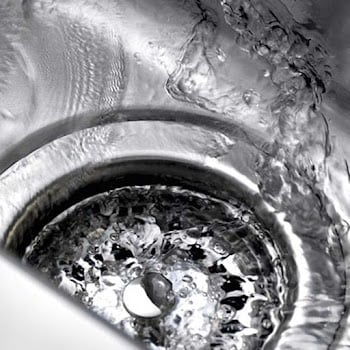 10 Year Guarantee As Standard
When buying products for your home you need to know that they re going to stand the test of time. This is why this product comes with a fantastic 10 year guarantee against any manufacturing defects should the worst happen and the product is not up to standard. 

You May Also Like:
Cramer Tap Cleaner - Available Here
Range of Mono Mixer Kitchen Tap - Available Here
Dimensions: