Makita 18V Li-ion Monster 16 Piece Kit + 6 x 5.0Ah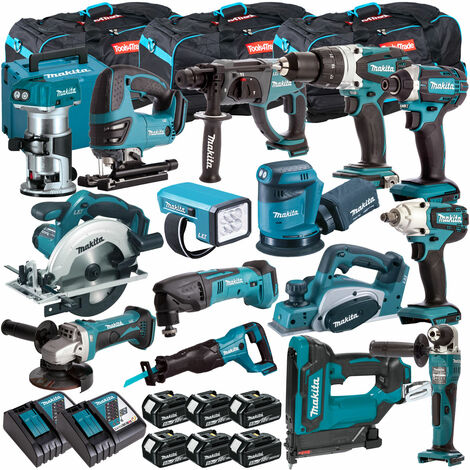 Makita 18V Li-ion Monster 16 Piece Kit + 6 x 5.0Ah 2 x Charger & 3 x Bag:18V
View description
100% secure payment by debit or credit card
Free delivery (postcode specific)
Receive your order between Wednesday and Sunday
Delivery to British Isles (shipping may be restricted to mainland UK)
Description
Makita 18V 16 Piece Cordless Kit T4TKIT-700
Kit Content:
1 X DTD152Z Impact Driver
1 X DHP458Z Combi Drill
1 X DGA452Z Angle Grinder
1 X DJR185Z Reciprocating Saw
1 X DSS611Z Circular Saw
1 X DMR107W Jobsite Radio
1 X DJV180Z Jigsaw
1 X DKP180Z Planer
1 X DTM50Z Oscillating Multi-Cutter
1 X DDA351Z Angle Drill
1 X DHR202Z SDS + Rotary Hammer
1 X DRT50Z Brushless Router Trimmer
1 X DTW190Z Impact Wrench
1 X DBO180Z Random Orbit Sander
1 X DFR550Z Auto-Feed Screwdriver
1 X DML186 TORCH
1 X DC18RD Dual Port Fast Charger
1 X DC18RC CHARGER
6 X 18v 5.0Ah BL1850 Batteries
3 X LXT600 Heavy Duty Tool Bag
Features:
Makita DTD152Z:
Electric brake
Mechanical 2-speed control
Variable speed control trigger
Forward/reverse rotation
Twin LED job light
One touch bit installation
Ergonomic soft grip handle
Compact overall length of 137mm
Lightweight design
Battery protection circuit
All metal gears
Makita DHP458Z:
Compact design, only 225mm overall length
2 speed all metal gearbox - extra high transmission durability
High operational efficiency with high torque
Enhanced dust and drip-proof performance for use in outdoor applications or harsh environments
Single sleeve keyless chuck allows for easy bit installation / removal by one hand
Twin LED Job light with pre-glow and afterglow functions
The power remaining in the battery can be indicated in 3 stages simply by pushing a button; 3 lights on: more than 50% of full battery capacity. 2 lights on: 20% to 50% of full battery capacity. 1 light on: less than 20% of full battery capacity
Makita DGA452Z:
Electric brake
Variable speed control trigger
Equipped with Battery protection circuit: designed to protect the battery from damages due to overdischarge, high temperature or overload current
Forward and reverse trigger
LED job light
Ergonomic soft grip
Makita DJR185Z:
Single LED job light with pre-glow function
Shoe Adjustment
Will accept both reciprocating saw blades and jigsaw blades
Two switch levers with variable speed control; Trigger switch on tool handle & Paddle switch on tool body to make operation easier at any grip position for versatile applications by using either trigger
Rubberized soft grip provides comfortable and sure grip
Makita DSS611Z:
Lightweight and compact
Rigid aluminium base provides high quality and toughness
Double safety trigger will prevent accidental starting, is easy to operate even with gloved hands and can be operated from both sides of the handle
Bevel cuts up to 50 degrees
Smooth and powerful cutting at the high rotational speed of 3,700 rpm delivered from enhanced motor
Rubberised soft grip which provides comfortable handling and more control but also minimises hand strain
Safety cover with calibration line for adjusting depth
Removable dust nozzle allows a vacuum cleaner to be connected
Hex wrench is storable on board the saw
Makita DMR107W:
Newly compatible with 10.8V CXT slide batteries
IP64 rated dust and shower-proof construction
Flexible antenna can be removed and stored inside the radio.
Soft grip carry handle swivels 90 degrees
Elastomer bumpers protect against rough handling on a jobsite
2 speaker stereo system
AUX-IN jack allows for connection to personal audio players
AC adaptor jack
Digital display
Makita DJV180Z:
Ergonomically rubberised handle provides comfortable gripping and more control while minimising hand fatigue and pain
The large 2 finger variable speed trigger makes this jigsaw easy to operate even with gloves on
3 orbital settings + straight cut
Blower will clear the pencil line of dust
Lightweight and compact
Tool-less blade change - push in lock system enables very fast blade changes
LED light will illuminate your cut line
Smooth and powerful cutting at the high stroke speed at 2,600 spm
Double insulated
Soft start
Makita DKP180Z:
Planes a width of 82mm (3¼") in a single pass
Unrivalled for sheer power, size and performance
Fitted with a comfortable operator handle with a rubberised soft grip which is widely covered with elastomer for more comfort. control and less fatigue
Straight line face for easy to push handle
A precision machined aluminum base allows for planing accuracy and the cutter head makes 14000 cuts per minute for fast stock removal
The lock-on button gives the operator the option of continuous operation
Left and right handed use due to the buttons on either side of the handle
Dust extraction port on the side with enhanced chip ejection
Adjustable up to a 2mm depth of cut
Shoe on the underside stops accidental laying down of planer while blade is still moving. This limits the damage on the workpiece and the blades from scratches.
Rebates to a maximum depth of 9mm
V-Groove on base for easy chamfer cutting
Makita DTM50Z:
Hex wrench holder on body
Variable speed control dial
Accessories can be installed at 30° increments, across 360°
Uses OIS Interface
Thumb On/Off switch, positioned for ease of use when holding body of machine
Anti-restart function prevents accidental start-ups
Makita DDA351Z:
New compact design with metal gear housing
4 pole LXT motor for improved performance
LED light for job illumination
Large lever switch for variable speed control
Rubber anti-slip handle
Forward/reverse rotation
Electric brake
Makita DHR202Z:
3-Mode Switch for rotation only, hammering with rotation, or hammering only
2x faster drilling with synchronized RPM and BPM for more efficient drilling
Built-in torque limiter clutch disengages if bit jams when hitting rebar
More compact design at only 330mm long and weighs only 3.2 kg for less operator fatigue
One touch sliding chuck - for easy bit changes
Ergonomic shape fits like a glove with even pressure and easy control - rubberised handle has anti slip dimples
LXT Lithium-Ion provides longer run time, 5x lower self-discharge (for use any time) and 16 firm holding contact terminals (for constant high power)
Electric brake
Forward/reverse rotation
Job light with afterglow function - illuminates job in poor lighting conditions
Rotary hammer action
Rotary only action
Variable speed trigger
Makita DRT50Z:
Brushless motor
Soft start
Variable speed by dial
Constant speed control
Twin LED job lights
Push button switch with lock on/off
Connectable to dust extractor
Aluminium base for higher durability and accuracy
Aluminium housing
Shaft lock
Compatible with Makita RT0700 series router bases
Makita DTW190Z:
Electric brake
Variable speed control trigger
Forward/reverse rotation
Battery protection circuit
Ergonomically designed handle with rubberised soft grip fits your hand perfectly to provide maximum control and comfort
Makita DBO180:
Simple to operate electronic push button switch with 3-speed settings
Connectable to dust extractor
Compact design with short height and lower centre of gravity for better manoeuvrability
Makita DFR550Z:
Forward/reverse rotation - operable with one hand
Adjustable Stopper Base with 7 different setting for different screw lengths - 4 x 25 - 55m
Rubber Cap securely fixed to Stopper Base for accurate positioning and slip prevention
Anti tilt device - prevents the screw from swaying
Dust proof construction - for smooth sliding action
Silent clutch - less noise at the end of driving process
Screw Guide - designed to keep screw strips from tangling and is foldable for tool storage and transportation
Makita DML186:
Bright LED illumination
Push button on/off switch
Adjustable hand strap with hook and loop fastener
6 High effeciency LEDs
Comes with:
6 x BL1850 18V 5.0Ah Batteries
1 x DC18RD Dual Port Fast Charger
1 x DC18RC CHARGER
3 x LXT600 Heavy Duty Tool Bag
Product Specification
Part No: T4TKIT-700
Barcode: 8906701829600
Makita DTD152Z:
Barcode: 0088381699099
Battery Type Li-ion
Voltage: 18V
Driving Shank: 6.35mm (1/4 in Hex)
Machine Screw: M4 - M8
Standard Bolt: M5 - M16
Coarse Thread: 22 - 125mm
Impacts Per Minute: 0 - 3500 ipm
No Load Speed Hi: 0 - 2900 rpm
Max Tightening Torque 165 Nm
Sound Pressure: 93 dB(A)
Sound Power: 104 dB(A)
Sound K Factor: 3 dB(A)
Vibration: 10.5 m/s2
Vibration K Factor: 1.5 m/s2
Makita DHP458Z:
Barcode: 0088381653831
Electric Brake: Yes
No Load Speed: 0-2000/400 rpm
Max Torque S/H: 58 / 91 Nm
Torque Settings: 21 + drill
Variable Speed Control Trigger: Yes
Max. in masonry: 16 mm
Max. in steel: 13 mm
Max. in wood: 65 mm
Fastening machine screw: 6mm
Blows per Minute: 0-30000/6000 bpm
Voltage: 18V
Makita DGA452Z:
Barcode: 0088381660112
Grinding Wheel: 4-1/2" / 115mm
Cut-Off Wheel: 4-1/2"
Wire Cup Brush: 3-1/2" / 115mm
Sanding Disc: 4-1/2" / 115mm
No Load RPM: 10,000
Watt Hours: 54.0
Battery: 18VDC (3.0Ah)
Spindle Thread: 5/8" - 11 UNC
Overall Length: 12-1/2"
Makita DJR185Z:
Barcode: 0088381652353
Battery voltage: 18v
Strokes per minute: 0-3,000spm
Stroke length: 13mm
Capacity wood: 50mm
Capacity MS pipe: 50mm
Blade clamp: Hex wrench
Jigsaw blade compatible: Yes
Switch lock: Lock off
Variable speed: Trigger
LED job light: Yes
Makita DSS611Z:
Barcode: 0088381663014
Max Cut @ 90°: 57mm
Max Cut @ 45°: 40mm
Max Cut @ 50°: 36mm
Blade Diameter: 165mm
Bore Diameter: 20mm
No Load Speed: 3,700rpm
Makita DMR107W:
Barcode: 0088381817684
Battery Type: Lithium-ion
Battery Range: 7.2 - 18 v
Frequency Range FM: 87.5 - 108 Mhz
Frequency Range AM: 522 - 1710 kHz
Speakers: 2 x 76mm
Practical Output (7.2v): 0.5W x 2
Practical Output (10.8v): 1.2W x 2
Practical Output (14.4v): 2.2W x 2
Practical Output (18v): 3.5W x 2
Net weight: 4.1 kg
Makita DJV180Z:
Barcode: 0088381662710
Max in steel: 10 mm
Max in wood: 135 mm
Strokes per Minute: 0-2600 spm
Stroke Length: 26 mm
Noise sound pressure: 78 dB(A)
Noise K factor: 3 dB(A)
Vibration K factor: 1.5 m/sec²
Vibration Cutting Chipboard: 8 m/sec²
Vibration Cutting Sheet Metal: 3.5 m/sec²
Makita DKP180Z:
Barcode: 0088381662635
Planing Width: 82mm - 3¼"
Planing Depth: 2mm
Max rebate depth: 9mm
No load speed: 14000rpm
Makita DTM50Z:
Barcode: 0088381666022
Voltage: 18V
Oscillations per min: 6,000-20,000
Oscillation angle: 3.2°
Makita DDA351Z:
Voltage: 18v
Max in Steel: 10 mm
Max in Wood: 25 mm
Head Height : 93 mm
No Load Speed: 0-1800 rpm
Max Torque: 13.7 Nm
Makita DHR202Z:
Barcode: 0088381658119
Max in Steel: 13mm
Max in Wood: 25mm
Max in Concrete: 20mm
No Load Speed: 0-1,100rpm
Blows per minute: 0-4,000bpm
Vibration: RH:14.5m/s2 HO:11.0m/s2
Joules: 1.93Js
Makita DRT50Z:
Barcode: 0088381846110
Collet Capacity: 3/8" and 1/4"
Noise sound pressure: 78 dB(A)
Plunge Capacity (Trimmer): 0 - 40 mm
Plunge Capacity (Plunge): 0 - 35 mm (Plunge base sold separately)
No Load Speed: 10,000 - 30,000 rpm
Vibration K factor: 1.5 m/sec²
Vibration: Cutting MDF: 4.5 m/sec²
Vibration no load: 2.5 m/sec²
Makita DTW190Z:
Barcode: 0088381811996
Voltage: 18 v
Driving Shank: 1/2" Square
Impacts: 0-3,000 ipm
Standard Bolt: M8-M16
High Tensile Bolt: M8-M12
Noise sound pressure: 94 dB(A)
Noise sound power: 105 dB(A)
Noise K factor: 3 dB(A)
No Load Speed: 0 - 2,300 rpm
Max Fastening Torque: 190 Nm
Vibration: Fastening Bolt: 8.5 m/sec²
Vibration K factor: 1.5 m/sec²
Makita DBO180Z:
Orbits per Minute: 7000/9500/11000 opm
Orbit Diameter: 2.8 mm
Battery Type: Lithium-ion
Sanding Stroke per Minute: 14000/19000/22000 spm
Speed Control: 3 stage push button
Charging Time: 22 min
Pad brake: Yes
Paper Fastening: Hook & Loop
Pad Size: 123 mm
Paper Size: 125 mm
Maximum Output: 190 w
Voltage: 18 v
Makita DFR550Z:
Barcode: 0088381669467
Voltage: 18V
Drywall screw: 55 mm
Max dry wall screw: 4mm x 55mm
Screw Size Range: 25 to 55 mm
Noise sound pressure: 78 dB(A)
Noise K factor: 3 dB(A)
No Load Speed: 4000 rpm
Vibration K factor: 1.5 m/sec²
Vibration no load: 2.5 m/sec²
Makita DML186:
Barcode: 0088381675659
Battery Type: Li-ion
Voltage: 18 v
Length: 151 mm
Width: 81 mm
**images for illustrative purposes only – please refer to description and specification for full details of product**
Features
Type of tool

Wrench

Voltage

18 V

Battery capacity

5 Ah

Voltage

0 V

Battery type

Lithium ion

Attributes

Variable speed

ManoMano Reference

ME19495228

SKU

T4TKIT-700
About The Brand
Makita, the foremost manufacturer of power tools in the world. With 100 years experience, our products are lauded the world over for both their performance and quality. Makita has always had the vision that society and global communities should be able to develop for themselves, and future generations. By providing the tools, Makita is ensuring that anything is possible. Key to Makita's vision is the constant strive for innovation in our technology and our products. From our safety solutions like AVT and dust extraction, through to our Lithium-Ion battery and chargers technology, Makita is at the forefront for new ideas. Makita manufactures its tools in plants across the globe, from its headquarters in Japan to here, in the UK. Our Telford manufacturing plant is the only full-production facility for power tools in the UK and has been successfully running construction on many of our top line cordless power tools since 1991.