Potterton Gold Heat Only Electric Boiler - 9KW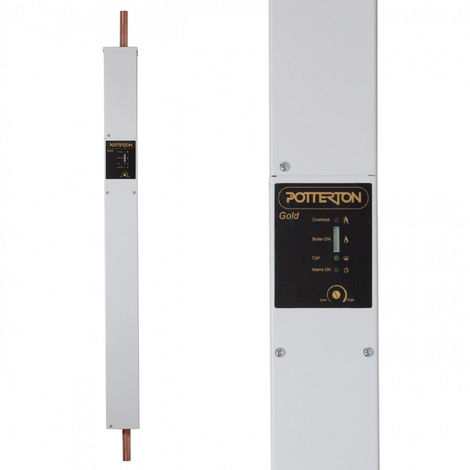 Potterton Gold Heat Only Electric Boiler - 9KW
View description
100% secure payment by debit or credit card
Free delivery (postcode specific)
Receive your order between Tuesday and Thursday
Delivery to British Isles (shipping may be restricted to mainland UK)
Description
Note: For your first boiler purchase with Trade Plumbing, the item must be sent to the registered billing address. If you need the boiler to be sent to a different address please enquire on 0844 504 4499.

The Potterton Gold electric boiler provides domestic hot water when used in conjunction with the Potterton Gold indirect cylinder. Easy to control, compact and lightweight, it offers an efficient wet central heating solution when space is at a premium using standard radiators, programmer, pump, room thermostat and thermostatic radiator valves.
Features:
Quiet in operation.
No flue or fuel tank required.
Pump run-on facility.
22mm Pipe work for all models
Suitable for pressurized or open vented systems.
Soft start and zero volt switching to avoid power surges.
Min/max control adjusts the water temperature output from the boiler.
No requirement for annual safety certificate.
Electric boiler for wet central heating systems.
Domestic hot water is available from a cylinder.
Can be used in a sealed or open vented system installations.
Operates from standard mains voltage programmers, room thermostats, etc.
Solid-state technology enables zero volt switching.
Soft start and soft modulation.
Front panel operation indicators.
User adjustment of the operating temperature on the front panel.
Self check every time it operates.
Electrical tails terminations inside the boiler.
Safety trip for no water or no flow situations.
Optical isolation to enable connection of more boilers on single or three phase supplies.
Uses standard radiators, programmer, pump, room thermostat and thermostatic radiator valves.
Details:
Height: 1050mm
Width: 90mm
Depth: 90mm
Boiler Type: Electric
Heat Output: 6 kW
Guarantee: 2 Years
Installation friendly:
The lightweight design makes for easy handling, whilst compatibility with standard radiators, programmers, pumps, room thermostats and thermostatic radiator valves gives you hassle-free installation. Low maintenance and long-life reliability Solid state technology and the absence of moving parts ensure a longer service life, while our 2 year on-site parts and labor warranty* gives added peace of mind. You don't even need an annual safety certificate! Controllable efficiency as well as a soft start and zero volt switching to help avoid power surges, min/max controls make it easy to adjust the water temperature output from the boiler, helping you get the most from wet central heating. Easy to use A front panel indication gives you an 'at a glance' reading for the boiler state. Compact and discreet Seek and 'slim-fit' in construction, it also runs silently - so you'll hardly know it's there.
Please Note:
This model is not for use with underfloor heating. The installation must be carried out in accordance with the relevant requirements of: The appropriate Building Regulations, either The Building Regulations, The Building Regulations (Scotland) or Building Regulations (Northern Ireland).The Water Fittings Regulations or Water Byelaws in Scotland.
IT IS THE INSTALLER'S RESPONSIBILITY TO ENSURE THAT THE INSTALLATION DOES NOT CONTRAVENE THE REQUIREMENTS OF THE WATER SUPPLY REGULATIONS, BUILDING REGULATIONS OR LOCAL AUTHORITY REGULATIONS.
The boiler must be installed by a qualified, competent tradesman who is aware of and will comply with all relevant standards that are applicable: e.g. Building Regulations, the Local Authority Regulations, the Water Supply Regulations and undertaking the relevant British Standards. The system must be flushed in accordance with BS 7593 and in accordance with the supplied instructions and drawings to ensure proper operation. The boilers contain a very small amount of water, and so require a sufficient flow rate of water to ensure proper operation. The 4kW and 6kW product requires a minimum flow of 6 litres/minute, and the 9kW, 11kW and 12kW require a minimum flow of 12 litres/minute. Insufficient flow of water through the boiler will cause nuisance trip outs. The maximum temperature differential between input and output of the boiler must not exceed 14C. If the temperature across the boiler exceeds
This then the flow rate is too low and will potentially damage the boiler. Set the flow rate to give 5 -& 10C across the boiler on full heat. The output FLOW pipe at the TOP of the boiler is identified RED. The input RETURN pipe is located at the BOTTOM . Ensure that the direction of flow is correct through the boiler after installation. Set the pump on maximum flow rate.
Use standard size pipework. DO NOT SOLDER DIRECTLY ONTO THE BOILER TAILS . Push-on or compression fittings are suitable for connecting directly onto the boiler tails. Fit a 22mm elbow to the top of the boiler and after 100 - 150mm of horizontal pipework fit an automatic air vent, or connect the expansion pipework on open vented systems to provide a route for air to vent. DO NOT FIT THE AAV DIRECTLY ABOVE THE BOILER.
The electric boiler is suitable for operation in sealed or open vented systems. It is also suitable for schemes such as heating only, Y plan, S plan, zone heating, under floor heating, micro-bore via a manifold, etc. If you are unsure about your application regarding suitability of the boiler, please do not hesitate to contact your local supplier or Potterton Gold directly. The cost of installation can be reduced if the electric boiler is used for heating only. Use a direct type cylinder with immersion elements and a time clock for the domestic hot water, then connect the electric boiler directly to the heating circuit and control it by a programmable room thermostat. If the radiator circuit has a continuously open route for the water flow, then a bypass is not required. The boiler sizing is for heating only in this case and does not have to be increased to allow for domestic hot water as well.
Ensure there is always an open route for the water to flow in any installation, to meet the required minimum flow rate of the boilers and to allow for the pump over run. If an open route through the heating circuit can not be guaranteed, then a bypass, fitted with an automatic bypass valve, must be fitted which meets the required minimum flow rates for the boiler. The bypass must have a minimum of either 2 meters of 22mm continuous pipework, or be routed through a radiator with minimum dimensions of 600 x 600mm. Automatic pressure opening valves must be used with the bypass circuit, ensure they are installed correctly as per the manufacturer's instructions. Gate valves are not suitable.
About Potterton:
Potterton is a UK manufacturer that has been making boilers since 1850. In fact, over seven million homes are kept warm by Potterton boilers, and their boilers have a reputation for being dependable and easy to use.

All their products use the latest, proven technology and are energy efficient, environmentally friendly and easy to use. Before any Potterton boiler leaves their factory, it must achieve a 100% pass rate throughout their rigorous testing program. They provide high quality service and technical support for the boiler's lifetime, and they work closely with their partners to promote environmental, social and economic sustainability.
| | |
| --- | --- |
| Manufacturer ID | 94022005-Gold9E |
| Guarantee Length | 2 Years |
| Height | 1050mm |
| Width | 90mm |
| Depth | 90mm |
| Heat Output Watts | 9kW |
| Sedbuk Efficiency | 99.80% |
| Sedbuk Rating | A |
Features
Use

Heating and hot water

Installation

Free standing

Nominal output power

9 kW

ManoMano Reference

ME19184238

SKU

46-TP