Created to seamlessly blend modern living with a traditional country kitchen, the Farmhouse Belfast sink is a stylish alternative to a classic design. By incorporating the latest materials for reduced weight, alongside a more rounded and curvaceous bowl design, this fire-clay ceramic sink adds new appeal to its traditional aesthetics.   Please note: With ceramic sinks the installer should always measure the physical sink prior to cutting the template due to tolerance variances which can naturally occur in this material type. 
Smooth Glazed Surface
The smooth glazed finish of the white ceramic is super easy to clean, we re sure this is something, you re glad to hear, because who wants to spend all their free time cleaning? Not only does it provide practical cleaning qualities, but it will also improve the aesthetics of your kitchen, no matter the style.  

Belfast Sink
Whilst the deep bowl guarantees durability and robustness, giving you plenty of room for all your washing up needs, there is no doubt in denying that Belfast Sinks are one of the most elegant and good-looking choices for your kitchen sink.  
Sit On Installation
Sit on kitchen sinks sit directly onto the kitchen cabinet and fill the full width of the unit. The sink sides are usually raised above the worktop or sometimes even level with it. They can be fitted using any type of worktop including worktops made from laminate.  
Weir Style Overflow
A Belfast sink is the ideal way to bring a bit of farmhouse into your kitchen. And no Belfast is the same without a beautiful weir style overflow incorporated into the ceramic.  

Reversible Installation
This beautiful Belfast kitchen sink can be installed with the waste on the left or right, depending upon your needs and where in the kitchen the sink is positioned.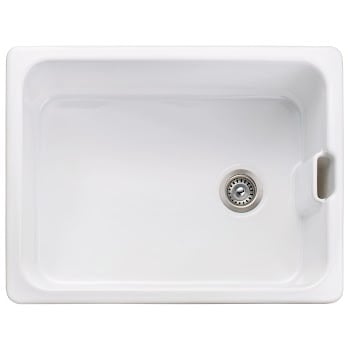 600mm Cabinet Width
The style and size of your new kitchen sink is important but what a lot of people forget to check is the size of the cabinet that it s being installed into, especially if you ve had new worktops too. This sink has been designed to fit into a 600mm wide cabinet.  

High Heat Resistance
Fret no more about your countertops as the high heat resistance of this sink allows you to leave a hot pan on it without damaging or melting it's surface. Some cheaper sinks don't cope well with heat but this won't be a worry with Rangemaster.  

High Stain Resistance
Keep your sink look as good as new thanks to its fantastic stain resistance. Simply wipe away any marks or residue to leave your sink looking like the day you fitted it.  

Scratch Resistant Surface
The hardwearing nature of these sinks means that they re naturally great for scratch resistant and accidental damage. Drop a sharp kitchen knife or a pan? Maybe you accidentally break a glass? Whatever happens these kitchen sinks are strong enough to put up with it.  

Easy To Clean
Thanks to the smooth surface this kitchen sink is super easy to keep clean. Hygiene is very important in a kitchen as you don't want to spread germs and contaminate any food you're preparing, so using a soapy sponge or cloth, simply wipe clean your sink to get rid of any grime and to freshen up the surface.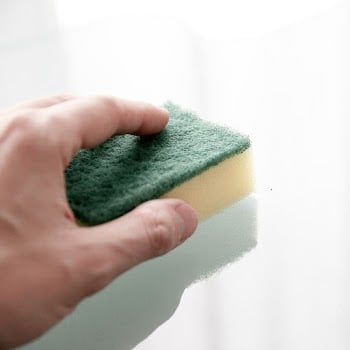 You May Also Like:
Cramer Tap Cleaner - Available Here
Range of Mono Mixer Kitchen Tap - Available Here
Ceramic Chip Repair Kit - Available Here
10 Year Guarantee 
When buying products for your home you need to know that they re going to stand the test of time. This is why this product comes with a fantastic 10 year guarantee against any manufacturing defects should the worst happen and the product is not up to standard.

Matching Basket Strainer Waste Included
Comes complete with high quality stainless steel sink basket strainer waste kit.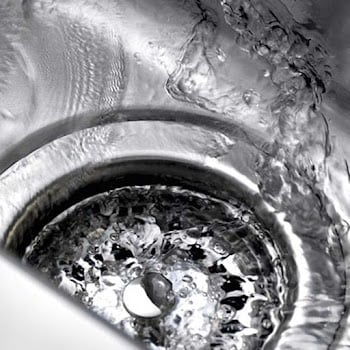 Waste Pipe Kit Not Included
This sink doesn't come with a pipe kit included however they are available to purchase separately.  

Dimensions: