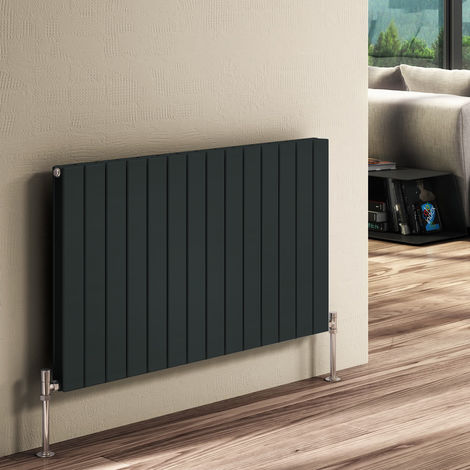 Reina Flat Anthracite Horizontal Designer Radiators 600mm x 440mm Double Panel Duel Fuel - Thermostatic
Reference: ME9450299
Out of stock
View full description
Free delivery (postcode specific)
Sold by: Essential
Reina Flat Anthracite Horizontal Designer Radiators 600mm x 440mm Double Panel Duel Fuel - Thermostatic
Description
Product Description Coming Soon


| Radiator Size (Height x Width) | Material | Radiator Colour | Radiator Finish | Ebay Fuel Type | Heat Output BTU (Delta T50) | Heat Output BTU (Delta T60) | Heat Output Watts (Delta T50) | Heat Output Watts (Delta T60) | Radiator Projection | Radiator Pipe Centres | Radiator Wall To Pipe Centres | Weight (Kg) | Guarantee Length |
| --- | --- | --- | --- | --- | --- | --- | --- | --- | --- | --- | --- | --- | --- |
| 600mm x 440mm Single Panel | Steel | Anthracite | Matte | C/E/D | 1072.3 | 1310.97 | 314.4 | 384.37 | 68mm | 440mm + Valves (90mm) | 39mm | 12 | 5 Year |
| 600mm x 588mm Single Panel | Steel | Anthracite | Matte | C/E/D | 1429.31 | 1747.43 | 418.98 | 512.23 | 68mm | 588mm + Valves (90mm) | 39mm | 14 | 5 Year |
| 600mm x 810mm Single Panel | Steel | Anthracite | Matte | C/E/D | 1965.14 | 2402.53 | 576.5 | 704.81 | 68mm | 810mm + Valves (90mm) | 39mm | 16 | 5 Year |
| 600mm x 1032mm Single Panel | Steel | Anthracite | Matte | C/E/D | 2500.97 | 3057.62 | 733.38 | 896.61 | 68mm | 1032mm + Valves (90mm) | 39mm | 18 | 5 Year |
| 600mm x 1254mm Single Panel | Steel | Anthracite | Matte | C/E/D | 3036.8 | 3712.71 | 890.25 | 1088.4 | 68mm | 1254mm + Valves (90mm) | 39mm | 20 | 5 Year |
| 600mm x 1402mm Single Panel | Steel | Anthracite | Matte | C/E/D | 3393.8 | 4149.17 | 995.48 | 1217.05 | 68mm | 1402mm + Valves (90mm) | 39mm | | 5 Year |
| 600mm x 440mm Double Panel | Steel | Anthracite | Matte | C/E/D | 1553.91 | 1899.76 | 455.78 | 557.22 | 93mm | 440mm + Valves (90mm) | 64mm | 16 | 5 Year |
| 600mm x 588mm Double Panel | Steel | Anthracite | Matte | C/E/D | 2072.3 | 2533.54 | 607.49 | 742.7 | 93mm | 588mm + Valves (90mm) | 64mm | 18 | 5 Year |
| 600mm x 810mm Double Panel | Steel | Anthracite | Matte | C/E/D | 2848.93 | 3483.03 | 835.38 | 1021.31 | 93mm | 810mm + Valves (90mm) | 64mm | 18 | 5 Year |
| 600mm x 1032mm Double Panel | Steel | Anthracite | Matte | C | 3626.21 | 4433.31 | 1063.27 | 1299.92 | 93mm | 1032mm + Valves (90mm) | 64mm | 20 | 5 Year |
| 600mm x 1254mm Double Panel | Steel | Anthracite | Matte | C | 4404.13 | 5384.37 | 1291.8 | 1579.32 | 93mm | 1254mm + Valves (90mm) | 64mm | 22 | 5 Year |
| 600mm x 1402mm Double Panel | Steel | Anthracite | Matte | C | 5051 | 6175.22 | 1480.96 | 1810.58 | 93mm | 1402mm + Valves (90mm) | 64mm | | 5 Year |
The Features and Benefits
Range of standard and thermostatic valves available separately.
CE Mark.
Designer Radiators - Explained!
While Interior Design and home improvement projects have become a regular occurrence, Designer Radiators have also become increasingly more popular. Rest assured the Designers have been manufactured to combine both functionality and stylish design, so you won't go cold in the winter months. Unlike Column and Convector Radiators, a lot of the Designers come in Horizontal or Vertical Orientation. The Verticals can be the perfect solution when trying to maximise wall space in your home, while the Horizontals are modern and stylish, but more traditional in orientation and release heat in the same method as the convector radiators do.
Central Heating, Dual Fuel or Electric only - Explained!
Central Heating - A central heating Radiator or Towel Rail is heated using your central heating system. The most important part of this system - for your Radiator/Towel Rail - is the boiler, and you most likely have one in your kitchen or bathroom.
Electric Only - An Electric Only Radiator or Towel Rail is filled with a heat conducting liquid, this could be oil, or a water based. Working with your home's electricity supply, with the benefit of not needing to be plumbed into your central heating system, a Thermostatic or Non-Thermostatic element is attached to the Radiator or towel rail and this is what controls its heat. You will need to have these Radiators/Towel Rails installed by a qualified Electrician.
Dual Fuel - A Dual Fuel Radiator or Towel Rail is a combination of both the Central Heating and Electric Only versions. A Dual Fuel Radiator/Towel Rail is not filled with any liquid like the Electric Only, because it is made to be plumbed into your Central Heating System, which will be the source of its heat when the Central Heating System is turned on. When the Central Heating System of your house is turned off you can use an Electric Element (Thermostatic or Non-Thermostatic) to heat the Radiator/Towel Rail.
Brand

REINA

Installation direction

Horizontal / Vertical

Material

Steel

Colour

Grey

Warranty

5 years

ManoMano Reference

ME9450299

SKU

RND-FL06AD-THDF