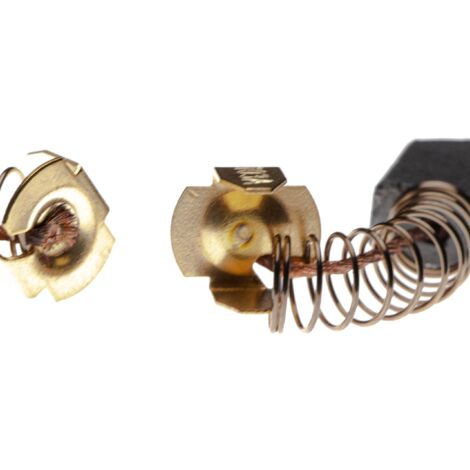 vhbw 2x Carbon Brush, Motor Brush 6 x 10 x 15mm suitable for Makita 9924DB, DA6300, DA6301 1/2", JN3200, JS3200, PC1100 power tool
Reference: ME15763317
Out of stock
View full description
Sold by: Electropapa
vhbw 2x Carbon Brush, Motor Brush 6 x 10 x 15mm suitable for Makita 9924DB, DA6300, DA6301 1/2", JN3200, JS3200, PC1100 power tool
Description
Robust carbon brush for your electrical appliances
Measurements: 6 x 10 x 15mm With springMotor brushes are used to transmit an electrical current from a static part of a machine to the rotating part of a motor or generator. Over time, it is quite normal for the carbon pins to wear out. Should this occur, your device may stop working properly.
In order to prevent this from happening, replacing a worn-out carbon brush with a high-quality one will ensure that you can continue to use your device further.
There are many types of carbon brushes, which will differ according to the manufacturer and the size or shape of the motor in your appliance. It is therefore not always possible to list all of the compatible machines. Where necessary, please compare the shape and dimensions of the new carbon brush with the previous motor brush of your appliance to ensure they are compatible.
Not an original product - high-quality, compatible accessory from the brand vhbw.
Content of delivery:Technical details:
Material: graphite
Dimensions: 6 x 10 x 15mm
Spring
Length of spring: 21mm
Diameter of spring: 6.8mm
Internal cable
Bracket
Suitable for the following device models:
Makita : 9924DB
Makita : DA6300
Makita : DA6301 1/2"
Makita : JN3200
Makita : JS3200
Makita : PC1100
Replaces the following original accessories:
Makita : 191945-4, 194982-7, CB-124
Cost-effective spare parts and accessories without compromising on quality; this is the promise of the vhbw brand. We seek to extend and maintain the service life of your electrical appliances and electronic devices. Our products aim to improve product performance so that they function more efficiently, more effectively, and for even longer.
Brand

VHBW

ManoMano Reference

ME15763317

SKU

160179916-3
About The Brand

ur unique brand, VHBW, offers high-quality electronic accessories to give your electronic devices a longer, or even a new boost of, life. To put it simply: an electric toothbrush does not have to be thrown away when the battery no longer works. Instead, we offer a range of VHBW compatible replacement batteries that will bring such devices back to life. Whether it' s electronic accessories, spare parts or consumables - at VHBW, we ensure that our customers directly experience the cost benefits rather than using this energy to present our products in a fancy, uneccesary way. Quality is key! We focus on sustainability and place great emphasis on the durability of electronic devices with our products. To adhere to our goals, we design our products to withstand maximum stress and to perform at the same high standards as their originals. Price is the only thing that decreases compared to the originals - thanks to the smooth operating structure within our company, where we have our own warehouse and process the shipping ourselves, we avoid passing on unnecessary costs to the customer.