WellCut WC-SDB217 Complete Drill & Screwdriver Bit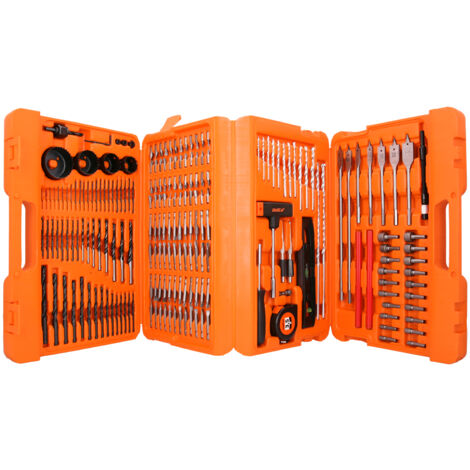 WellCut WC-SDB217 Complete Drill & Screwdriver Bit Set with 217 Pieces
View description
100% secure payment by debit or credit card
Free delivery (postcode specific)
Delivery methods
At home between 3/3/2021 and 4/3/2021 for any order placed before 6 PM (Free shipping)
Description
"I bought this kit because it was affordable and I thought to myself I should be completely set with drill & screwdriver bits now!" - Paul Totts
WellCut 217 Piece Complete Drill & Screwdriver Bit Set. A well-rounded kit that gives you everything you need. Whether you're just starting out, or you've been at it for years. This set comes with more than 100 screwdriver bits and over 70 drill bits along with an assortment of hand tools. Each bit is labelled into the plastic storage box. Compact storage case makes this product easy to move with on the go and easy to put into a drawer or on a shelf. Made from chromium-vanadium S2 steel ensuring a solid build. Hardened rating at: HRC 60-62.
Features
Large drill bits selection - A huge selection of drill bits comes with hss, masonry, wood + flat wood & hole saw bits.
Ultra sharp & high quality drill bits - Ultra sharp bits ensure thatyou are able to drill through the toughest of materials. Made from High Quality S2 Steel. Build for strength.
Accessories included - Included are some excellent additions to your drill bits. This set comes with screwdriver bits, nut drivers, socket bits, bits holders and more.
Contents Of This Product
PHILLIPS Bits, POZIDRIV Bits, SLOTTED Bits, HEX Bits, TORX Bits, FLAT Bits, HOLESAW, NUT DRIVERS, METAL HSS, MASONRY, WOOD, BIT HOLDERS, HAND TOOLS.
Product Specifications
PHILLIPS Bits: PH0 (3x 25mm & 3x 50mm), PH1 (3x 25mm & 3x 50mm), PH2 (4x 25mm & 4x 50mm), PH3 (3x 25mm & 3x 50mm)
POZIDRIV Bits: PZ0 (1x 25mm & 2x 50mm), PZ1 (2x 25mm & 2x 50mm), PZ2 (2x 25mm & 2x 50mm), PZ3 (2x 25mm & 2x 50mm).
SLOTTED Bits: SL3 (2x 25mm & 2x 50mm), SL4 (2x 25mm & 3x 50mm), SL5 (2x 25mm & 3x 50mm), SL55 (2x 25mm), SL6 (2x 25mm & 3x 50mm), SL7 (2x 25mm & 3x 50mm).
HEX Bits: H2 (1x 25mm & 1x 50mm), H3 (1x 25mm & 1x 50mm), H4 (1x 25mm & 1x 50mm), H5 (1x 25mm & 1x 50mm), H6 (1x 25mm & 1x 50mm), H7 (1x 25mm & 1x 50mm).
TORX Bits: T10 (1x 25mm & 1x 50mm), T15 (1x 25mm & 1x 50mm), T20 (1x 25mm & 1x 50mm), T25 (1x25mm & 1x 50mm), T27 (1x 25mm & 1x 50mm), T30 (1x 25mm & 1x 50mm), T40 (1x 25mm & 1x 50mm), T45 (1x 25mm & 1x 50mm)
FLAT Bits: 1x 10mm, 1x 12mm, 1x 16mm, 1x 20mm, 1x 22mm
HOLESAW: 32mm, 38mm, 44mm, 54mm
NUT DRIVERS: 1x 5mm, 1x 5.5mm, 1x 6mM, 1x 7mm, 1x 8mm, 1x 9mm, 1x 10mm, 1x 11mm, 1x 12mm, 1x 13mm, 1x 5/32" mm, 1x 3/16" mm, 1x 7/32" mm, 1x ¼"mm, 1x 9/32mm, 1x 5/16" mm, 1x 11/32" mm, 1x 3/8" mm, 1x 7/16" mm, 1x ½" mm
METAL HSS: 4x 1mm, 4x 1.5mm, 5x 2mm, 5x 2.5mm, 5x 3mm, 4x 3.2mm, 4x 3.5mm, 5x 4mm, 1x 4.5mm, 1x 5mm, 1x5.5mm, 1x 6mm, 1x 6.5mm, 1x 7mm, 1x 7.5mm, 1x 8mm, 1x 9mm, 1x 10mm.
MASONRY: 1x 3mm, 1x 4mm, 1x 4.5mm, 1x 5mm, 1x 5.5mm, 1x 6mm, 1x 6.5mm, 1x 7mm, 1x 8mm, 1x 9mm, 1x 10mm.
WOOD: 2x 4mm, 1x 5mm, 1x 6mm, 1x 7mm, 1x 8mm, 1x 9mm, 1x 10mm.
BIT HOLDERS: Drill Stopper, Countersink, Flexible Bit Holder.
HAND TOOLS: Magnetic Screwdriver, Allen Key, 3.5M Measuring Tape, 8" Spirit Level, 2x Nail Punch, 1x T-Shaped Screwdriver
**images for illustrative purposes only – please refer to description and specification for full details of product**
Features
Kind of product

Set

ManoMano Reference

ME18009585

SKU

WC-SDB217