Bathroom cabinets are a great way to achieve extra storage within the bathroom. This beautifully designed bathroom sink and unit from our Essence white gloss bathroom furniture features a high-quality ceramic sink and a unit that has plenty storage for all your bathroom accessories. Featuring a vast cupboard area of two spacious drawers and three carefully crafted cupboards.
With a width of 1050mm, these bathroom sink cabinets allow room for all of the family, with room to spare. Ideally used in larger bathrooms or en-suites as its quite large that some bathrooms may not have. The unit comes fully assembled so there is no need to fumble around trying to understand the confusing instructions that comes with flat pack furniture.
Features and benefits:
High gloss white finish

Supplied with a sturdy ceramic basin

1 Tap hole basin

Fully assembled - improving installation time!

Supplied with handles and soft-close doors

Doors are made from high-quality MDF (which is also moisture resistant) it is then coated with several layers of high gloss white paint

A fantastic 5-year guarantee for that added piece of mind
Create the bathroom of your dreams with the Architeckt Dakota Basin Mixer bathroom tap. It s essential for any contemporary bathroom and adds a classy touch with its square design and stunning waterfall spout.
These particular waterfall taps are precision engineered from the highest quality solid brass and then lusciously coated in layers of highly polished chrome to give them a finish with endless amounts of shine. It benefits from super-smooth operation on the lever, with ceramic disc cartridges controlling the flow and temperature. They aren t just smooth to use either, they ll also outlast any rubber washers too so you won t need to worry about a dripping tap.
Tap Features and Benefits:
Ceramic disc cartridges give you optimal control over the flow and temperature of your water.

Stunning waterfall spout allows the water to cascade down into the bowl.

Chrome plating adds shine and extra dazzle to any bathroom setting.

Brass body provides a weight feel and a long lasting tap.

Compatible with all types of plumbing systems.

10 year guarantee against any manufacturing defects.
Single Tap Hole Basin
There was a time when you could only get separate hot and cold taps which, in our opinion, aren t practical. It s hard to get a perfect mix of water plus they take up quite a lot of space around your basin. Thankfully our flat pack furniture basins have just a single tap hole designed for use with a basin mixer tap. Basin mixer taps allow you to precisely blend your water temperature, giving you perfect washing facilities each and every time. The tap shown in the image is the Architeckt Malmo.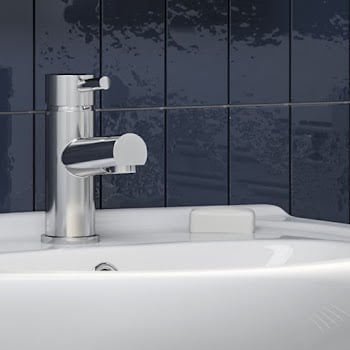 Spacious Internal Storage
We keep a lot of essential items in the bathroom so it s really important that we ve got somewhere to put them all. This is where a basin unit has its biggest advantage over a basin and pedestal, with storage tucked away underneath the basin you ll have the added room to store anything that you d rather wasn t left out on display. 

White Gloss Finish
White will always be and always has been a truly classic colour fit for bathroom suites. Bathrooms can sometimes be a bit on the small side and white units and fixtures help to reflect light making the room seem that little bit bigger. Our white gloss finish is second to none, with a completely smooth surface for easy cleaning and a crisp, neutral tone that looks fantastic in any setting. 

Luxurious Soft Close Hinged Doors
Not only are our grey gloss units stylish but they re pretty clever too, with high tech slow close hinges ensuring no noise is made when the doors are opened or closed. They re great for those who need to be in the bathroom late at night or early in the morning because you won t wake the rest of the household with any noise (not from the doors mind!). Soft close doors can also save small children from getting their squashed fingers, an almost invaluable tool in the mission to stop tears! 

Designer Chrome Handles For Easy Drawer Opening
Adorning the front of the drawer is a stunningly designed and ergonomically tested chrome handle. The simple yet elegant style and finish is the perfect complement for the rest of your bathroom and the vanity unit, providing an easy way to open and close the drawer. 

Mixer Tap
A lot of properties still feature separate taps for hot and cold water. They take up a lot of space around your basin and make it difficult to wash your hands, providing you with scolding hot or freezing cold water. You can easily avoid this with a mixer tap. They connect both your hot and cold feed to the same tap body, using just a single tap hole on your basin. They re easy to control with a single lever and allow you to get your desired water temperature each and every time.


Single Lever Tap
If you re struggling to find a minimalist look for your bathroom then we understand your plight. Taps can be complicated and in this day and age all you want is something easy to use that looks great. Luckily, we have just the thing for you with our innovative single lever taps. As the name suggests, these taps are easy to use with just a single lever controlling the flow and temperature of the water.



Reliable Composite Cartridge
Your new tap will never fail on you thanks to the composite cartridge contained inside. This cartridge provides long-lasting reliability and a smoother lever action for easier operation. We'll guarantee that It's never been easier to achieve the temperature and flow you need!


Solid Brass Body
Is your bathroom feeling a bit tired and worn out? Is the quality of the previous owners taps lacking? A good quality, long-lasting tap needs to be made from a good quality, long-lasting material. And that material is brass. This tap is made from solid brass, precision machined to work flawlessly, and finished to an impeccable standard. It will give you bathroom an expensive, high-quality feel that won t be beaten.
Waterfall Spout
There are a lot of taps on the market, most of which are all very samey looking. You ve got your pick of square or round designs but nothing that truly stands out to you. Until now. Waterfall spouts are certainly the stylish choice, looking great wherever they re fitted in your home. The open-top spout allows for an elegant cascade of water rather than a focused stream making this tap the very definition of contemporary bathroom design. 

Modern Square Styling
Take the overall appearance of your bathroom to a new level by improving the look of your taps. This tap is the perfect complement for your modern bathroom with striking looks, square edges, and a contemporary design to suit any space you have. 

Press Top Basin Waste
This basin waste is a standard size and works perfectly with your bathroom basin. The waste features a clever press top for easy opening and closing, keeping things super easy and straightforward. 

Vanity Dimensions:


Dimensions:

 Essence White Gloss Bathroom Sink Cabinet - 1050mm Width Video
[isdntekvideo]  Dakota Basin Mixer Waterfall Tap Video
w: