The Aurora Charcoal Grey Combination Unit with Right Hand Resin Basin and Concealed Cistern Unit and Toilet is the ideal solution for any homeowner looking for a simple but effective solution to their bathroom furniture needs. With a concealed cistern and sparkling white toilet positioned next to a basin-topped vanity unit, this stylish package ticks many of your bathroom boxes all at the same time. What s more, the gorgeous charcoal grey finish enhances the natural qualities of the wood beneath, lending your home an effortless charm and timeless appeal.
When renovating an old bathroom or kitting out a new one, tracking down all the various fixtures and fittings can be a tiresome business. The Aurora Combination Unit takes all the hassle out of the process by combining four essential bathroom functions into one. The toilet is positioned directly in front of a slimline storage unit, housing the unsightly cistern and attendant pipework, while next to it an elegant single-tap basin is nestled above a two-door vanity unit with ample storage space inside. The two-tone colour scheme creates a sumptuous sense of contemporaneity in the bathroom and adds a touch of class wherever it is installed.
It's not just a pretty face, either. The toilet features dual flush action capabilities, allowing users to choose heavier or lighter flows as the situation warrants. In this manner, thousands of litres of water which would otherwise be flushed down the drain can be conserved each year, doing our put-upon environment no end of good. Both the toilet seat itself and the doors of the vanity unit feature soft-closing technology, making accidental clatters a thing of the past. No more slammed fingers or unpleasantly loud bangs and crashes!
With dimensions measuring 450mm in depth and 1,100mm in width, it s a space-efficient solution that can slot right in to any existing environment. Don t let that fool you, though; there is still plenty of storage space beneath the sink for all your cosmetics and cleaning products. What s more, the vanity unit s position can be easily adjusted to either the left or right side to accommodate for different preferences. And with all components constructed from top-quality materials and coated in a moisture-resistant finish, it s sure to serve your family well for years to come.
Luxury Soft Close Toilet Seat Hinges
Anyone who says toilets can t be luxurious certainly hasn t used one with a soft close seat before! 

They have clever slow closing mechanisms which allow the seat and lid to lower quietly and calmly to the pan rim without making any noise. 

They re great if you ve got children because they completely eliminate the chance of any fingers getting squashed
Plus you don t need to worry about fumbling the seat if you frequent the toilet during the night.

Water-Saving Dual Flush Cistern
While water supplies seem abundant it s not a limitless resource which is why it s important that we limit the overuse of it. 

This doesn t mean products need to be less effective though and these concealed cisterns are a perfect example of that. 

These clever cisterns allow easy selection between either a standard 6 litre flush or a smaller 4 litre flush if you re only disposing of liquid waste. 

They re just as powerful, if not more so, than standard toilets so you don t need to worry about it underperforming.

Minimalistic, Single Tap Hole Ceramic Basin
If you re upgrading your bathroom vanity unit then a basin mixer tap is the only way to go.
These vanity units come with a single, centrally-mounted tap hole to allow easy installation of one.
Mixer taps not only look better than separate hot and cold taps but they allow really easy mixing of water so you can achieve the perfect temperature and flow.
Please note: Basin Mixer Tap is not included -
Please note: Basin Waste is not included - 

Designer Twin Handles
Charcoal grey is a brilliant colour for the bathroom and really highlights accessories like these stunning handles. 

They re luxuriously finished in a high-quality, polished chrome to blend seamlessly with your other bathroom accessories and any tap that you choose.
Both handles feature an ergonomic design with an L shape to allow really easy opening and closing of the cupboard doors.

Natural Charcoal Grey Finish
If you re a lover of the natural look in the bathroom then our bathroom units finished in charcoal grey is the only way to go. 

It s modern, it s stylish and it suits any space, perfectly complementing any other bathroom fittings and fixtures you might have. 

It contrasts beautifully with white like your toilet or your bath and, believe it or not, it can really create a stunning centre piece in any bathroom.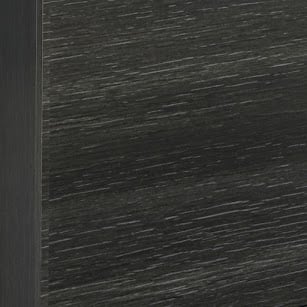 10 Year Guarantee As Standard
When buying products for the bathroom you need to know that they re going to stand the test of time, especially in a moisture rich environment. 

This is why this product comes with a fantastic 10 year guarantee against any manufacturing defects should the worst happen and the product is not up to standard.

You May Also Like:
Basin Mixer Tap -
Slotted Basin Waste -
Flexible Pan Connector - 
General Purpose Silicone Sealant - 
Installation Tape - 
Basin Dimensions:

Basin Unit Dimensions:

Toilet Dimensions:



Toilet Cabinet Dimensions: