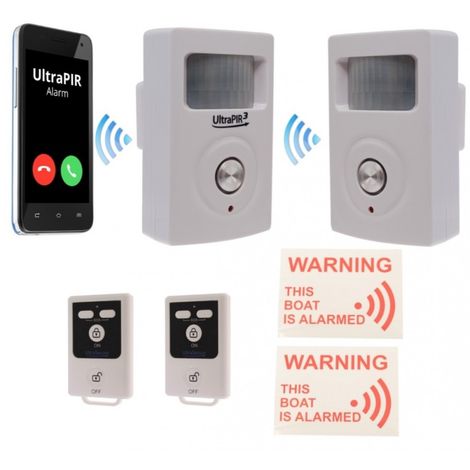 3G UltraPIR GSM Boat Alarm Kit - £12 Roaming SIM Please [007-1249]
Reference: ME19522984
Out of stock
View full description
Free delivery (postcode specific)
Sold by: Ultra Secure
3G UltraPIR GSM Boat Alarm Kit - £12 Roaming SIM Please [007-1249]
Description
Our Best selling Alarm the Battery Powered 3G GSM UltraPIR put together for a kit to suit a typical Narrow Boat although additional accessoires can still be added, the kit includes:
1 x Battery Powered 3G UltraPIR (this will contact up to 3 x key-holders by telephone & text message if triggered).
1 x Battery Powered Standard PIR (this has a built in Siren and will trigger the UltraPIR).
2 x Remote Controls (these will Arm & Disarm both PIR's at the same time).
2 x This 'Boat is Alarmed Window Stickers.
This new improved 3G UltraPIR can communicate with all wireless accessories from up to 100 metres away.
Having 2 x PIR's allow you to protect the Boat from different entrances.
You can also add may additional parts including:
Internal Sirens.
External Solar Siren.
Further Standard PIR's.
Further UltraPIR's.
Further Ceiling PIR's.
This latest UltraPIR is now supplied with built in 3G Technology (most alarm systems still operate on the older 2G networks), but it is still compatible for operation with 2G making it far less likely you would suddenly lose the network signal in the future (more details at the bottom of this page).
The GSM UltraPIR Alarm is very easy to program using the built in keypad mounted onto the rear of the PIR (see video tab).
Communication:
The Alarm communicates via the mobile phone networks, and uses a standard size (not micro) SIM Card (PAYG or Contract). It will contact up to three key-holders by Telephone (with your own pre-recorded message) & Text Message when activated. The Text messages (which can be turned off) will be sent after the Alarm has tried to call all key-holders 3 times.
Receiving a Call:
When the Alarm calls the key-holders, there is the choice to:
Listen to your pre-recorded message and do nothing (the alarm will contact the other key-holders).
Listen to your pre-recorded message and press # on your telephone (this will disarm the PIR and prevent it from calling further key-holders).
Listen to your pre-recorded message and press * on your telephone (this will turn the siren off, prevent it from calling further key-holders, but keep the PIR fully armed (ready for further activations).
Standard PIR:
The standard PIR looks very similar to the UltraPIR and works just the same apart from not having the Dialling functions, but can operate within the same wireless network as the UltraPIR.
Power:
Both PIR's are powered by 3 x AA Batteries (duracell supplied) and typical battery life would be:
Being Armed & Disarmed Once Per Day: 7 months.
Being Armed & Disarmed Once Per Day together with One Activation Per Day: 2 - 3 months.
You can choose to fit Lithium AA Batteries which will outlast a Duracell Alkaline Batteries by about 4 - 6 times. together with performing far better in temperatures below freezing.
You can also add an additional plug in power transformer to the UltraPIR for locations that have access to power at times, the batteries can still be added which will operate the device when power is lost. This is not relevant with the standard PIR, but no power consuming Dialling needs to be done.
Detection:
The Alarm system has a 30 second exit delay (plenty of time to leave the building and lock up) and a 5 second entry delay (normally disarmed from outside the building before entering). The PIR's have a 10 metre distance, 120 degrees horizontal & 90 degrees vertical detection pattern.
UltraPIR Programming:
It is very easy to program using the built in keypad inside the PIR, please see videos attached.
Low Battery:
The Alarm will send you a Text Message if the Batteries are getting low on the UltraPIR (this can be turned off).
Arming & Disarming:
The system is armed by using the Remote Control (supplied) from up to 100 metres away, up to nine additional Remote Controls can be added, part number 007-0240.
A very affordable two room Wireless GSM Alarm !!
SIM Cards:
We do offer the Roaming (M2M) SIM Cards for use in these Alarms to make the complete purchase easier, full details of these can be found (HERE). The Alarm however will work with most other SIM Cards (depending on your location and network coverage) with PAYG or Contract although some customers have experienced problems with the network '3' which we would recommend avoiding. Please contact us for advice if required.
Suitable for River & Canal Boats, not recommended for use out at Sea !!
Brand

ULTRA SECURE

Type of detector

Infrared

ManoMano Reference

ME19522984

SKU

007-1249