Are you trying to figure out how to fit all of the modern conveniences into a toilet with smaller dimensions? The answer is at hand. The Aurora Charcoal Grey Combination Unit with Right Hand Resin Basin and Concealed Cistern Unit with Royan Toilet has been specifically designed for WCs, en-suite bathrooms and foyer cloakrooms where space is restricted, combining everything you need for a functional toilet without sacrificing on style or performance.
The all-in-one package features a stunning Royan toilet and attendant cistern concealed inside its own inobtrusive storage unit. Meanwhile, the adjacent vanity unit sits beneath a stone resin sink with single tap hole, ticking all of the boxes for your bathroom essentials in one compact and convenient solution. At under one metre in width and less than half a metre deep, it s the ideal option for those looking to squeeze all their fixtures into a tight space.
What s more, it comes equipped with some incredible user experience-enhancing technological innovations. The soft-closing mechanisms on the toilet seat and cabinet door mean you won t have to concern yourself with accidental slams or clatters ever again. Environmentally-conscious homeowners can rest easy, too; the dual flush cistern allows users to conserve water with every flush, thus giving our beleaguered planet a much-needed boost.
The whole unit has been designed not only to perform impeccably and deliver an unbeatable user experience, but also look great into the bargain, as well. The sharp-edged design of the Royan toilet screams contemporary splendour, an effect which is only enhanced by the designer handles on the cabinet door. The delicious contrast between the charcoal grey of the vanity unit and the brilliant white of the toilet and sink further accentuate its contemporary credentials.
The unit is fully customisable in terms of layout, with users able to position the basin to either the left or right of the toilet as the situation warrants. Finally, each component has been constructed from durable materials and treated to a moisture-resistant finish, meaning they ll hold up under the humidity and condensation of even the busiest WC or bathroom.
Luxury Soft Close Toilet Seat Hinges
Perfectly complementing the shape and size of the toilet is the gorgeously styled soft close toilet seat. 

Finished in a crisp neutral white to match the toilet pan and fitted with a smoothly operating soft close mechanism to stop the seat and lid banging the pan if they re dropped. 

The soft close seat is easy to fit and really gives a feeling of luxury when you get around to sitting on it.
Water-Saving Dual Flush Cistern
We know it s important to make our products as water efficient as possible because every little helps for saving the planet. 

Our concealed cisterns feature a brilliantly smart dual flush mechanism that allows an easy selection between a large and a small flush. 

For liquid waste a smaller 4 litre flush can be used and for solid waste a 6 litre flush is also available.

Minimalistic, Single Tap Hole Ceramic Basin
If you re upgrading your bathroom vanity unit then a basin mixer tap is the only way to go.
These vanity units come with a single, centrally-mounted tap hole to allow easy installation of one.
Mixer taps not only look better than separate hot and cold taps but they allow really easy mixing of water so you can achieve the perfect temperature and flow.
Please note: Basin Mixer Tap is not included -
Please note: Basin Waste is not included -

Simply Stunning Door Handle
To perfectly complement the charcoal grey finish we have added a simple but stylish L shaped handle to the front of the door.
Allowing easy access to any of your bathroom essentials.

The handle is easy to grip and comes in a beautifully finished polished chrome to blend with any other metal bathroom accessories you may have..

Natural Charcoal Grey Finish
If you re a lover of the natural look in the bathroom then our bathroom units finished in charcoal grey is the only way to go. 

It s modern, it s stylish and it suits any space, perfectly complementing any other bathroom fittings and fixtures you might have. 

It contrasts beautifully with white like your toilet or your bath and, believe it or not, it can really create a stunning centre piece in any bathroom.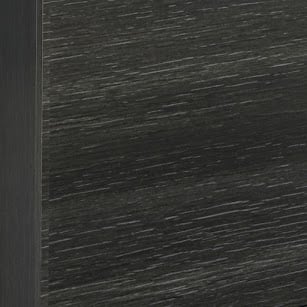 10 Year Guarantee As Standard
When buying products for the bathroom you need to know that they re going to stand the test of time, especially in a moisture rich environment. 

This is why this product comes with a fantastic 10 year guarantee against any manufacturing defects should the worst happen and the product is not up to standard.

You May Also Like:
Basin Mixer Tap -
Slotted Basin Waste -
Flexible Pan Connector - 
General Purpose Silicone Sealant - 
Installation Tape - 
Basin Dimensions:

Basin Unit Dimensions:

Toilet Dimensions:


Toilet Cabinet Dimensions: