The most powerful power shower available, delivering up to 18 Litres of water per minute, that s a whopping 28% more water than a Mira Vigour or Triton AS2000XT!
Uses Aqualisa patented Bi-Metallic Coil technology to ensure the best temperature stability of any Power Shower. Technical details:
Only to be used with gravity water systems.

For the minimum required pressure, the highest part of the shower head must be below the underside of the cistern.

Maximum required pressure: 1 bar.

Pipework entries can be found on the top, bottom and rear of the shower unit.

Valve inlet centres: 65mm.

Push-fit inlet fitting connections are 15mm. Inlet supply positions are cold on the right and hot on the left.

Outlet connection: BSP.

Be aware: A built-in pump is incorporated into the shower unit to provide the flow boost. This means that the shower is only to be used on a gravity fed water system and CANNOT be used on a high-pressure water system.
 Flow rates:
Normal flow position: 10 litres per minute. (2.2 Gallons Per Minute)

Boost flow position: 18 litres per minute. (4.0 Gallons Per Minute)
 Electrical requirements:
A 3amp fused spur.

A/C.

Low voltage transformer mains cable length: 2m. (6ft 6 Inches)

Low voltage transformer low voltage cable length: 4m. (13ft 2 Inches)
 Valve dimensions:
Height: 320mm. (12.6 Inches)

Width: 180mm. (7 Inches)

Depth: 160mm from finished wall (6.3 Inches)
Rail system dimensions:
Length: 565mm. (22.2 Inches)

Diameter: 25mm. (1 Inch)

Depth: 290mm from wall (11.4 Inches)

Rail fixing centres: 523-529mm. (20.6 - 20.8 Inches)
Precise Temperature Control
Standard showers can have hot temperature spikes when others in the house turn on taps or flush the toilet.

Thermostatic control means that this shower will hold its temperature steady at all times. It dynamically adjusts the hot and cold water offsetting the everyday changes in water pressure experienced in most family homes. 

3 Year Guarantee
When buying anything for your home you need to know that its going to stand the test of time. This is why this product comes with a fantastic 3 year guarantee against any manufacturing defects should the worst happen and the product is not up to standard. 




Watch Video

Thermostatic Mixer Showers Explained By Aqualisa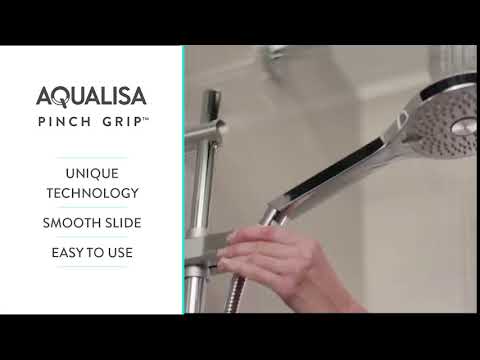 Aqualisa Pinch Grip Shower Handset Holder
Dimensions: