Aqualisa showers have achieved true style and performance at a surprisingly affordable price with the Colt mixer. Precise temperature control is guaranteed with brilliant thermostatic technology, ensuring the temperature doesn t fluctuate no matter what other water outlets are being used in the house. It s been purpose designed to work on all water systems for the ultimate in compatibility. Design Features
Precise Temperature Control
Standard showers can have hot temperature spikes when others in the house turn on taps or flush the toilet.

Thermostatic control means that this shower will hold its temperature steady at all times. It dynamically adjusts the hot and cold water offsetting the everyday changes in water pressure experienced in most family homes. 

Engineered To Prevent Limescale Build Up
Limescale is the enemy of many conventional showers. Over time it can build up and even cause mechanisms to seize. One of the benefits of Aqualisa Thermo mixer showers is the inbuilt resistance to limescale designed into the operating mechanism of the valves.
 

Win The Fight Against Limescale
One-Handed Height Adjustment With The Pinch Grip Slider
The unique Aqualisa pinch grip slider makes adjusting the height of your shower effortless, even with soapy hands and shampoo in your eyes!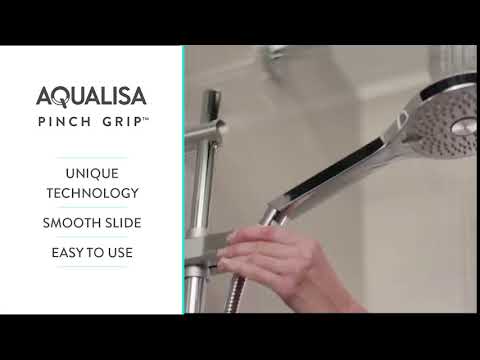 Aqualisa Pinch Grip Shower Handset Holder
Water Saving 'Eco Shower Heads
Some water-saving shower heads aerate the flow of water to deliver the illusion of bubbles, but Aqualisa weren t prepared to compromise the way your shower looks or feels. Harmony heads use intelligent design to deliver a fuller spray whilst allowing you to make water savings of up to 25%.

When the eco spray on a Harmony shower head is selected, the shower head concentrates and angles the spray from its two outer rings. The result is a spray pattern that is refreshing and generous yet incredibly efficient in terms of water consumption. 

4 Spray patterns
The new Harmony head for Aqualisa showers is perfect for showering any time of the day. With 4 to choose from you ll always have the right combination of invigoration or relaxation.

Who needs a spa day when you ve got a shower like this? 

Anti-Twist Shower Hose
Twisted shower hoses restrict the water flow from your shower. With Aqualisa anti-twist technology they are no longer a problem. You can take your shower head out the holder without it flailing around and trying to escape! Anti-twist technology ensures the best possible water flow and extends the life of your shower hose. 

Rub Clean Shower Head Nozzles
With a Harmony shower head the days of soaking in vinegar to remove limescale are gone! The brilliantly designed nozzles can simply be rubbed clean with you hand to remove any residue that may have built up. 



Thermostatic Mixer Showers Explained By Aqualisa
Dimensions:

Leaders In Innovation
Invented the famous Bi-Metallic Thermostatic valve in the 1970 s, featured on Tomorrows World

Created the World s first Digital Shower - Quartz Digital in 2001

Inventors of the first Smart Shower Aqualisa Q in 2017

Winner of the Queens Award for enterprise (Innovation)

Award Winning Products
Quartz Digital - Best Consumer Product at the UK Design Business Association s Design Effectiveness Awards

Quartz Electric - Which Best Buy Award for Electric showers 2017 - The best shower by far

Quartz Electric - Winner of Red Dot Design Award

Quality UK Manufacture
Manufactured to the highest quality in England Since 1977

Over 40 years experience manufacturing showers at its plant in Westerham Kent

Exceptional Customer Service
Industry leading product warranties up to 5 years backed by dedicated team of skilled rapid response engineers

UK Top 50 Companies Customer Awards 2017

Trust Pilot Customer Rating of Excellent