Best sellers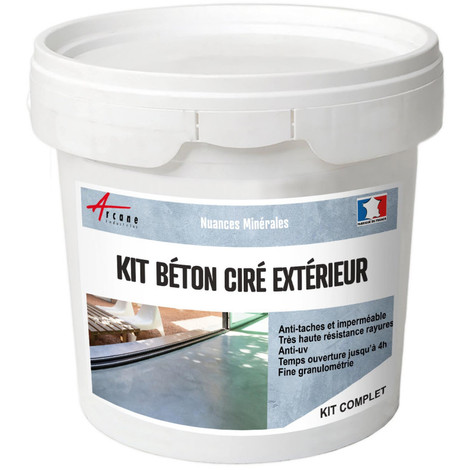 BETON CIRE TRES HAUTE RESISTANCE - béton ciré extérieur pour sols, murs, terrasses, balcons, escaliers extérieurs - ARCANE INDUSTRIES - Airelles - Rouge - kit 2 m² (2 couches)
Reference: ME1372301
Out of stock
View full description
Free delivery (postcode specific)
Sold by: autohub_ab
BETON CIRE TRES HAUTE RESISTANCE - béton ciré extérieur pour sols, murs, terrasses, balcons, escaliers extérieurs - ARCANE INDUSTRIES - Airelles - Rouge - kit 2 m² (2 couches)
Description
DESCRIPTION PRODUIT
Béton ciré extérieur :
Le béton ciré > est un mortier décoratif, teinté dans la masse (40 couleurs). Sa formulation permet une grande facilité d'application sur une multitude de supports. Ãpaisseur totale: 2mm La gamme comprend les primaires et finitions garantissant une excellente accroche et la pérennité du rendu esthétique. Notre béton ciré est présenté sous forme de kits comprenant l'ensemble des produits nécessaires à la bonne réalisation des travaux.
ASTUCE COULEUR
Pour votre choix de couleur, nous vous conseillons vivement de commander notre nuancier Béton Ciré. Il vous est remboursé si vous nous le renvoyez complet dans les 2 mois suivant son achat.
LE KIT BÃTON CIRÃ EXTÃRIEUR CONTIENT :
Primaire universel pour béton ciré
Pack béton ciré (micro mortier fine granulométrie : poudre + résine + colorant)
Bouche pores
Vernis: HIGHPROTECT (Très haute résistance et protection, bi-composant, résiste à la stagnation d'eau, légèrement satiné)
AVANTAGES PRODUIT
Notre béton ciré présente de nombreuses qualités
Haute résistance aux UV
Très bonne opacité et couvrance
Temps d'ouverture important > 1H
Tous supports même lisses - Excellente adhérence
Fine granulométrie
Vernis Haute protection anti taches, abrasion, chaleur
Teinté dans la masse
Entretien facile
DESTINATION
Terrasses extérieures, Escaliers, Balcons
MATÃRIAUX ELIGIBLES
Carrelage et carreaux de ciment
Ciment
Chapes
Béton allégé / cellulaire
APPLICATION
OUTILS REQUIS
Couteau américain de différentes tailles (utiles pour les angles, crédences, escaliers, petites surfaces non accessibles avec la lisseuse)
Lisseuse plastique et inox 20x8 et 24x10 à bords arrondis. Important : la taille et la nature de la lisseuse doivent être adaptées à la surface. Si la lisseuse a déjà été utilisée, frotter ses arrêtes au papier verre pour enlever les aspérités et ne pas marquer le support.
Rouleaux manchons microfibres (10mm - 250mm) : pour application primaire + finition Nettoyage à l'eau pendant et après usage
PRÃPARATION DU SUPPORT
Le support doit être résistant, non friable, stable et cohésif. Si ce n'est pas le cas, un fixateur de fond est nécessaire: nous consulter.
La surface doit être sèche.
Ãliminer par grattage puis éventuellement ponçage les anciennes peintures, les traces de plâtre et de mastic.
Toutes les irrégularités doivent être éliminées.
Dans tous les cas, nous préconisons un primaire spécifique. Particulièrement sur les terrasses afin d'éviter les remontées capillaires. Nous vous recommandons d'utiliser notre Revepoxy ARC en deux couches, avec sablage de Silice sur la dernière couche. Il faut faire un test en collant une feuille de plastique transparent pendant 48h. Si des gouttelettes d'eau et de la buée apparaissent entre le film plastique et le support, c'est que de l'humidité venant de l'extérieur infiltre votre support.
Ce primaire est indispensable si votre dalle est posée directement sur la terre (radier). L'interposition d'un primaire entre le béton ciré et le support permet notamment une meilleure homogénéité finale du rendu et une accroche améliorée.
MISE EN ÅUVRE
Verser 3 poids de poudre dans 1 poids de résine, mélanger manuellement ou mécaniquement à 600 T/mm jusqu'à l'obtention d'une pâte homogène. Il est indispensable de toujours verser la poudre dans la résine et non l'inverse (risque de grumeaux). Le mélange final doit être épais. Préparer le mélange uniquement pour la couche à réaliser juste avant l'application.
Sur supports préparés, appliquer à la lisseuse 1 couche régulière sans côtes d'1 mm d'épaisseur sans la lisser. Après 24h, appliquer une 2ème couche en ferrant la matière au fur et à mesure du séchage pour obtenir une surface lisse et soyeuse.
RECOMMANDATIONS
> : Le produit doit toujours être à l'avant de l'outil : >. Toujours partir de l'extérieur du support. L'application va dépendre de l'angle d'inclinaison de la lisseuse : plus on est en finition, plus il faut être à plat. Quand on ferre, tous les 3 ou 4 coups, il faut nettoyer la lisseuse: plus on avance dans la finition, plus on travaille avec un outil propre (nettoyage au chiffon humide).
Application > : frais dans frais - permet de rentrer le grain. Les charges fines présentes aident à faire le glaçage (effet brillant par ferrage). Quand on travaille >, on fait davantage pénétrer les grains et ainsi on obtient un support plus lisse.
Application sur plancher chauffant : Il faudra arrêter le plancher chauffant au moins 48 heures avant la pose du béton ciré et le > au minimum 72 heures après le séchage des finitions.
Température d'application : minimum 5°C - maxi 25°C.
PROTECTION
VERNIS HIGHPROTECT (FINITION) : Après application du béton ciré et ponçage, un bouche pores est nécessaire avant l'application du vernis HIGHPROTECT. HIGHPROTECT est un vernis acrylique polyuréthane hydrodiluable haut de gamme réticulant à l'aide de polyisocyannates aliphatiques : produit bi-composant. Il constitue une protection de grande longévité des bétons décoratifs mais aussi du métal, du bois, des composites et sur cataphorèse.
SÃCHAGE
Séchage entre 2 couches: 1 heure environ.
Séchage avant polissage et finition: 24 heures ou plus.
Temps ouvert : 4 heures.Â
ENTRETIEN
Attendre 20 jours de séchage avant d'utiliser un détergent ou un nettoyeur vapeur pour l'entretien courant. Métallisant sur vitrificateur (1 an).
CONSOMMATION
Se reporter à la consommation indiquée dans le choix de la contenance
CONSERVATION
Se conserve avant mélange, dans un endroit sec à l'abri de la chaleur pendant 12 mois maximum
Brand

ARCANE INDUSTRIES

Area of application

Exterior

Use

Floor

ManoMano Reference

ME1372301

SKU

110_23736
12 DIY reviews by customers
75 % DIY enthusiasts recommend this product
12 Reviews
Order by
Newest
Oldest
Highest rated
Lowest rated
Most upvoted
What do our customers say about us and our sellers?