Simple yet stunning chrome finish and perfectly smooth base and handles the Architeckt Edsberg range will complement and match well with any style of bathroom.
The beautiful waterfall spout allows the water to flow out and cascade, creating a luxurious and eye catching feature. Beneath the luxurious chrome finish is a solid brass body which is fitted with zinc handles for taps that are not only aesthetically pleasing but reliable too.
Quarter turn ceramic disc cartridges control the flow and temperature of the water. They operate smoothly with just a quarter turn to full flow and will never wear out and drip.
The basin tap includes flexible tails to aid installation.
If this isn't enough then you'll also be supplied with a brilliant guarantee of 10 years provided by the manufacturer!
Basin Mixer Tap Benefits and Features:
•  Contemporary style bathroom tap
•  G1/2 inlet size for simple installation and compatibility
•  Solid brass body with zinc handles
•  Ceramic disc technology
•  Compatible flexible tails included
•  10 year manufacturing guarantee
Basin Mixer Tap Flow rates:
•  0.5 Bar: 10 (l/min)
•  1.0 Bar: 13.3 (l/min)
•  3.0 Bar: 20.3 (l/min)
Bath Mixer Tap Features and benefits:
•  Gorgeous contemporary bathroom tap
•  Ceramic disc technology allows the super-smooth use of the lever handles
•  Standard G3/4 inlet size
•  10 year manufacturing guarantee
Bath Mixer Tap Flow rates:
•  0.5 Bar: 22.8 (l/min)
•  1.0 Bar: 31.3 (l/min)
•  3.0 Bar: 54 (l/min)  
Basin Mixer Tap & Bath Mixer
Looking for an affordable set of taps can be seriously tricky and the last thing you want to do is get a basin mixer and bath mixer that don't match. I mean, let's face it, you know it'll ruin the aesthetics of your bathroom. And that's where this fantastic set comes into play. It combines everything you need into one handy package so the stress of upgrading your bathroom can be completely alleviated.


Waterfall Spout
There are a lot of taps on the market, most of which are all very samey looking. You've got your pick of square or round designs but nothing that truly stands out to you. Until now. Waterfall spouts are certainly the stylish choice, looking great wherever they're fitted in your home. The open-top spout allows for an elegant cascade of water rather than a focused stream – making this tap the very definition of contemporary bathroom design.

Single and Twin Lever Taps
If you're struggling to find a minimalist look for your bathroom then we understand your plight. Taps can be complicated and in this day and age all you want is something easy to use that looks great.  The Basin Mixer Tap is super easy to use with just a single lever controlling the flow and temperature of the water. Whilst the Bath Mixer Tap has twin levers, one lever controls the hot and the other the cold to bring perfect harmony to your bathroom.

Reliable Composite & Ceramic Cartridge 
Are dripping taps starting to drive you crazy? Drip, drip, dripping at all hours of the day? If this sounds familiar then you need to upgrade! The Basin Mixer Tap contains a composite cartridge and the Bath Mixer Tap contains a ceramic cartridge, which both provide long-lasting reliability and a smoother quarter-turn action for easier operation. It's never been easier to achieve the temperature and flow you need!
Modern Round Styling
Take the overall appearance of your bathroom to a new level by improving the look of your taps. This tap is the perfect complement for your modern bathroom with striking looks, smooth rounded edges, and a contemporary design to suit any space you have.
Solid Brass Body
Is your tap feeling a bit tired and worn out? Is there a serious quality issue? A good, long-lasting tap needs to be made from a good, long-lasting material. And that material is brass. This tap is made from solid brass, precision machined to work flawlessly, and finished to an impeccable standard. It will give your home an expensive, high-quality feel that won't be beaten.
Polished Chrome Finish
If your old taps are starting to tarnish and no amount of chrome cleaner is bringing them back to life then you really deserve to refresh them. Old, well-used taps can really let down the overall look of around your home so bring yours back to life with some simple swaps. This particular tap will bring new elements of style with it's gorgeous, polished chrome finish. Pair it with some new accessories for the perfect contemporary look.

Flexible Tails Included
You get your new tap delivered. You're excited. You open the box only to find out that you're missing the flexible tails to connect it to your plumbing. Frustrating! You can order a new set online or run to a local shop. Either way it's annoying! Thankfully with this tap you don't need to worry as the flexible tails are included. Resume excitement!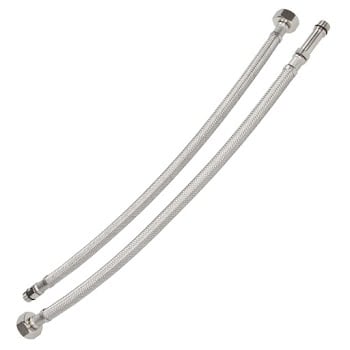 10 Year Guarantee 
High-quality parts and precision engineering put these products together and we want you to be confident of that, so to put your mind at ease we cover you with a 10 year long guarantee.

Basin Dimensions:

Bath Mixer Dimensions:

Basin Mixer Tap Video 

Architeckt Edsberg Basin Mixer Tap - Plumbworld - YouTube
Video will open in a new window
[isdntekvideo]  Bath Mixer Tap Video 

Architeckt Edsberg Bath Mixer Tap - Plumbworld - YouTube
Video will open in a new window