The Architeckt Dakota Bath Shower Mixer with Dual Shower Heads Riser Kit is an excellent choice if you're looking to bring a contemporary edge to your bathroom, along with heaps of practicality and style. Thesoft rounded lines and smooth shiny chrome finish will make a big impact on even the smallest of bathrooms.
The shiny chrome finish is super easy to clean, making your shower kit look great for longer. Made from strong brass, you can be assured that this kit is built to last, even in the busiest of households.
For ease of use this tap features ceramic disc technology that provides smooth operation, ensuring your taps won't leak in the future due to the discs not wearing out.
The shower riser kit is incredibly practical due to its adjustable handset which can be used by all the family. Simply move up or down the riser rail to the position you need for your height.
The large overhead drencher is sure to deliver a truly invigorating flow of water to give you a fantastic showering experience.
Luxury Round Drencher Head
Most showers are supplied with a standard sized shower head which are designed to simply get the job done. Your shower doesn't have to be like that and won't, with this large round drencher head. It's ideal for getting that downpour feeling but with all the luxuries of a hot shower. Perfect!  

Adjustable Shower Head on Riser Rail
There's nothing worse than being too tall or too short for a shower head, that's why this shower is attached to the riser rail with an adjustable holder. This allows you to move your shower head higher or lower, customising the height specific to each person who uses it!  

Round Headset Shower Head
Shower handsets are an excellent benefit to your shower as they enable you to soak those 'hard to reach' places that the overhead shower can't easily get to. This shower handset features a classically designed modern head that provides ample water flow with a stylish aesthetic that won't go amiss.  

Bath Shower Mixer Tap
You don't need to suffer when it comes to getting convenience in your bathroom. Choosing between fitting a bath or a shower is tough, with everyone in your house wanting something different. Those days are over though because you don't need to choose any more, not with this beautiful bath shower mixer tap. Once fitted you can rest assured that there will be no more arguments, at least not over a bath or shower anyway!  

Twin Lever Taps 
Finely tuning the perfect water temperature can sometimes be a bit tricky. Adjusting the lever bit by bit is frustrating and unnecessary especially when a twin lever tap can do this for you much more efficiently. One lever controls the hot and the other the cold to bring perfect harmony to your bathroom.  

Waterfall Spout
There are a lot of taps on the market, most of which are all very samey looking. You've got your pick of square or round designs but nothing that truly stands out to you. Until now. Waterfall spouts are certainly the stylish choice, looking great wherever they're fitted in your home. The open-top spout allows for an elegant cascade of water rather than a focused stream – making this tap the very definition of contemporary bathroom design.  

Modern Round Styling
Take the overall appearance of your bathroom to a new level by improving the look of your taps. This tap is the perfect complement for your modern bathroom with striking looks, smooth rounded edges, and a contemporary design to suit any space you have.  

Reliable Ceramic Cartridge
Are dripping taps starting to drive you crazy? Drip, drip, dripping at all hours of the day? If this sounds familiar then you need to upgrade! This stylish tap contains a ceramic cartridge which provides long-lasting reliability and a smoother quarter-turn action for easier operation. It's never been easier to achieve the temperature and flow you need!  

Solid Brass Body
Is your bathroom feeling a bit tired and worn out? Is the quality of the previous owners taps lacking? A good quality, long-lasting tap needs to be made from a good quality, long-lasting material. And that material is brass. This tap is made from solid brass, precision machined to work flawlessly, and finished to an impeccable standard. It will give you bathroom an expensive, high-quality feel that won't be beaten.  
Polished Chrome Finish
If your old taps are starting to tarnish and no amount of chrome cleaner is bringing them back to life then you really deserve to refresh them. Old, well-used taps can really let down the overall look of your bathroom so bring yours back to life with a simple swap. This particular tap will bring a new element of style to your bathroom with it's gorgeous, polished chrome finish. Pair it with some new accessories for the perfect contemporary look.  

5 Year Guarantee 
High-quality parts and precision engineering put these products together and we want you to be confident of that, so to put your mind at ease we cover you with a 5 year long guarantee.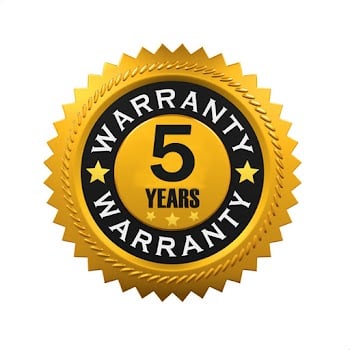 Dimensions A: 

Dimensions B: