Choosing the right tap for your bathroom basin can be a long old thought process. You can't just choose any old tap as you need it to be reliable, function great, and of course it needs to look good too! The Architeckt Misa Basin Mixer Tap checks all of the above boxes and more!
The durable and robust solid brass body ensures that this tap will last for many years to come. Apart from all of the obvious reasons of using brass for the internals, it is a great heat conductor, meaning your water will heat up a lot faster than usual, a great advantage to any tap! The handles are constructed from a hard wearing zinc alloy, just as durable the brass. The reason why brass isn't used in the handles is that zinc stays cool even when heated – meaning you won't burn your hands when turning on the tap. If we dive deeper into the tap you will find ceramic disc cartridges, these contribute to the smooth operation and stop any leaks or drips from happening.
That's enough of all the science stuff. The body and handles are then luxuriously covered in a dazzling chrome for a bright and clean look. Not only does the chrome finish look great but it keeps your tap rust free.
Compatability isn't an issue either as the Misa Basin taps will work with any type of plumbing system. Finally, you're covered with an outstanding 10 year manufacturer guarantee – for that added peace of mind.
Features and Benefits:
•  Fitted with single zinc lever handle and ceramic disc technology, making the tap last a lot longer and reduce the risk of any leaks or drips.
•  Suitable for all plumbing systems
•  Includes flexible tails for easy installation, saving you an extra purchase
•  A fantastic 10 year warranty!     Technical Notes:
•  Inlet connection: M12 x 1 x 400     Flow Rates (l/min):
•  0.5 bar: 9.6 (l/min)
•  1.0 bar: 13.3 (l/min)
•  3.0 bar: 22.9 (l/min)    
Mixer Tap
A lot of properties still feature separate taps for hot and cold water. They take up a lot of space around your basin and make it difficult to wash your hands, providing you with scolding hot or freezing cold water. You can easily avoid this with a mixer tap. They connect both your hot and cold feed to the same tap body, using just a single tap hole on your basin. They're easy to control with a single lever and allow you to get your desired water temperature each and every time.  

Single Lever Taps
If you're struggling to find a minimalist look for your bathroom then we understand your plight. Taps can be complicated and in this day and age all you want is something easy to use that looks great. Luckily, we have just the thing for you with our innovative single lever taps. As the name suggests, these taps are easy to use with just a single lever controlling the flow and temperature of the water.
   

Reliable Composite Cartridge
Your new tap will never fail on you thanks to the composite cartridge contained inside. This cartridge provides long-lasting reliability and a smoother lever action for easier operation.We'll guarantee that It's never been easier to achieve the temperature and flow you need!  

Solid Brass Body
Is your tap feeling a bit tired and worn out? Is there a serious quality issue? A good, long-lasting tap needs to be made from a good, long-lasting material. And that material is brass. This tap is made from solid brass, precision machined to work flawlessly, and finished to an impeccable standard. It will give your home an expensive, high-quality feel that won't be beaten.  

Polished Chrome Finish
If your old taps are starting to tarnish and no amount of chrome cleaner is bringing them back to life then you really deserve to refresh them. Old, well-used taps can really let down the overall look of around your home so bring yours back to life with some simple swaps. This particular tap will bring new elements of style with it's gorgeous, polished chrome finish. Pair it with some new accessories for the perfect contemporary look.  

Flexible Tails Included
You get your new tap delivered. You're excited. You open the box only to find out that you're missing the flexible tails to connect it to your plumbing. Frustrating! You can order a new set online or run to a local shop. Either way it's annoying! Thankfully with this tap you don't need to worry as the flexible tails are included. Resume excitement!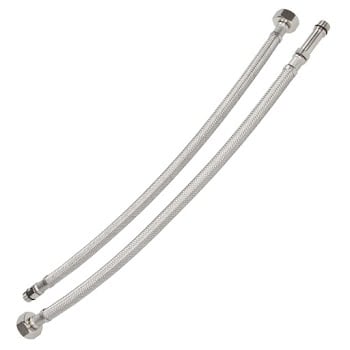 Modern Square Styling
Take the overall appearance of your bathroom to a new level by improving the look of your taps. This tap is the perfect complement for your modern bathroom with striking looks, square edges, and a contemporary design to suit any space you have.  

10 Year Guarantee 
High-quality parts and precision engineering put these products together and we want you to be confident of that, so to put your mind at ease we cover you with a 10 year long guarantee.  

Dimensions:

  Architeckt Misa Basin Mixer Tap Video

Sauber Baden Pull Out Kitchen Mixer Tap
[isdntekvideo]