If you're wanting to spruce up your bathroom but don't know where to start, then we have you covered! The Arles L Shaped Bathroom Suite is the perfect purchase for the typical family bathroom. Featuring all of the essential items, we would like to believe that you and your family will be using daily. Not only does this suite provide you with extreme functionality, but it also looks absolutely fantastic too! The smooth and alluring curves that run throughout this suite is the very definition of modern.
The Arles L Shape Bathroom Suite includes: •  L Shape 1700mm Shower Bath – Left Hand •  Arles Space Saving Toilet
•  Front Bath Panel   Guarantees: •  25 year guarantee for shower bath •  25 year guarantee for toilet, basin & pedestal •  10 year guarantee for shower mixer (excludes cartridge & shower hose, these are covered for 12 months) •  5 year guarantee on basin and bath taps •  2 year guarantee on toilet seat  
Space-Saving Design
Most of us of struggling for space in our homes and the bathroom is certainly no exception being one of the smallest rooms. This common issue is exactly why you need one of our space saving toilets and pedestal basins. The projection from the wall is shorter than standard giving the whole room a bit more space. A space saving toilet and basin is the ideal choice for any bathroom whether that be an ensuite, a cloakroom suite or the family bathroom.  

Soft Close Seat
What is it about dropping the toilet seat the scares the hell out of us?! Drop it in the middle of the night, scares us. Drop it in the middle of the day, scares us. There's just something terrifying about the bang it makes! But you don't need to live with this kind of torment, not with a soft close toilet seat. They benefit from a clever mechanism that stops the seat from dropping quickly, making sure your bathroom stays forever a stress-free environment.  

Dual Flush Cistern
Getting a good flush out of your toilet is important but that doesn't mean you need to waste water while you're doing it. It's not good for the environment and it's not good for your bank account! With a dual flush cistern you get two different levels of flush. A large one for solid waste and a smaller one for liquid waste.

Stay Fresh In Style With Arles
Experience true beauty in your bathroom with the gorgeous Arles basin. Its smooth curves and flat top edge look stunning and add character to any bathroom or cloakroom setting.
Slender Floor Standing Pedestal
Beneath the basin, providing extra support is the simple yet effective floor standing pedestal. They add extra strength to your installation and hide any water or waste pipes that may be present.  

Gorgeous Single Tap Hole
No modern basin would be complete without an equally beautiful basin mixer tap. The Arles basin has been engineered with a single tap hole and is compatible with a standard basin mixer. Make sure you've got the perfect combination by taking a look at our range of bathroom taps.  

Durable Vitreous China Finished In Bright White
A high-quality bathroom suite needs to be made from high-quality materials and the Arles most certainly is. Porcelain is given a hard-wearing vitreous china coating and finished in a glorious high-gloss white.
L Shaped Bath For A Modern Look
When it comes to modern bathrooms you really don't get much better than an L shaped bath. They're contemporary, stylish and practical, saving you valuable space by combining both a shower and bath tub in one tidy product.  

Large Capacity For Ample Showering and Bathing Space
Save water by showering or sit back and relax in this brilliant offering. The huge 235 litre capacity allows space for a person (or two!) to soak for hours, with the L allowing you to spread out and calm those aching muscles.  

Multiple Tap Mounting Locations
Our L shaped shower baths are all about flexibility and the option to mount the taps in a number of positions proves this point nicely. The tap holes are not pre-drilled so they can be fitted at the waste end or along the back wall to give you that added freedom.  
High Quality Materials
A bath needs to be able to take a fair amount of use, most of us use them daily if not twice daily so a good strong acrylic which has been strengthened with a thick base board and encapsulated with fibreglass is more than welcome.  

Fixed Shower Screen
To stop your floor from getting wet during a shower we supply a fixed shower screen with the bath. Fixed screens tend to last longer as there is less wear the seals, providing your mini shower enclosure with a longer lifespan. The glass is CE marked and made from 5mm thick toughened safety glass and the wall channel has 25mm of adjustment to allow for any untrue walls.  
Supplied With A Panel
The L shaped shower baths can be fitted in either a corner or an alcove. It comes with a front or side panel so an alcove is perfect but an end panel will be needed for installation within a corner. These can be purchased separately if required.  

Easy To Clean Ceramic

You really can't beat the use of the ceramic in the bathroom. It's resistant to chemicals so keeping everything clean and more importantly hygienic is easy. The smooth surface reduces the amount of grime build-up and allows for an easy wipe clean after use. It's also a breeze to keep onto of any limescale deposits should you live in a hardwater area.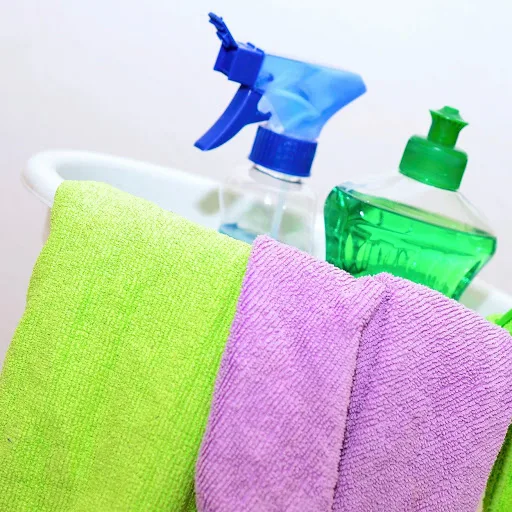 Toilet Fixings Included
With the pan you'll be supplied with the necessary fixings to be able to securely fix it in place. Because let's face it the last thing you'd want is for your toilet to move, and it won't when installed with this fixing kit.

Keep It Classy With A Thermostatic Mixer Shower
Staying safe in the shower is top priority which is exactly why the Architeckt shower mixer features a thermostatically controlled valve. This means that showering temperatures are kept at a constant rate to remove any chances of scolding. The Showermix includes a gorgeously large drencher head for a luxurious soaking and a diverter for a use of the separate adjustable handset. It's finished in a highly polished chrome too which won't rust,ensuring the utmost style for many years to come.  

Bath Mixer Tap
A lot of properties still feature separate taps for hot and cold water. They take up a lot of space around the edge of your bath and make it difficult fill. We've all been there, trying to adjust each tap to get a happy medium! You can easily avoid this hassle with a bath mixer tap. They connect both your hot and cold feed to the same tap body, feeding it out of one spout after it's been mixed within. They're easy to control, allowing you to get your desired water temperature for a perfect soak.  

Twin Lever Taps
Finely tuning the perfect water temperature can sometimes be a bit tricky. Adjusting the lever bit by bit is frustrating and unnecessary especially when a twin lever tap can do this for you much more efficiently. One lever controls the hot and the other the cold to bring perfect harmony to your bathroom.  

Modern Square Styling
Take the overall appearance of your bathroom to a new level by improving the look of your taps. This tap is the perfect complement for your modern bathroom with striking looks, square edges, and a contemporary design to suit any space you have.  

Reliable Ceramic Cartridge
Are dripping taps starting to drive you crazy? Drip, drip, dripping at all hours of the day? If this sounds familiar then you need to upgrade! This stylish tap contains a ceramic cartridge which provides long-lasting reliability and a smoother quarter-turn action for easier operation. It's never been easier to achieve the temperature and flow you need!

Mixer Tap
A lot of properties still feature separate taps for hot and cold water. They take up a lot of space around your basin and make it difficult to wash your hands, providing you with scolding hot or freezing cold water. You can easily avoid this with a mixer tap. They connect both your hot and cold feed to the same tap body, using just a single tap hole on your basin. They're easy to control with a single lever and allow you to get your desired water temperature each and every time.  

Single Lever Taps
If you're struggling to find a minimalist look for your bathroom then we understand your plight. Taps can be complicated and in this day and age all you want is something easy to use that looks great. Luckily, we have just the thing for you with our innovative single lever taps. As the name suggests, these taps are easy to use with just a single lever controlling the flow and temperature of the water.  

Reliable Composite Cartridge
Your new tap will never fail on you thanks to the composite cartridge contained inside. This cartridge provides long-lasting reliability and a smoother lever action for easier operation.We'll guarantee that It's never been easier to achieve the temperature and flow you need!

Solid Brass Body
Is your tap feeling a bit tired and worn out? Is there a serious quality issue? A good, long-lasting tap needs to be made from a good, long-lasting material. And that material is brass. This tap is made from solid brass, precision machined to work flawlessly, and finished to an impeccable standard. It will give your home an expensive, high-quality feel that won't be beaten.
Polished Chrome Finish
If your old taps are starting to tarnish and no amount of chrome cleaner is bringing them back to life then you really deserve to refresh them. Old, well-used taps can really let down the overall look of around your home so bring yours back to life with some simple swaps. This particular tap will bring new elements of style with it's gorgeous, polished chrome finish. Pair it with some new accessories for the perfect contemporary look.  

Flexible Tails Included
You get your new tap delivered. You're excited. You open the box only to find out that you're missing the flexible tails to connect it to your plumbing. Frustrating! You can order a new set online or run to a local shop. Either way it's annoying! Thankfully with this tap you don't need to worry as the flexible tails are included. Resume excitement!

Toilet Dimensions

Basin & Pedestal Dimensions:


Bath Dimensions

Thermostatic Shower Valve Dimensions

Shower Dimensions

Basin Mixer Tap Dimensions

Bath Mixer Tap Dimensions

Architeckt Round Thermostatic Shower Valve & Riser System - Plumbworld - YouTube