Our Essence White Gloss Tall bathroom cabinets offer style and functionality to any bathroom and at a great price too! The sleek and elegant storage solution is a must have for any contemporary style bathroom. Whether you're looking to do up your whole bathroom or you're just buying things here and there, storage is a must have, not only is this bathroom cabinet cost effective but it's super functional as bathroom furniture well. You could use this cabinet to store your fluffy towels after they had been freshly washed or maybe your essential bathroom accessories. No matter what you're storing this tall Essence Collection white gloss cabinet is here for you.   Not only does it look great and hide all your bathroom necessities it is super simple to install as there is no actual effort needed to install it into your bathroom, as I'm sure you'll be glad to know that this cabinet comes fully assembled to your door resulting in no arguments as to where that missing screw has gone.   Features and benefits:
• A beautiful white gloss finish
• The cabinet comes supplied with 2 spacious cupboards
• 100% Pre-Assembled and ready to go
• Soft close doors to prevent slamming
• A fantastic 10 year guarantee, so you know it's a product to trust.
Dimensions:
• Height: 1902mm
• Width: 350mm
• Depth: 330mm
Tall Bathroom Cabinet
This tall cabinet offers style and functionality to any bathroom, bringing you much needed important storage without taking up too much floor space thanks to its tall design. The white glossy finish and minimalistic design brings a stylish touch to any modern or contemporary bathroom interior.

Fantastic Storage Space 
With the average bathroom being on the smaller side, it can be difficult to find a practical storage solution. This tall bathroom cabinet is a fantastic choice as it doesn't use up too much important floor space thanks to its compact but tall design. There are 3 good-sized shelves to fill with your towels, products and bottles, keeping your bathroom looking tidy and minimalistic.

White Gloss Finish
White will always be and always has been a truly classic colour fit for bathroom suites. Bathrooms can sometimes be a bit on the small side and white units and fixtures help to reflect light making the room seem that little bit bigger. Our white gloss finish is second to none, with a completely smooth surface for easy cleaning and a crisp, neutral tone that looks fantastic in any setting.

Stylish Chrome Handle
Attached neatly to the front of the white gloss units is the stylish and sleek chrome handle. They're designed with practicality, ergonomics and form in mind, providing you with an easy to use but aesthetically stunning piece of craftsmanship. A high-quality chrome finish is also applied to ensure it complements the rest of your bathroom.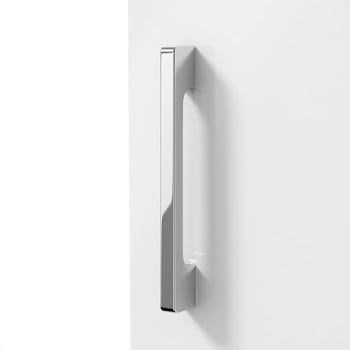 10 Year Guarantee as Standard
High-quality parts and precision engineering put these products together and we want you to be confident of that, so to put your mind at ease we cover you with a 10 year long guarantee.
 100% Pre-Assembled and Ready To Use
No more "Flat Pack Nightmares" this product comes fully assembled and ready for use. 
You won't have to worry if you have the right tools to assemble it, or whether that left-over pack of screws means you have put it together wrong!
Just take it out of the box and you are ready to go

 Dimensions: