Bc-elec - MP400-I Sewage pump 400W, Sanitary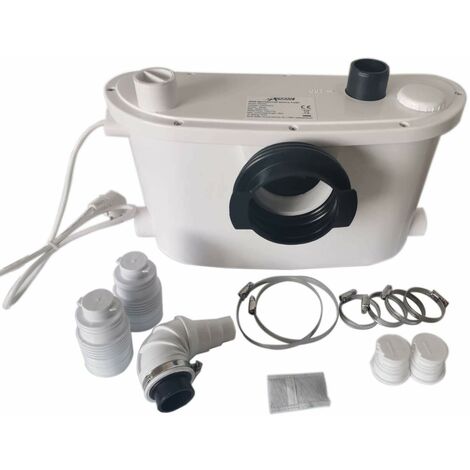 Bc-elec - MP400-I Sewage pump 400W, Sanitary macerator for shower, toilet, sink, bathtub, washing machine and dishwasher
View description
100% secure payment by debit or credit card
Receive your order between Thursday and Monday
Delivery from £15.00
Delivery to British Isles (shipping may be restricted to mainland UK)
Description
Station / WC lifting pump + Sanitary facilities
Maximum flow rate of 100 L / Min
Powerful 400W motor
Stainless steel blades
4 inlets (1 inlet DN100 for WC + 3 inlets (left, right and top)) + 1 outlet (DN 38mm or with adapter 23/28/32mm)
This compact 4/1 station with its 4 inlets and its drain pipe can be used for water up to 45°C. You can therefore use it to connect a WC and 3 other water pipes such as a shower, washbasin, dishwasher or washing machine (*).
Often the installation of a WC, shower or washing machine fails because the floor is below the level of the sewer. This station will save you these inconveniences.
The pump, installed at the outlet of the toilet, will be able to lift the waste water up to a height of 6 metres (max) and transport it to a distance of 60 metres (max).
This is the ideal solution when you cannot install conventional water drains! With this station you can also discharge waste water from the farthest parts of your home.
The station is equipped with a rasp for chopping up faeces, so that it can be pumped through a standard DN38 drain pipe. It starts automatically once a certain level has been reached. If you do not want to use all 4 inlets, close the remaining inlets with the included plugs.
This station evacuates 100 litres per minute. This means that the pump starts for a short period of time and then stops automatically afterwards.
Ratio Height / Length
As the height increases, the possible length (and pressure) decreases, please take this into account. Also remember that every bend in your installation is a brake. A 90° elbow is equivalent to a net loss of 40cm in height. Finally, the data provided are theoretical maximum data. At a height of 6 metres the pressure is practically zero and therefore the flow rate tends towards 0.
Also, the flow rate and the height/length depend on the diameter of your outlet pipe. You should therefore always take these data into account when calculating the size of your appliance.

Technical data:
230 Volt 400W
Protection class IPX4
Water temperature from 1 to 45°C
Max height up to 6m
Maximum horizontal distance 60m
Sound volume 55 Dba
Waste water inlet: 1 x DN100, 3x DN38
Waste water outlet: 1x DN38
non return valves integrated in the pipes
cable: 1.2m
Dimensions: 45.2*15.2*29cm
Package weight: 6.6kg
Package size: 52*22*35cm

Recommendations:
The non return valve must be installed.
The vertical part should be mounted as close as possible to the pump. This will extend the life of your pump. Otherwise the pump will be overloaded.
As the motor is powerful, use PVC or copper pipes.
Preferably use two 45° to 90° angles. Take into account that a 90° angle is a vertical power reduction of 40cm.
The outlet pipe should have a minimum length of 50cm up to the first bend.
IMPORTANT: Toilet paper, urine and faeces are the only things you need to find in a toilet. Anything else should be put in the trash!

* NOTES ON PRESSURE VESSELS
This sanitary shredder can be used with appliances such as a washing machine or dishwasher. However, these appliances discharge their water under pressure. Sanitary macerators are designed to operate at low pressure, a higher pressure can damage the product (water infiltration) or simply cause your installation to fail. You must therefore make sure that a sufficient length of hose is installed between these appliances and the grinder so that the water arrives by natural flow and not under pressure. Damage due to pressure is not guaranteed.
Features
Coupling

Dishwasher

Kind

Macerator

ManoMano Reference

ME19152031

Warranty

2 years (private use only) / 6 months (professional use or similar)

SKU

MP400-I