Bc-elec - MP600 Lifting unit/sewage pump toilet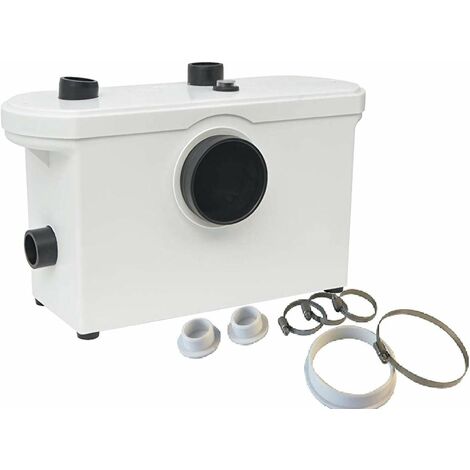 Bc-elec - MP600 Lifting unit/sewage pump toilet and sanitary 600W
View description
100% secure payment by debit or credit card
Receive your order between 9/30/2020 and 10/2/2020
Delivery from £14.00
Delivery to British Isles (shipping may be restricted to mainland UK)
Description
Content
non-return damper
4 pipe clamps
3 closures
Standardized connection
1 lifting unit/sewage pump toilet and sanitation
Toilet lifting station / pump + Sanitary facilities
Maximum conveying capacity 140l/min with powerful 600 Watt motor.
Stainless Steel blades
3 inputs ( 1 input 100mm for WC + 2 inputs 38mm) + 1 output 38mm
This compact 3/1 lifting station with three inlets and one outlet is hot water resistant up to 90°C. For connecting a toilet and two further waste water pipes, e.g. shower, bathtub, washbasin, dishwasher or washing machine. TÜV and GS tested.
Often the installation of a toilet, a shower or the connection of a washing machine fails due to the fact that the cellar lies below the sewage network. This lifting unit makes the installation possible.
The pump which is installed at the toilet exit carries all waste water, up to 6 m high or 60 m far.
The best solution if you do not have a classic waste water drain. With this system you can also transport waste water at the remotest places in the house.
The station is equipped with a waste healer that crushes and disposes of waste through a DN38 waste water pipe. It starts fully automatically as soon as a certain level is exceeded. The control button allows manual use.
If you do not want to use the lifting unit for 3 inlets, close the unused inlets with the enclosed closures. This system disposes of 140l/min.
The pump starts briefly and switches itself off again after a very short time. Height/range ratio Note that the possible range decreases with increasing height.
Ratio Height / Length
As the height increases, the possible length decreases, please take this into account. Thus, at a height of you can reach a length of .
6m ----> 10m
4.5m ----> 20m
3.5m ----> 30m
2.5m ----> 40m
1.5m ----> 50m
0.5m ----> 60m
Also, the flow rate and height/length depend on the diameter of your outlet pipe. You should therefore always take these data into account when calculating the size of your unit.
Technical data
230 Volts
600 W
Water temperature 1-90°C
Maximum height up to 6m
Maximum horizontal Range 60m
Waste water connection: 1 x DN100 (input), 3 x DN38 (2 x input + 1 x output)
Manual emptying at the push of a button
non-return damper
cable: 1,2m
Dimensions with connection: 502x210x300cm
Size without connection: 502x181x273mm
weight: 7.6kg
Electrical socket type C, E or F.
Recommendations
The check valve must be installed.
The vertical part should be as close as possible to the pump, otherwise the pump is overloaded. Because of the powerful motor, use PVC pipes for gluing or copper pipes. It is better to use two 45° angles than one 90° angle. Note that the 90° angle reduces the climb by 40cm.
IMPORTANT: The only things in a toilet are toilet paper, urine and faeces. Everything else belongs in the trash can!
* NOTES ON PRESSURE PRODUCTS
This sanitary shredder can be used with appliances such as a washing machine or dishwasher. However, these appliances discharge their water under pressure. Sanitary grinders are designed to operate at low pressure, a higher pressure can damage the product (water infiltration) or simply cause your installation to fail. You must therefore ensure that a sufficient length of hose is installed between these appliances and the macerator so that the water arrives by natural flow and not under pressure. Damage due to pressure is not guaranteed.
Features
Coupling

Dishwasher

Kind

Macerator

ManoMano Reference

ME16679888

Warranty

2 years (private use only) / 6 months (professional use or similar)

SKU

MP600