The Ceramica Tivoli Close Coupled Toilet is perfect for those who have smaller bathrooms or who are wanting to do up their cloakroom or bathroom suite. One of the biggest trends in bathroom design is simplicity. The sleek and chic design of this toilet will leave your bathroom looking minimalistic and fresh. The durable white vitreous china build works to bring you a sleek and smooth surface which is then coated with a dazzling white gloss finish for an effortless yet beautiful shine. Manufactured to the highest of standards means that the white sanitary ware is resistant to chipping or damage – meaning your toilet will maintain in fantastic condition for many years to come.
To further improve its performance this toilet includes a handy dual flush push button. This allows you to save water, you can now choose the volume of the flush, thanks to the split button – one for a 4 litre flush the other for a 6 litre flush.
Adding to the minimalistic and designer look to the toilet, we have included a luxury soft close toilet seat, ensuring no damage is caused to the seat or toilet.
Features and benefits:
• A modern and minimalistic look
• A durable vitreous china build
• Coated in a stunning white gloss finish
• Complete with a dual flush chrome push button
• WRAS approved fittings
• Includes a luxury soft close toilet seat – no more loud bangs! Guarantee:
• 10 year guarantee on ceramic toilet
• 2 year guarantee on toilet seat  
Close Coupled Design
The thought of installing a toilet in your bathroom doesn't sound like fun. Let's face it we aren't all plumbers for a reason! You can however make things a bit easier with the help of a close coupled toilet. The cistern sits on the rear of the pan rather than being concealed in the wall, making them the easiest type of toilet to get fitted.

Soft Close Seat
What is it about dropping the toilet seat the scares the hell out of us?! Drop it in the middle of the night, scares us. Drop it in the middle of the day, scares us. There's just something terrifying about the bang it makes! But you don't need to live with this kind of torment, not with a soft close toilet seat. They benefit from a clever mechanism that stops the seat from dropping quickly, making sure your bathroom stays forever a stress-free environment.

Dual Flush Cistern
Getting a good flush out of your toilet is important but that doesn't mean you need to waste water while you're doing it. It's not good for the environment and it's not good for your bank account! With a dual flush cistern you get two different levels of flush. A large one for solid waste and a smaller one for liquid waste.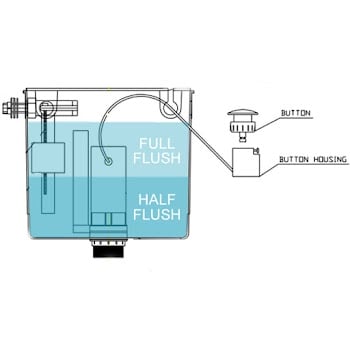 Easy to Clean Ceramic
You really can't beat the use of the ceramic in the bathroom. It's resistant to chemicals so keeping everything clean and more importantly hygienic is easy. The smooth surface reduces the amount of grime build-up and allows for an easy wipe clean after use. It's also a breeze to keep onto of any limescale deposits should you live in a hardwater area.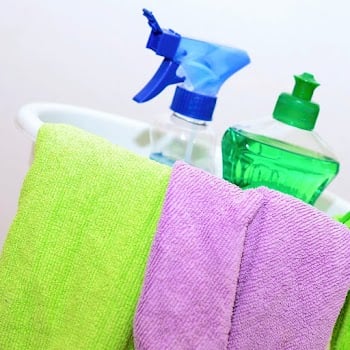 Toilet Fixings Included
With the pan you'll be supplied with the necessary fixings to be able to securely fix it in place. Because let's face it the last thing you'd want is for your toilet to move, and it won't when installed with this fixing kit.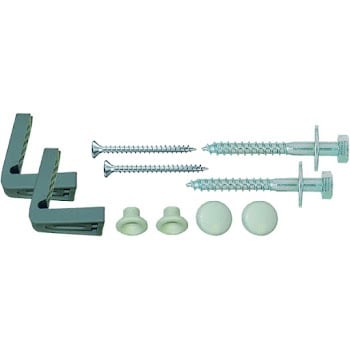 10 Year Guarantee 
When buying products for your home you need to know that they're going to stand the test of time, especially in a moisture rich environment like the bathroom. This is why this product comes with a fantastic 10 year guarantee against any manufacturing defects should the worst happen and the product is not up to standard.

Dimensions A: 
Dimensions B: 

Dimensions C: