Modernise your bathroom with this fantastic screen from Coram. The panel is constructed from 4mm thermally strengthened glass which is not only stronger than standard glass but safer too. Being lighter than 6mm glass means it is both cheaper to buy and easier to fit. We stock a wide array of different sizes so you can be sure well have something to fit your bathroom, ensuite or guest suite. Features and benefits:
4mm glass side panel
Coram give you a fantastic durable side panel ready to be used with a pivot, bi-fold or sliding door, creating your perfect shower enclosure. Coram designs their products with strong and durable materials for affordable prices, along with the minimalist and stylish designs. The side panels come in several sizes giving you flexibility on how big you would like your shower to be.

1800mm high shower screens
When sourcing these shower enclosures we have taken into consideration the average size of a British bathroom to ensure theyre compatible with most heights while still providing ample protection for your floor from water overspray.
4mm thermally strengthened safety glass
This panel is made using a thermally strengthened glass which is not only stronger than standard glass but safer too. It's lighter than 6mm glass which makes it both cheaper to buy and easier to fit.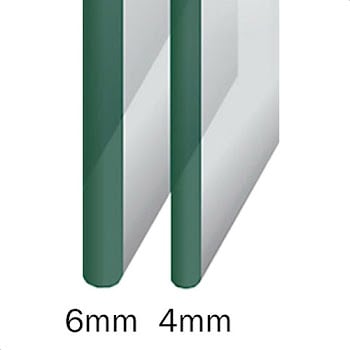 Easy clean glass panels
A special coating has been applied to the glass panels to ensure cleaning is fast and easy. A simple wipe down will bring back crystal clear glass time and time again.

Adjustable profiles for uneven walls
It's quite common for homes to have walls which aren't quite true or straight which is why these stunning wall channels come with an added 25mm of adjustability to ensure everything is fitted neatly.

Polished chrome finish
The dazzling chrome finish is super easy to clean and will match perfectly with other chrome fittings and accessories.

CE marked product
These products have been CE marked to ensure full compliance with BS EN 14428. This means that not only are they suitable for the UK market but they've been rigorously tested for safety.

BS EN 14428 conformity
We pride ourselves on the quality of our products which is why they always meet the highest standards of safety. These enclosures conform with BS EN 14428 which is the European standard for enclosures.
10 year guarantee as standard
When buying products for your home you need to know that theyre going to stand the test of time, especially in a moisture rich environment like the bathroom. This is why this product comes with a fantastic 10 year guarantee against any manufacturing defects should the worst happen and the product is not up to standard.

Dimensions: