Strength & Rigidity Without Excess Weight:
The revolutionary Coratech resin makes Coram's new Waterguard shower trays less than half the weight of any other resin based trays. This makes fitting a one man job, even with the largest trays which still weigh less than 25kg.
More Hardwearing and Scratch Resistant:
Traditional gel coated shower trays are prone to irreparable chipping and scratches, whereas the acrylic capped ABS surface of these new trays is much tougher. And if any minor scratches do occur, they can simply be polished away with a diluted cream cleanser.
Unique Watertight Design:
Conventional shower trays are either flat top, which are prone to leaking, or four upstand, which create a dirt trap between the edge of the shower tray and the enclosure. Coram's shower trays have tiling upstands, for a perfect seal on the wall edges, together with a unique and patented, easy-clean Waterguard on the outer edges.
Easy-to-Fit Features Make Them Faster to Install:
A lighter weight resin base, quick screw in adjustable feet and clip-on rigid panels means that one man can fit any of Coram's new Waterguard shower trays in under 20 minutes.
Features & Benefits:
Acrylic capped resin trays
White trays
Fitting is a one man job
Easy to fit features
Half the weight of any other resin based trays with all the strength
Scratch resistant surface
Clip-on rigid panels
Quick screw in adjustable feet
A great addition to all shower enclosures
Supplied with a chrome waste
Height of the tray is 185mm
10 Year Manufacturer's Guarantee
Tiling Upstands & Panels:
Model shown has 4 tiling upstands
All models shown have 2 removable panels
All models shown have 1 Waterguard edges
  Delivery Information
When Coram trays are shipped they are covered in a blue protective film, the tray underneath will be white and not blue. The blue protective covering needs to be removed before use. Please do not reject your delivery because the tray looks blue.
 What's Included
Shower tray with leg housings
1 x 50mm Waste
Riser kit containing:
Detachable panels ( 1 x for a 3 upstand or quadrant tray OR 2 x for a 4 upstand tray)
Legs
Panel brackets
Screws

 Comes Complete With Waste
The included waste enables water to flow from the shower tray at a rate of 36 litres per minute.
 
50mm diameter
Top access for easy maintenance
Quick release inner unit for ease of cleaning
Polished chrome finish

 10 Year Guarantee
When buying products for your home you need to know that they're going to stand the test of time, especially in a moisture rich environment like the bathroom. This is why this product comes with a fantastic 10 year guarantee against any manufacturing defects should the worst happen and the product is not up to standard.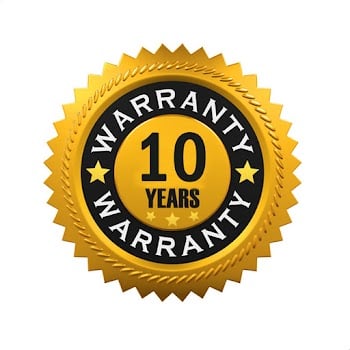 Dimensions