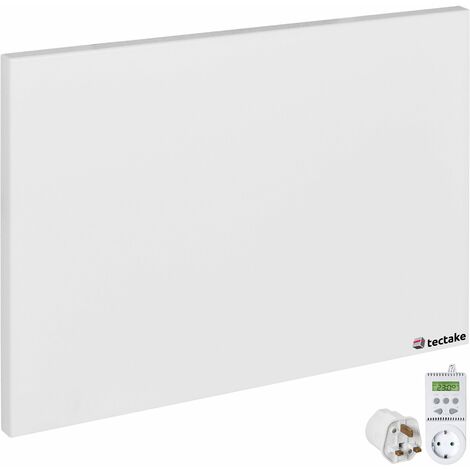 Description
This infrared heater gives you a high energy output, for greater heating capacity, at a lower energy cost, making it highly energy efficient. The infrared heater is made from galvanised and powder coated sheet steel, with protection class: IP 20 mains plug / IP 44 fixed connection. Our heating plate is enveloped on all sides. The edges are welded and polished, so that a constant movement of photons is ensured inside. The selected materials are coherent and thereby ensure a high yield of radiated heat that is balanced. The panel consists of a steel casing with a special alloy and radiation-intense surface structure. The surface temperature is between 85 – 95°C (+/-10%). As a thermal conductor, insulated and bundled lines have been used that are woven into the heat-resistant and non-combustible material.
Highlights
high performance thermal radiators
efficient heat radiation
overheating and surge protection
edges welded and polished
protection class: IP 20 mains plug / IP 44 fixed connection
protection class thermostat IP20
wall mount included
suited for homes, large rooms, high ceilings
extra light, frameless construction
GS-tested by TÜV SÜD: Certificate number: Z1A 082338 0009
TÜV certificate refers exclusively to the infrared heating plate
Colour: white
Technical details
base colour: white
dimensions: 600 x 400 x 40 mm
weight: 3.6 kg
voltage: 230 V / 50 HZ
protection class: IP 20 mains plug / IP 44 fixed connection
protection class thermostat IP20
heating performance: 300 W +/-10%
radiation distance: < 3.50 m
radiation angle: approx. 170°
surface temperature: front 85 – 95°C +/-10%
overheating protection: 2 pieces
surge protection: 1 piece
material: steel sheet 0.7 mm
Scope of delivery
infrared heater
socket thermostat
includes wall mount
Notice
What is infrared radiation?
Solar heat travels millions of kilometres through cold space and still warms us excellently. Electromagnetic waves (lat. infra) are the reason for this phenomenon.
These waves release energy through molecular vibrations, which we perceive as heat. Unlike shorter waves such as x-rays, infrared rays have a very positive effect on humans. Infrared provides us with natural warmth.
The subtle difference: In contrast to conventional radiators, infrared heaters (primary radiation) heat up the walls instead of the air in a room. Walls store heat longer than air can and return the heat to the room. (Secondary radiation) The masonry remains dry - moisture and mould do not stand a chance.
Information on the dimensions
For infrared heaters, the room's volume is not relevant, but the actual area of the enclosure. Usually, this includes the four walls, floor and ceiling. To simplify your calculation, we limit the whole thing to the base surface, i.e. the size of the room. To do this, you need the length and width of the room. Suppose the room is 6 metres x 5 metres, that equates a room size of 30 m². These 30 m² of floor space are now multiplied with an *output value of 75 Watt per m² (up to 2.60 m height). Amounts to: 30m² x 75 Watt/m² = 2250 Watt.
Therefore, you need a heating capacity of 2250 Watt. You can now choose these as either 2 x 900 Watt + 1 x 450 Watt = 2250 Watt or as 2 x 1200 Watt = 2400 Watt.
Higher wattage does not mean that more power is consumed. On the contrary, this rather results in faster heating, so that the infrared heater is shut off earlier.
Please note that this output figure of 75 Watt/m² was calculated based on a ceiling height of up to 2.60m. Should the room be higher, add an additional output value of 5 Watt/m² per 5 cm. At a ceiling height of 3 metres, that would equate an additional 40 Watt. The result would be an *output level of 115 Watt/m². Multiplied with the floor area, 30 m² in this example, this amounts to: 30 m² x 115 Watt/m² = 3450 Watt.
Depending on the angles and corners of the room, you can now choose your matching heating panels. Thus a room in an L-shape requires at least 2 panels as a single panel's rays would not reach the entire space. This can be clearly seen by shining a torch from a corner in the room. For not all walls are illuminated. Light is a ray after all and radiation heat works the same way. Using a second torch, you can now light up the entire room.
Please note the impact radius of 3.50 meters. A torch loses its brightness the further away it is from the illuminated object. Infrared rays lose their intensity at a range of around 3-4 meters resulting in long heating periods.
For rooms that are subject to greater humidity, such as bathrooms, for example, simply calculate twice the dimensions. That way, you will experience your baths like a swim in the sea. You won't freeze despite having wet skin. That is the advantage of infrared heating.
Brand

TECTAKE

Material

Steel

ManoMano Reference

ME16312298

SKU

403363
About The Brand

Practical household utilities, decorative touches for the home, necessities for your little ones, useful kitchen gadgets: find all this and more in the tectake range. Get everything you need in one place - from car maintenance and camping equipment to furniture, garden essentials, barbecue kits and pet supplies, you'll find everything you could ever need to make working life easier and your everyday life better.