Rapid 3 In 1 Boiling Water Kitchen Tap
Hot, Cold and Boiling! The InSinkErator 3 in 1 Boiling Water Kitchen Tap is a fantastic addition to your kitchen as it provides instant boiling hot water, cutting out waiting time for a kettle to boil. Not only is the InSinkErator 3 in 1 tap super convenient and practical, it's sleek curved design will complement any kitchen style effortlessly.  

Filtered Boiling Hot Water For Better Taste
This boiling hot water tap provides standard hot and cold water like any other tap but their party piece is the filtered boiling hot water. Cleaner, purer, better tasting water each and every time!  
Cheaper Than Boiling A Kettle
  According to N Power, the average cost to boil a full kettle is 2.5p whilst with a boiling water tap the costs are significantly lower, at as little as 1p per litre. With a boiling water tap you can get instant access to the exact amount of hot water you need, so you don't waste electricity or water. Also, the filter does not need to be changed as often as a standard water filter jug, reducing the amount of waste.  

Instant Filtered Boiling Water For Hot Drinks & Cooking
The instant boiling water feature is perfect for not only quickly making hot drinks but also for filling pots and pans ready for cooking too, saving you important cooking and prep time.  

Longlife Filter With Two Stage Filtration
Water is first passed through a calcium filter to remove any limescale or calcium before it even enters the tank. Once inside the tank, the water goes through a carbon filter which removes 99% of natural waterborne contaminations such as bacteria, metal contaminants, micro debris contaminants, and even chlorine.

It is recommended that you change your water filter every 6 months.  

Compact Under Sink Boiling Water Tank
Introducing the state-of-the-art hot water tank from Insinkerator! It's compact yet powerful, providing you with all your hot water needs. The tank holds an impressive 2.5 liters whilst neatly fitting in the cupboard underneath your kitchen sink. The easy-to-use controls make it straightforward to select your desired temperature, reaching up to a fantastic 98°C!

Thanks to the compact size of this hot water tank it can easily be installed into a corner of the cabinet under your kitchen sink. The average kitchen cabinet is a minimum of 400mm wide and 600mm deep, meaning the tank will take up less than a quarter of the footprint! The tank is super easy to install - setting it up in just 5 simple steps. (please refer to our installation guide for more information)  

Child Proof Twin Lever
The InSinkErator 3 in 1 tap features two separate handles for your boiling and hot/cold water to ensure you can't accidentally turn on the boiling water when you are just wanting to use the cold water. Both the boiling water handle and hot/cold water handle are standard lever designs making them super straightforward and easy to use.  

Flow Rates (l/min):
For mixed water and hot water:
0.5 bar: 5.1 (mixed) 1 (hot) 
1 bar: 7.3 (mixed) 1.5 (hot) 
2 bar: 10.4 (mixed) 2.2 (hot) 
3 bar: 12.9 (mixed) 2.6 (hot)
4 bar: 14.9 (mixed) 3 (hot) 
5 bar: 16.7 (mixed) 3.3 (hot)

Flexible Tails Included
Included with your tap are a set of compatible flexible tails. These ensure an easy and speedy installation with your existing plumbing pipework so you can get up and running as fast as possible!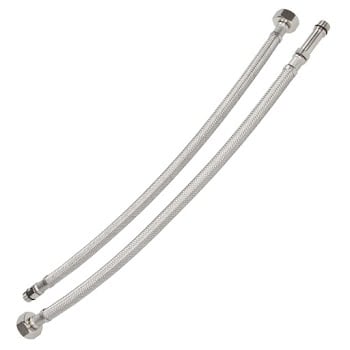 Guarantee
Comes with a 2 year guarantee on the tap and 1 year guarantee on the tank
.youtube.com/embed/fKiL2J9S6cg?rel=0

InSinkErator 3N1 Steaming Hot Water Tap

[isdntekvideo]
Dimensions: