Bring the coffee shop home with you, with the Insinkerator Steaming Hot Water Tank. With this high-performance tank, you can now get on demand hot water, meaning that you can have a cup of tea or coffee at any time of the day. This tank is can produce steaming hot water at 99C on demand. The tank has a slim and compact design, meaning that you can install it undeath your sink out of the way and out of sight. The tank is manufactured using the very latest technologies to ensure a quiet operation, thus creating a fuss-free and silent boiling process.   Features and benefits:
Compact Boiling Water Tank With Digital Touch Screen
The InSinkErator Neo hot water tanks are compact yet powerful, providing you with all your hot water needs whilst fitting easily in the cupboard underneath your kitchen sink all still with a fantastic 2.5L capacity, that's around 12 cups of tea! What's more this large capacity tank also has an easy-to-use digital touch screen display.  

Instant Boiling Water
This tank can produce steaming hot water at 99C on demand. That being said we don't all like to drink our teas or coffees this hot which is why the adjustable digital dial allows you to choose any temperature between 88 and 99 degrees. It'll then maintain this precise temperature until you've made your drink.  

Long-Life Filter With Two-Stage Filtration
Water is first passed through a calcium filter to remove any limescale or calcium before it even enters the tank. Once inside the tank, the water goes through a carbon filter which removes 99% of natural waterborne contaminants such as bacteria, metal contaminants, micro debris contaminants, and even chlorine.

It is recommended that you change your water filter every 6 months.  

Tool-Free Tank Connections
Installation isn't just easy, it's a total breeze! The tap fits just like a regular kitchen tap and the tank is even easier to fit. No tools are needed, simply connect it up and you're ready to go!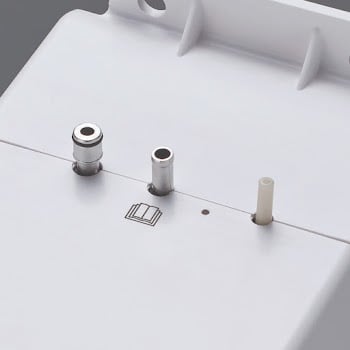 Use With InSinkErator Boiling Hot Water Taps
This clever tank is designed for use with InSinkErator boiling hot water taps only.
The new InSinkErator Neo Tank - How it works

Video will open in a new window

[isdntekvideo]
Dimensions: