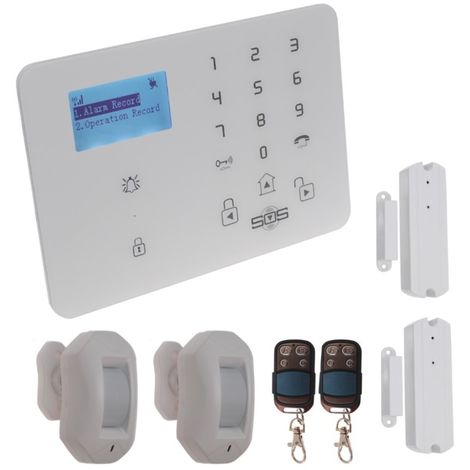 KP9 3G or GSM Pet Friendly Alarm Kit H - 3G GSM KP9 Add SIM Card Please [005-5149]
Reference: ME19522663
Out of stock
View full description
Free delivery (postcode specific)
Sold by: Ultra Secure
KP9 3G or GSM Pet Friendly Alarm Kit H - 3G GSM KP9 Add SIM Card Please [005-5149]
Description
This KP9 3G or GSM Wireless Burglar Alarm H Kit can often be used in applications where animals are present.
The kit is supplied with the following (although up to 91 additional wireless sensors can be added):
2 x Magnetic Door Contacts (can be used on doors or windows).
2 x Wireless Curtain PIR's.
2 x Remote Controls (for arming and disarming the alarm).
Curtain PIR's:
These unique PIR's are designed to create a very narrow beam (vertical or horizontal) which can be positioned inside a room away from moving Animals or People in many applications, typical application would be:
Mounted inside Patio Doors and creating a very narrow Beam similar to a Curtain.
Mounted inside a Bay Window and creating a very narrow Beam similar to a Curtain.
Protecting a Balcony location.
Mounted in a Horizontal position keeping the Detection Beam well away from the Floor (popular in garages and outbuildings).
In locations where customers like to keep Doors or Windows open during the night or day.
The secret in using these Curtain PIR's is to ensure Animals or People are unlikely to walk into the very narrow beam when the Alarm is Armed, this is more than possible in many applications due to the design of this narrow Beam.
Using these PIR's is also popular with customers who have a lot of Windows to cover in a particular room, one PIR can protect multiple opening or fixed Windows & Doors.
The PIR's are battery powered and Wireless making them easy and quick to install, they have a 15 degrees and 9 - 12 metre detection pattern and 100 metre transmission (line of sight) back to the control panel although this can be extended by using a Signal Repeater.
Other methods to use an Alarm with Animals is to have PIR's in a room that are only active at times when the Animals is not present, popular with Dog owners as they can restrict to area that the Dog has access to during the times when the Alarm is armed and the animal is present (during the day for example whilst the owners are at work). Then when the owners are out with the Dog the Alarm is set in full covering the area where the Dog would normally be present.
This GSM Alarm will contact key-holders by Telephone & Text Message at the same time as activating the built in Siren (can be turned off when a silent alarm is required).
This package is ideal for a typical small premises or as a base to build a larger system to suit your own needs, and is suitable for both DIY or professional Installations.
It can also be used with an APP.
Control Panel:
The GSM Control Panel is packed full of features normally only associated with expensive professional Alarms, they include:
95 x Wireless Zones (channels).
Contacts up to 9 x Key-holders by Telephone & Text Message (optional).
Built in Siren (adjustable duration from 0 to 999 seconds).
Adjustable N/O or N/C Output Relay (1 - 999 seconds, can be used with Sirens).
Output Relay Rating: 240 v AC up to 3 amp.
Simple Plug in Power Supply with Backup Battery (ideal for DIY installations).
Can be used with 2 x Wireless Sirens (Standard & H/Duty).
Easy to Program (using the built in keypad and LCD Screen or APP).
Easy to Operate using:

Remote Control.
Built in Keypad.
Built in Timer.
Text Message.
APP.

Many Modes of Operation including:

Full Arm.
Home Arm.
Entrance.
On Site.
Outer.
Inner.
24 Hour (with Siren).
24 Hour (silent).
Not in Use.
Doorbell.

2 x Wired Input Zones (for use with wired sensors).
Built in Power Failure (optional).
Built in Temperature (optional).
Built in Tamper Switch.
2 x way Communication.
Log (history) Logging.
Low Battery Warning (of accessories).
12 Language Menu (including English, French, German, Italian, Dutch & Spanish).
SIM Card:
The control panel requires a standard size SIM Card for the communication, these can be PAYG or Contract, we would strongly advise that you check the small print on the PAYG SIM Cards (as some providers have a habit of taking unused credit away from the card at the end of each month or turn them off if they are not used within 3 months). We do offer a Roaming SIM Card to our customers which are ideal for use in GSM Alarm Systems as not only does the credit remain intact at the end of a month but the card also finds the best network in your location, full information found here.
Communication:
When the KP9 GSM Panel calls key-holders by Telephone, the key-holders have the option to:
Press * on their Telephone (this will stop the alarm calling other key-holders but remain fully armed.
Press # on their Telephone (this will stop the alarm calling other key-holders but will disarm the panel.
Wireless Magnetic Door Contacts:
These are designed to be used on Doors & Windows, full fitting advice can be found here.
Remote Controls:
The two Remote Controls supplied can be used to control the alarm from up to 20 - 30 metres away, so you can arm and disarm the Alarm from outside the building.
Wireless Accessories:
You can add an incredible 91 more Wireless Sensors & Detectors to this Alarm system, making it impossible not to be able to fully protect your Home, Office, Work Premises, the vast array of options include:
PIR's (standard & pet friendly).
Door Contacts (various models).
Vibration Sensors.
Smoke Detectors.
Remote Controls.
Water Detectors.
Pressure Mats.
Roller Shutter Contacts,
Gate Contacts.
External PIR's.
Panic Buttons (various options available).
The range between the accessories and control panel is normally around 50 metres (line of sight) which equates to 20 - 30 metres in most applications, for locations requiring further range a Signal Booster can be added.
Sirens:
This Alarm Panel has a built in Siren which can be programmed to operate between 1 second to 16 minutes when activated, it can be turned off before this time by the owner using a Remote Control or build in Keypad, it can also be used in Silent mode for some or all zones (often used in silent mode when activated by a panic button).
We can also add two types of Wireless External Sirens.
3G or GSM:
You can select above (just above add to cart button) the latest 3G Control Panel or the default GSM Panel, both panels will operate Telephone & SMS functions in Countries where 2G is still operational (most of Europe), if in doubt please ask us for advice.
APP Options for customers with iOS & Android:
This is really a great value, high specification GSM Alarm System !!
Brand

ULTRA SECURE

ManoMano Reference

ME19522663

SKU

005-5149