ARCAFIX - Hardens porous substrates prone to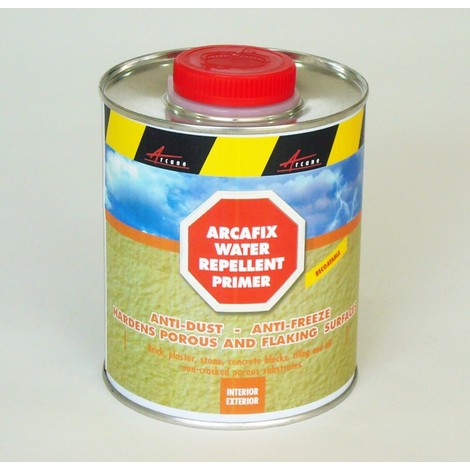 ARCAFIX - Hardens porous substrates prone to disintegration, crumbling and/or powdering water repellent,waterproofs, | Transparent Liquid - 0.75L (cover up to 3.75m²)
View description
100% secure payment by debit or credit card
Delivery methods
At home between 11/6/2020 and 11/9/2020 (Shipping fees from £40.00)
Description
Product Detail
Waterproofs, hardens and renovates those surfaces prone to crumbling and or powdering
ARCAFIX is a solvent-borne methacrylic resin water repellent coat.
Arcafix waterproofs, hardens and renovates porous substrates prone to disintegration, crumbling and/or powdering and renders the surface perfectly adhesive to paint, plaster or stucco topcoats.
ARCAFIX is a top quality product used to strengthen and reinforce friable substrates and/or as a primer on friable substrates before applying a topcoat:
Waterproofs, hardens and reinforces porous substrates: weak or under-dosed plaster and mortar, roof building materials which have become porous over time (roof tiles, slate, asbestos cement), friable cement screed…
Arcafix Advantages:
ARCAFIX is a top quality product ideal when you need a water repellent product to:
Strengthen and reinforce friable substrates
Renders a 100% watertight and continuous film
Bond coat for friable or porous surfaces prior to applying a topcoat
Serve as a primer, rendering the surface adhesive to paint products and building materials (plaster, stucco)
Protect porous and crumbling or flaking substrates from water ingress, dust and damage caused by freezing temperatures - >Will protect the substrate from freezing (and consequent cracking)
Improves adhesion of top coats (paint, plaster, stucco...)
Repels water and blocks humidity within the substrate
Waterproof, harden and renovate crumbling substrates
Does not alter the natural appearance of the surface.
Arcafix Uses Include:
ARCAFIX is used on all porous substrates : absorbent mortar, tiling, brick, friable concrete, plaster, wood, old flaking paint.
ARCAFIX waterproofs, hardens and reinforces all porous substrates such as weak or under-dosed plaster and mortar, roof building materials which have become porous over time (roof tiles, slate, , ardoises, asbestos cement), friable cement screed…
When used as a primer coat, ARCAFIX will improve the adhesion of the surface to be covered by paint, plaster or stucco.
Arcafix Coverage:
3 to 5 m2 per litre depending on the porosity of the substrate
0.75L cover up to 3.75m²
2.5L cover upt to 12.5m²
20L cover up to 100m²
Arcafix Colour:
Transparent does not alter the suport
Arcafix Pack Sizes:
3 sizes available : 0.75L - 2.5L - 20L

Arcafix Additional Products:

ARCAFIX is often used with ARCADECK to streghten the surface and provide optimium adhesion.
How To Apply
ARCAFIX SUBSTRATE STRENGTHENER AND PRIMER Instructions for use
Application conditions
Do not apply in temperatures above 35°C.
Do not apply under high wind or if raining (or rain is imminent).
Surface preparation
Optimum performance is achieved by using the right combination of products,
surface preparation and application procedures. The surfaces must be sound, dry and free of dust, grease and loose particles.
The surface must not be cracked. See ARCAROOF in this case.
Moss must be eliminated using ARCAMOSS which will destroy fungus, moss, algae and other common micro-organisms on all types of building surfaces. ARCAFIX will then provide durable protection of the surface treated.
Product preparation
ARCAFIX is ready to use and requires no thinning. However, if the substrate is only slightly porous, we recommend thinning with white spirit (one volume white spirit for 2 to 4 volumes of the water repellent primer.
Application
Apply with a brush, roller or airless spray. Apply in one coat, from top to bottom entirely saturating the surface.
The substrate must be thoroughly saturated without leaving product thickness on the surface.
Note: On some surfaces (depending on the porosity), the finish will be satin rather than mat. ARCAFIX may slightly darken the tint of a very light surface.
Storage
Store in dry, cool and frost free conditions in a well ventilated area. Shelf life is 12 months.
Coverage:
3 to 5 m2 per litre depending on the porosity of the substrate
0.75L cover up to 3.75m²
2.5L cover upt to 12.5m²
20L cover up to 100m²
Drying Time:
Approximately 6 hours depending on climatic conditions.
Recoatable: 24 hours
Clean Up:
Clean application tools with white spirit immediately after use
Coverage Rate
Arcafix Coverage:
3 to 5 m2 per litre depending on the porosity of the substrate
0.75L cover up to 3.75m²
2.5L cover upt to 12.5m²
20L cover up to 100m²
Features
Type of product

Fabric

ManoMano Reference

ME1371852

SKU

3700043452305