ARCABLOCK - Water repellent for porous building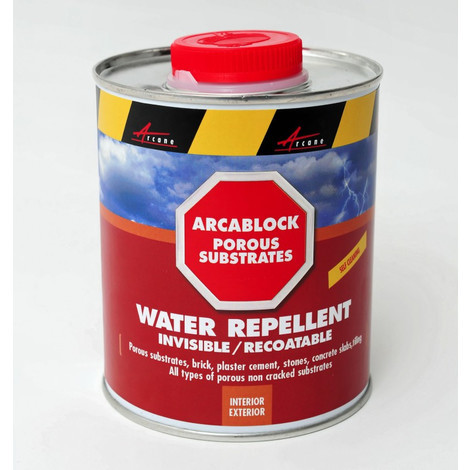 ARCABLOCK - Water repellent for porous building materials protect porous building materials from freezing, mildew and mould | Liquid Transparent - 0.75L (cover up to 3.75m²)
View description
100% secure payment by debit or credit card
Delivery methods
At home between 11/6/2020 and 11/9/2020 (Shipping fees from £40.00)
Description
Product Detail
The ultimate, ready to use, completely invisible Water Repellent
Manufactured since 1995, Arcablock is the top selling water repellent used by professionals and individuals.
Arcablock Water Repellent Advantages:
Completely transparent/ invisible does not alter the surface! will not change the aspect of the material, does not leave a "flour" aspect, cardboard feeling, as certain other water repellent products does.
Ready to use: no thinning needed
Anti-Icing: avoid the formation of ice or in case of frost make the removal of ice easier, protect against freezing (and cracking due to freezing)
Can be decorated, plastered or painted over
Allows the substrate to breathe
Anti-Microbial: bacteria thrives in moist environements with stagnant and contominated water
Anti-Wetting: keep materials dry
Block water penetration which can cause structural damage and deterioration of porous concrete, wood, brick, stone and most other porous building materials.
Self-cleaning, will protect your walls and floors from diret and ageing.
Water will pearl up and can be wiped off before it penetrates a porous surface and leaves a water stain.
Easy to apply
Self cleaning, ARCABLOCK WATER REPELLENT will protect the surface from dirt and ageing as well as treat, restore and protect your home from :certain types of structural damage and deterioration of the building materials humidity, mildew and mould growth which can cause chronic health problemsunsightly flaking paint, efflorescence and peeling wallpaper caused by dampness
Note: Arcablock will not prevent water ingress through unsound or cracked surfaces, or surfaces with structural waterproofing problems.
To waterproofed on cracked surfaces use a Polyurethane Mastic (to fill the crack) + waterproof resin such as: Arcadeck, Arcathane, Arcaroof or Arcaclear.Arcablock Water Repellent
Arcablock Water Repellent Uses Include:Arcablock can be used on:Porous concrete,Wood,Bricks,Stone and most other porous building materials.
For interior / Exterior uses (walls, floor tiles, shower and bathroom tiles, pottery, floors...)
ARCABLOCK WATER REPELLENT provides outstanding water repellence while allowing the substrate to breathe.
Vapour permeability yields drier, more durable walls, floors and roofs.
Arcablock Water Repellent Coverage:
3 to 5 m2/L (depending on the porosity of the surface)0.75L will cover up to 3.75 m²2.5L will cover up to : 12.5 m²20L will cover up to: 100 m²Arcablock Water Repellent Pack size:3 sizes are available : 0.75L - 2.5L - 20L
Arcablock Water Repellent Additional Product:
If you need to protect your tiled surfaces from water and oil stains look for ARCAREPEL (water and oil repellent)
Transparent, invisible, ready to use masonry Water repellent product for all porous building materials, prevent water penetration, exta long lasting. ARCABLOCK WATER REPELLENT allows the substrate to breathe while providing outstanding water repellence.
How To Apply
ARCABLOCK WATER REPELLENT FOR POROUS BUILDING MATERIALS Instructions for use
Surface Preparation
Optimum performance is achieved by using the right combination of products, surface preparation and application procedures. Careful attention to the preparation of the surface is essential:

• Eliminate fungus and moss before application, using ARCAMOSS.
• Clean and brush surfaces of sand, surface dust and dirt, oil, grease andother contaminants prior to application.
• When treating porous tiling, eliminate any efflorescence and mortar residue with a light acid wash. Rinse thoroughly.
Application
ARCABLOCK is ready to use and requires no thinning. Apply on dry surface with brush, roller or airless sprayer.
Stir material thoroughly before application.
To achieve best results on vertical surfaces, start at the bottom of the wall and work upward. Apply until the surface is completely saturated (until product is no longer absorbed). Do not create product build-up by going over a surface several times. Do not apply a second coat until the first coat is completely dry (24 hours).
Arcablock Water Repellent Coverage:
3 to 5 m2/L (depending on the porosity of the surface)
0.75L will cover up to 3.75 m²
2.5L will cover up to : 12.5 m²
20L will cover up to: 100 m²
Arcablock Water Drying Time:
Dry to touch (20°C) : 6 hours
Recoatable: 24 hours minimum
Arcablock Water Repellent Clean Up:
Clean application tools with white spirit immediately after use
Coverage Rate
Arcablock Water Repellent Coverage:
3 to 5 m2/L (depending on the porosity of the surface)
0.75L will cover up to 3.75 m²
2.5L will cover up to : 12.5 m²
20L will cover up to: 100 m²
video
Vidéo
Features
ManoMano Reference

ME1371846

SKU

3700043452206