Sliding door shower enclosures are a sleek and contemporary way of saving space in the bathroom, requiring no additional floor space than the size of the enclosure itself. We understand that bathroom space is often at a premium, and yet we still are keen to make our bathrooms look their best. This shower door, therefore, ticks all the boxes, bringing you the convenience of a space-saving door, without compromising on aesthetics.
Space Saving Single Sliding Door
Sliding Door Shower Enclosures effortlessly fits into large spaces to create a comfortable showering space. This single stylish, sliding door glides across the rail on rollers, thus creating a space-saving solution for your bathroom as the door doesn't need to open into the room itself.

Polished Aluminium Frames
Aluminium is a popular choice in a bathroom due to its robust and practical qualities. Aluminium is corrosion and rust resistant- making it perfect to withstand moisture and water from your shower. The stylish polished finish adds to the aesthetics of your bathroom, creating a practical and attractive aesthetic.

6mm Thick Safety Glass
6mm glass is the best of both worlds when it comes to this shower enclosure. It provides a study feel while being light enough to function well on rollers or hinges. The 6mm glass is thermally toughened for added strength and safety.

2000mm Shower Door Height
This shower enclosure has a height of 2000mm giving you both more height to stop water splashing over the top and giving a genuine high-end luxury look.

Adjustable Profiles For Uneven Walls
It's quite common for homes to have walls which aren't quite true or straight which is why these stunning wall channels come with an added 30mm of adjustability to ensure everything is fitted neatly.

Concealed Fixings For A Minimalist Installation
The innovative cover strip that comes with these enclosures conceals all of the screws and fixings neatly for a flawless look. The cover strip is extremely easy to secure to the frame and gives the whole bathroom a high end look of perfection.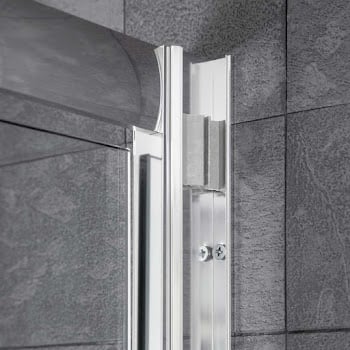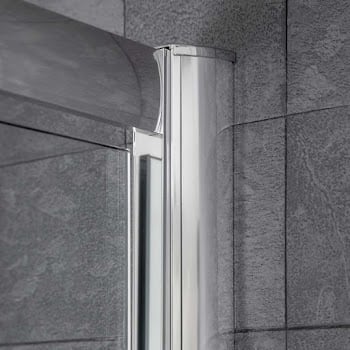 Twist & Lock System
The twist & lock system by Mira has been designed to make installation easier, saving the hassle of having to drill holes for the wall channel and frames. To fix them together you simply need to twist and lock with an allen key at 3 pre-set points over the height of each vertical frame. The twist & lock system works by engaging small teeth within each mechanism, locking them together once the desired frame adjustment is achieved.

Easy Clean Glass Panels
A special coating has been applied to the glass panels to ensure cleaning is fast and easy. A simple wipe down will bring back crystal clear glass time and time again.

Reversible Wall Fixings
These enclosure doors have reversible wall fixings, allowing you to choose whether you'd like your door to open out to the left or to the right, giving you flexibility on your placement.
Modern Chrome Finish Handles
The details of a shower enclosure can make all the difference which is why our Mira Leap range come with stylish modern square door handles. They're easy to fit, easy to get hold of with wet hands and give your bathroom that 5 star hotel look. They're sleek, stylish and blend perfectly with the rest of your bathroom.

Made In The UK
For 100 years, Mira have been designing, manufacturing, and assembling their products right here in the UK. State-of-the-art manufacturing processes and advanced equipment is used at both the Cheltenham and Hull manufacturing plants. This ensures the highest level of quality no matter the product being made. And for complete peace of mind, Mira test every single product and spare part before it leaves their factories, guaranteeing that they exceed the industry recommendations.

Lifetime Guarantee
We're so confident in the high-quality of these products that we're more than happy to include a fantastic lifetime guarantee with them. What more could you want?!


Dimensions: