When buying a new sink, people may be concerned that a glass sink is not very practical, however, that is not the case at all! This sink is super durable due to its 8mm thickness and it's incomparable when it comes to luxury. The stunning glass can endure boiling temperatures of up to 400 degrees Celsius, making it not only elegant but absolutely practical. The bowls themselves are constructed of the finest stainless steel making rust proof and scratch resistant. This great quality means that this sink will be in your home for a very long time.
The stunning white glass and bowls are finished to the highest of standards to allow any kitchen the feeling of complete luxury. The sophisticated drainer helps to drain water back into the smaller bowl to avoid it pooling on your draining space or countertop.
The extra bowl allows you to multitask with ease, for example, the small bowl can be used for cleaning the odd dirty dish or peeling vegetables, whilst the bigger bowl can be used for the bulk of the washing up.
When purchasing a brand new sink, many forget about the very important factor of basket strainer wastes. However, with this sink, they are included as standard.
The sink is compatible with a huge range of kitchen taps and is perfect for installing in a standard kitchen worktop.
Features and Benefits:
Stunning white glass top with brushed stainless steel small and large bowl. Ideal for preparing food and washing up.
High temperature resistance, 400 degrees Celsius for the glass and 600 degrees Celsius on the stainless steel.
Inset type installation makes this cheaper and easier to install than an undermount sink.
Supplied with wastes and overflow for installation. No more last minute runs to the DIY shop!
One tap hole supplied
Radius of sink waste 45mm
Stainless steel thickness: 0.8mm
Glass sink top thickness: 8mm
Right hand drainer
Overall size:
Width: 1000 mm
Height: 500 mm
Large Bowl size:
Width: 340 mm
Height: 400 mm
Depth: 200 mm
Small Bowl size:
Width: 170 mm
Height: 300 mm
Depth: 140 mm
Cutting Hole Size:
Length: 970mm
Width: 470mm
Brushed Finish
Brushed finish stainless steel kitchen sinks are becoming a popular choice for kitchens across the country. Offering a more contemporary, matte look, these sinks will go hand in hand with any modern kitchen.  

1 Tap Hole
This kitchen sink is supplied with a single tap hole to allow you to install your chosen kitchen tap. Here at Plumbworld, we offer a huge selection of kitchen taps so you can find the right one for your kitchen, modern or traditional.  

Inset Installation
Inset sinks are to be installed on the surface of the worktop, making them extremely easy to install. They're supported by their frame and their versatility means that they're compatible with any worktop material.

1.5 Bowl Sink
1.5 bowl kitchen sinks are great for busy multitaskers. These sinks give you the option to do multiple tasks, for example, you could be rinsing vegetable whilst the pans are soaking. This choice of sink is highly convenient for family kitchens and will look great in any kitchen, no matter the style.
Square Design
To help achieve that minimalistic and contemporary look that is hot in trend right now we highly suggest that you go for a square styled kitchen sink. This sink is the epitome of contemporary kitchen design.

Right Hand Drainer
A drainer is a fantastic feature to have as it allows you to place your washed dishes on it to dry and drain the excess water into your basin. The design of this sink features a handy drainer to the right hand side of the basin with a tap hole cut ready for you to install your chosen tap.

White Glass Surround
Add a sense of luxury to your kitchen with a glass surround kitchen sink! The toughened 8mm white safety glass can endure even the heaviest of bangs and the highest of temperatures – we promised it wasn't just a pretty feature to your kitchen!  

Easy To Clean
Thanks to the smooth surface this kitchen sink is super easy to keep clean. Hygiene is very important in a kitchen as you don't want to spread germs and contaminate any food you're preparing, so using a soapy sponge or cloth, simply wipe clean your sink to get rid of any grime and to freshen up the surface.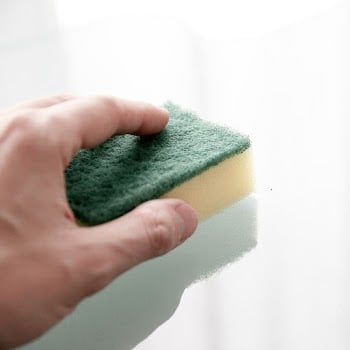 Deep Bowl
We're sure you're glad to hear that this sink not only looks great but features a generously deep bowl. Allowing you to wash even your largest pots and pans with ease, you'll never be short of space.

Matching Basket Strainer Waste Included
Comes complete with high quality stainless steel sink basket strainer waste kit.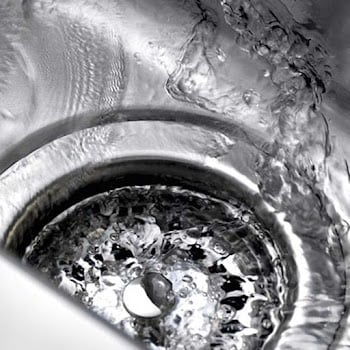 Waste Pipe Kit Not Included
This sink doesn't come with a pipe kit included.

18/8 Quality Grade 0.8mm Stainless Steel
Stainless steel is stain resistant, hard wearing and easy to clean. However, not all stainless steel is the same. It actually comes in different grades and thicknesses. The highest grade 18/8 contains 18% Chromium and 8% Nickel, which gives higher rust resistance, better ability to hold a shine and greater rigidity for the same weight. This sink has a gauge of 0.8mm.  

600mm Cabinet Depth
The style and size of your new kitchen sink is important but what a lot of people forget to check is the size of the cabinet that it's being installed into, especially if you've had new worktops too. This sink has been designed to fit into a 600mm deep cabinet which is the norm in most UK houses.  

3 Year Guarantee
When buying anything for your home you need to know that it's going to stand the test of time. This is why this product comes with a fantastic 3 year guarantee against any manufacturing defects should the worst happen and the product is not up to standard.

Sauber 1.5 Bowl Kitchen Sink with White Glass Surround and Drainer Video

Sauber 1.5 Bowl Kitchen Sink with White Glass Surround and Drainer - Plumbworld - YouTube
Video will open in a new window
Using the eBay App? Paste link into a browser window:
[isdntekvideo]