Naturewater 26.16 mm (3/4") 1 Stage Water Filter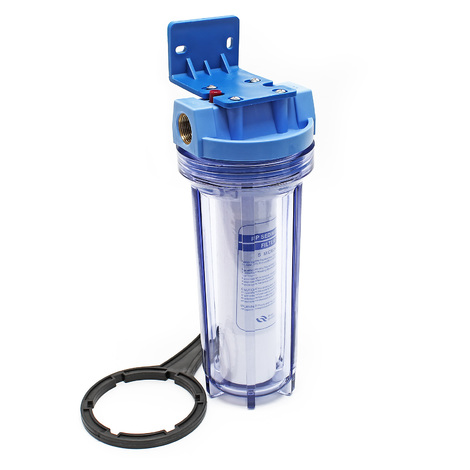 Naturewater 26.16 mm (3/4") 1 Stage Water Filter
View description
100% secure payment by debit or credit card
Receive your order between 10/5/2020 and 10/6/2020
Delivery from £12.49
Delivery to British Isles (shipping may be restricted to mainland UK)
Description
Naturewater 26.16 mm (3/4") -1stage water filter

This water filter system was specifically designed to make usable slightly dirty drinking water.
The water filter is very inexpensive and easy to assemble and handle.
This corresponds to the water filters that are offered significantly more expensively regarding quality and filter performance.

The filtering sytem is a perfect solution for almost all water impurities depending on the use of filter inserts.
The filter system offered here is delivered with two 5µ Sediment filter inserts and removes reliably sand, rust, algae, and other floating particles from the water.

The water filter cartridge is used as an additive to the activated carbon block filter cartridge.

The third filter stage consists of an activated carbon block filter cartridge which cleans your drinking water from ozone, pesticides, rust, lime floating particles and chlorine and decreases the concentration of heavy metals such as lead and copper.

Of course, the filter inserts 10" (254 mm) can be replaced by other materilas according to demand.

You can find a complete list of the suitable filter inserts in the following table.

The unit has no RO- Membrane (reverse osmosis) and also no ion exchangers.

This means the natural mineral content (which is vital to life) is largely maintained and the water hardness is affected to a smaller extent.

Sediment filtration 5µ
Sediment particles like sand, algae and rust are removed

Filtration of toxic substances
With the help of a filter cartridge made of pressed activated carbon you can remove a large part of the toxins from the water e.g. ozone, pesticide, rust, calcium carbonate particles, chlorine.
The values for heavy metal concentration like lead, copper etc. are extremely reduced. In addition the activated carbon decolourises the water, if there are yellow or brown turbidities.
Furthermore the activated carbon removes odours.

Toxins filtration
By means of filter cartrige made of granular activated carbon which filters once more existing toxic remains.

Ultrafilter membrane
It filters all particles > 0,22 Micron ( 0,000 22 mm) in the water.
This stage removes again remaining germs, protozoa, algae, spore etc. (In normal store difficult to find but used in the industry for the purification of mineral water. Ultrafilter are also used for drinking water purification in disaster areas, for instance by THW).

PI activated carbon filter "Gourmet
It made of high-quality granular coconut activated carbon with large surface. This filter removes unpleasant smelling and tasting substances, leaving a pure refreshing water..

The product/ the filters are equipped with locking caps or / and shrink-wrapped.

Because of this the product has no best-before date(the expiry date).Correspondingly you can store this product without loss of quality.
Naturewater 26.16 mm (3/4") 1 Stage Water Filter
SKU
50849
Anzahl Packstücke
1
Connection mm / Ø
26 mm (3/4")
Specific
1-3 Filter Stages
Discharge l/min
10 l/min
Suitable filter inserts (not included)
Sediment Filter PP-10A 5µ (Article 50820), Resin-Filter Cartridge RS-10D (Article 50822), Ceramic Cartridge CRM-1A 0,5µ (Article 50824), Activated Carbon Block Filter Cartridge CTO-10B 5µ (Article 50825), Granular Activated Carbon Filter UDF-10A (Article 50827), Ceramic Filter Dome CRM-5A (Article 50838)
Suitable filter inserts (included)
Sediment Filter PP-10A 5µ (Article 50820)
Body size / to suit
10" (254 mm) / Ø 62mm
net Weight [kg]
1.4400
Package: Height in mm
140
Package: Length in mm
330
Package: Width in mm
140
Availability
Immediate dispatch,
available within 3-5 business days*
Shipping
Paket
Features
Type of product

Water filter

Threading of inlet

3/4" (20x27)

Type of filtering

Activated carbon

ManoMano Reference

ME807453

SKU

50849