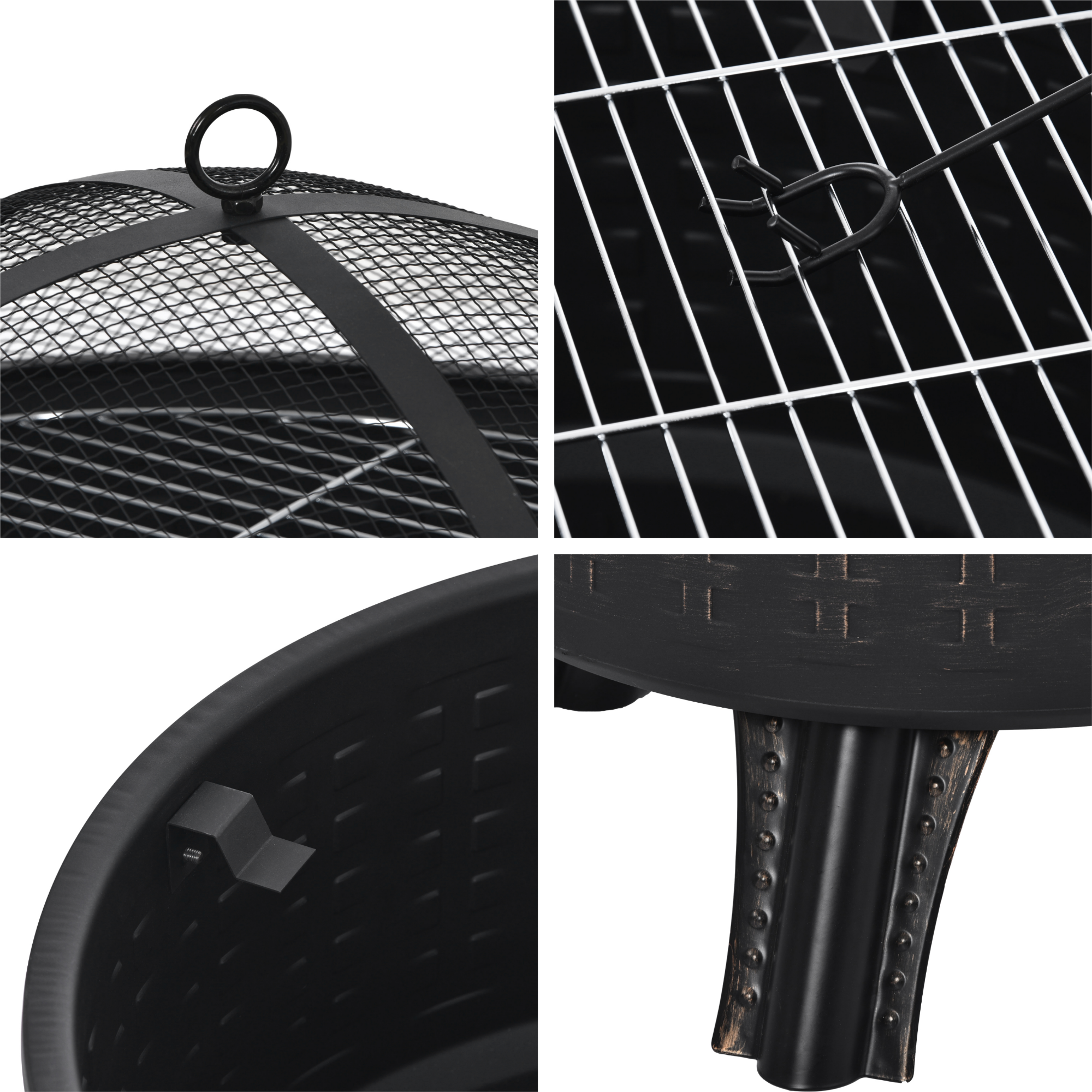 [Versatile Design] Overall Size: Dia 64 x 67(H) cm; Can be used as fire pit, BBQ grill, bonfire pit, suitable for party of 3-5 people. Perfect for your backyard, camping, outdoor entertaining, beach, parties, RV trips, or toasting marshmallows with your children.
[Chic Appearance] This round fire pit is available in matte retro color and stamped with a decorative rattan pattern, which will certainly be an eye-catching piece in your yard.
[Durable & Rust Resistant] This fire pit made of durable steel frame, not easy to cause safety accidents such as brazier dumping. This fire pit is treated with high temperature baking varnish. This kind of fire pit has the characteristics of weather resistance, large bearing capacity, durability, rust resistance, can be used for a longtime.
[Equipped with a large BBQ Grill]  This 58 cm diameter cooking grill provides plenty of space for roasting food in the great outdoors.
[High security] Outdoor fire pit is equipped with a spark screen and a poker. Please use poker to move wood, lift the lid will be safer, spark screen can protect you and your loved ones from potentially dangerous fly ash. Notice: Please make sure the fire is out before storing it indoors.
[Easy Assembly] No need to purchase additional installation tools, fire pit bag comes with installation instructions and tools. Simply attach the 3 legs and outer rim.
Weights & Dimensions:
Product size: 64 x 64 x 67 cm / 25 x 25 x 26.3 in
Depth of fire bowl: 24 cm / 9.5 in
Product Weight: 8.6 kg
Package size: 69 x 69 x 28.5 cm / 27 x 27 x 11.2 in
Package weight: 10.6 kg
Specifications:
Product Type: Firepit
Material: Steel
Color: Black + natural rust
Fuel type: Charcoal, logs, wood
Assembly needed
Pieces included: A mesh lid, a fire bowl, a cooking grid, a fire poker, decorative pull tabs, 3 legs
Product care: Clean up the embers regularly. Wipe clean with a damp cloth, and then air dry. Try not to put it outside in the rain and sun.
Note: It can only be used outdoors. Cannot be placed on a wooden deck.