Designed by Reginox, the Amur Single Lever kitchen taps are modern, stylish, and practical with an exceptional range of benefits for contemporary and traditional style kitchens. The brushed nickel composition makes the tap very low maintenance, with the ability to wipe away fingerprints and tarnishes with ease.
The convenient simplicity of cleaning is matched with the excellent performance of the single lever function. The lever allows for an easy transition between hot and cold water, with ease of adjustability for the optimum temperature. Smooth control over water pressure is also offered by the single lever function, which is simple for the whole family to use.
Thanks to the slender style of the neck and the height of the tap, you ll still retain full unobstructed use of your sink; making filling pots, pans, and large containers incredibly simple. With a monobloc construction for single tap hole sinks, and a classy swan neck blade with swivel spout, the Amur tap from Reginox is a superb choice for busy kitchen environments where the tap needs to provide a diverse range of uses.
Features and Benefits:
Worried about maintaining your taps? The brushed nickel finish of these Reginox taps offer the convenience of exceptionally low maintenance ensuring that fingerprints, water marks, and other blemishes are easy to remove. 

The versatile bar pressure range allows for fixture in a vast range of properties with varying water pressures.

The high-quality swivel spout provides a smooth movement for a versatile range of uses, suiting the majority of household pot and pan cleaning/filling requirements.

Thanks to the swan shape of the neck, the tap offers enhanced usage for larger pots and buckets, not limiting your usage of the sink.

The blade design of the Amur tap neck is modern and smooth easy to clean and a compliment to any kitchen design.

With the single lever you have optimum control over temperature and water pressure. In just a single, easy movement, you can adjust the temperature level, and ensure that the pressure of the water suits your needs.

Great for the whole family the simplicity of the tap operation makes it easy to use for adults and children alike with an ergonomic design. 

Technical Specification:
Total Height: 341mm

Spout Height: 248mm

Reach of Spout: 158mm

Bar: 0.2-5.0

Number of Levers: One

Material: Brushed Nickel

Monobloc Construction

Swan Blade

Swivel Spout
Solid Brass Body
Solid brass is known for its durability and long life in wet corrosive environments. Tap bodies made from brass will last decades, and can stand up to a lot of wear and tear. In fact, brass fixtures almost always stand up to hot water damage and other corrosive environmental factors better than any other material, including plastic and steel. Plus, its sturdiness makes it hard to damage through daily use 

Flow Rates (l/min):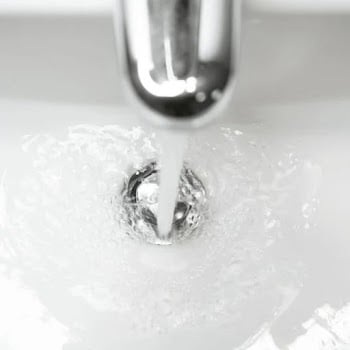 Dimensions: