The Reginox Harlem 10 Silver Grey Granite Single Bowl Sink with Drainer is a very attractive and highly functional sink that will embellish any kitchen. The silver-grey Granite finish looks and feels luxurious and also has many useful properties which will ensure the good health of your family.
Reginox Harlem sinks are crafted from a high-quality hard-wearing product called Axigran. This unique material is formed by combining some of the finest granite aggregates in the world with resins and quartz particles which are sourced in the European Union. The resulting surface has an attractive uniform structure, a cool, solid feel, and some exceptional properties.
Axigran Reginox sinks are incredibly hard and durable. They can even withstand violent impacts unscathed. Also, the Reginox Harlem 10 Silver Grey Granite Single Bowl Sink with Drainer is thermal shock-resistant. They are also resistant to scratches and food and drink stains. In addition, Harlem sinks have a non-porous surface which does not permit bacteria growth. Axigran surfaces meet EN 13310 standards, have a certificate of Radiation Hygiene, a certificate of quality for health, and a certificate of NIH (State Health Establishment). This sink is easy to keep clean and guarantees your family s health.
The Reginox Harlem 10 Silver Grey Granite Single Bowl Sink with Drainer has a single standard drain hole, comes with pre-punched tap holes, and is designed for inset mounting. The quality of materials and craftsmanship of Reginox sinks has earned them a worldwide reputation and this sink is backed by a full 10-year guarantee.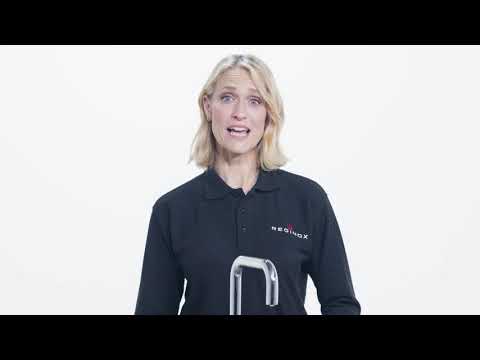 Reginox Granite Sinks

Video will open in a new window
Using the eBay App? Paste link into a browser window:

[isdntekvideo]
Axigran Granite & Resin Compound
These Reginox sinks are made from a Axigran, a unique and hard-wearing material which is very much like granite. It s made up of colourised quartz and polyester resins to provide you with a sink that s not only great looking but highly resistant to heat, cold and day-to-day knocks and bangs.
Single Bowl Sink
Single bowl kitchen sinks are the perfect purchase for those with smaller kitchens as they take up minimal room on the worktop. Whilst they may be small, they don t lack functionality, as they offer plenty of space for washing large dishes, pots and pans.  

Reversible Drainer With 2 Pre-Punched Tap Holes
This sink has a drainer which can be installed either on the left or the right-hand side of the bowl. There are 2 pre-punched tap holes, one at the top and another at the bottom so you can choose which you want to knock through and fit your tap accordingly.  

Antibacterial Surface
When it comes to your kitchen, you want to make sure you are keeping things clean and germ-free for the whole family. The material used the make these sinks features silver ions which is a well-documented antimicrobial. It's been shown to kill bacteria, fungi and certain viruses making them very hygienic, an incredibly important feature in a kitchen.  

UV Protection
When you purchase your new granite kitchen sink you want it to look its best at all times. With the UV protection layer you don't have to worry if your sink is placed in a sunny spot in your kitchen, as it is protected from fading caused by the sun, keeping it looking good no matter what the weather!  

Thermal Shock Resistance
You don't have to worry about the strength and durability of this sink, as with the clever thermal shock resistant feature you can use extremely hot and extremely cold water without it affecting or damaging the sinks surface.  

Inset Installation
Inset sinks are to be installed on the surface of the worktop, making them extremely easy to install. They re supported by their frame and their versatility means that they re compatible with any worktop material.  

Silver Grey Finish
This Reginox sink is made from luxurious Axigran. This unique material is crafted from European-sourced resins and quartz particles which are combined with some of the finest granite aggregates in the world. The end product has a uniform structure, a rich grey colouring and a solid, cool, feel.  

600mm Cabinet Width
The style and size of your new kitchen sink is important but what a lot of people forget to check is the size of the cabinet that it s being installed into, especially if you ve had new worktops too. This sink has been designed to fit into a 600mm wide cabinet.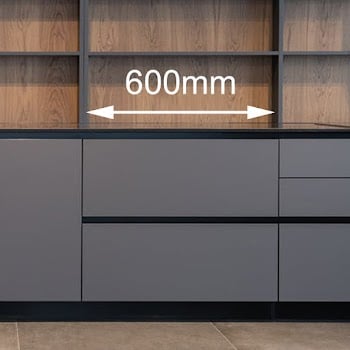 Matching Basket Strainer Waste Included
Comes complete with high quality stainless steel sink basket strainer waste kit.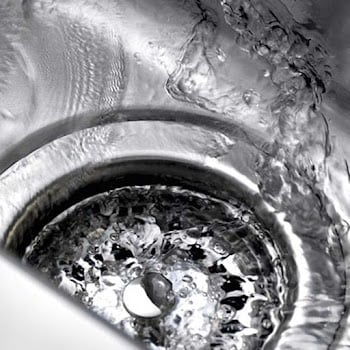 10 Year Guarantee As Standard
When buying products for your home you need to know that they re going to stand the test of time. This is why this product comes with a fantastic 10 year guarantee against any manufacturing defects should the worst happen and the product is not up to standard.

Dimensions:



How to install a Reginox Inset Kitchen Sink

Video will open in a new window
Using the eBay App? Paste link into a browser window:

[isdntekvideo]