Kitchen sinks are as important as your oven or fridge, it s where you go to rinse food during preparation and it s where you go to clean the dishes after a delicious meal. They're used more or less every single day, therefore it s important to have a sink that meets all the daily demands of busy family life.
The Reginox Jumbo stainless steel large single bowl sink is a fantastic addition to any busy household. Its large bowl design allows for plenty of space to do your washing up and any cleaning of fruit, salad or vegetables, and the bowl is extremely hard working thanks to its durable high grade stainless steel construction, which is of course stain resistant and a breeze to clean.
With their stylish and sleek appearance and practical large bowl you will be giving your kitchen a top quality and hardwearing feel, something that you will only find in Reginox stainless steel sinks.
Single Bowl Sink
Single bowl kitchen sinks are the perfect purchase for those with smaller kitchens as they take up minimal room on the worktop. Whilst they may be small, they don t lack functionality, as they offer plenty of space for washing large dishes, pots and pans.
 

Inset Installation
Inset sinks are to be installed on the surface of the worktop, making them extremely easy to install. They re supported by their frame and their versatility means that they re compatible with any worktop material. 

Overflow Fitted
This Reginox kitchen sink is fitted with an overflow so you don't need to worry about overfilling. It's positioned near the top of the bowl to maximise water holding capacity and it could save you from getting a rather wet floor! 
18\10 Quality Grade 0.7mm Stainless Steel
Stainless steel is stain resistant, hard wearing and easy to clean. However, not all stainless steel is the same. It actually comes in different grades and thicknesses. The highest grade 18/10 contains 18% Chromium and 10% Nickel, which gives higher rust resistance, better ability to hold a shine and greater rigidity for the same weight. This sink has a gauge of 0.7mm. 

900mm Cabinet Width
The style and size of your new kitchen sink is important but what a lot of people forget to check is the size of the cabinet that it s being installed into, especially if you ve had new worktops too. This sink has been designed to fit into a 900mm wide cabinet. 

35mm Tap Hole To Fit Most Taps
These sinks are designed for total compatibility which is why their tap hole has a 35mm diameter. This is a standard size for the UK with most taps fitting perfectly thanks to their larger diameter. 

Tap not included. 
Matching Basket Strainer Waste Included
Comes complete with high quality stainless steel sink basket strainer waste kit.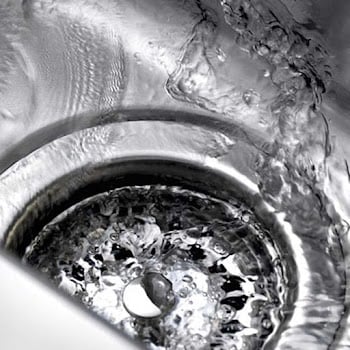 Waste Pipe Kit Not Included
This sink doesn't come with a pipe kit included however they are available to purchase separately. 

Lifetime Guarantee
We're so confident in the high-quality of these products that we're more than happy to include a fantastic lifetime guarantee with them. What more could you want?! 

You May Also Like:
Reginox Panama Waste Kit - Available Here
View Our Range Of Kitchen Taps - Available Here
View Our Range Of Waste Disposal Units - Available Here
Dimensions:

Inset Cut Out Guide


How to install a Reginox Inset Kitchen Sink