When designing your kitchen, the kitchen sink is most often overlooked as its functionality outweighs the aesthetics. However, the style of your kitchen sink can make or break the design of your kitchen. The Ohio Kitchen Sink from Reginox is a brilliant option for any kitchen. Featuring a brilliant blend of both functionality and very modern design.
Single bowl sinks are a great option if you re looking to save space in the kitchen as they allow for more worktop space. The sink can be installed via inset or semi-integrated methods depending on your preferred finish. Constructed from beautiful stainless steel, this sink will go hand in hand in both traditional and modern designed kitchens. Stainless steel is an extremely durable material that s used in the manufacturing of a lot of the Reginox sinks.
Stainless Steel Material
Perhaps the most popular material used for kitchen sinks is, stainless steel due to its many practical benefits, stainless steel sinks offer durability and timeless style that will look great in both modern and traditional kitchens! It s a functional and long-wearing material that is designed to be robust and easy to clean. 

Integrated Installation
This kitchen sink is to be mounted flush with the worktop for a stylish and seamless finish. The top of the sink lies flush with the top of the worktop and has the advantage of being both hygienic and sleek. 

Single Bowl Sink
Single bowl kitchen sinks are the perfect purchase for those with smaller kitchens as they take up minimal room on the worktop. Whilst they may be small, they don t lack functionality, as they offer plenty of space for washing large dishes, pots and pans.
Square Design
To help achieve that minimalistic and contemporary look that is hot in trend right now we highly suggest that you go for a square styled kitchen sink. This sink is the epitome of contemporary kitchen design. 

18/10 Quality Grade 0.9mm Stainless Steel
Stainless steel is stain resistant, hard wearing and easy to clean. However, not all stainless steel is the same. It actually comes in different grades and thicknesses. The highest grade 18/10 contains 18% Chromium and 10% Nickel, which gives higher rust resistance, better ability to hold a shine and greater rigidity for the same weight. This sink has a gauge of 0.9mm. 

450mm Cabinet Width
The style and size of your new kitchen sink is important but what a lot of people forget to check is the size of the cabinet that it s being installed into, especially if you ve had new worktops too. This sink has been designed to fit into a 450mm wide cabinet. 

Matching Basket Strainer Waste Included
Comes complete with high quality stainless steel sink basket strainer waste kit.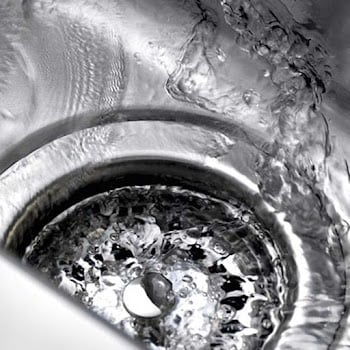 Waste Pipe Kit Not Included
This sink doesn't come with a pipe kit included however they are available to purchase separately. 

You May Also Like:
Reginox Panama Waste Kit - Available Here
View Our Range Of Kitchen Taps - Available Here
10 Year Guarantee As Standard
When buying products for your home you need to know that they re going to stand the test of time, especially in a moisture rich environment like the bathroom. This is why this product comes with a fantastic 10 year guarantee against any manufacturing defects should the worst happen and the product is not up to standard.


How to install a Reginox Inset Kitchen Sink - YouTube

Video will open in a new window
Using the eBay App? Paste link into a browser window:

[isdntekvideo]

How to install a Reginox Integrated Kitchen Sink - YouTube

Video will open in a new window
Using the eBay App? Paste link into a browser window:

[isdntekvideo]

How to install a Reginox Semi Integrated Sink - YouTube

Video will open in a new window
Using the eBay App? Paste link into a browser window:

[isdntekvideo]
Dimensions:

Cut Out Guide: