The Reginox Quadra100 Black Granite Undermount Single Bowl Sink is the perfect addition to any home kitchen sink unit. Built from sturdy materials for enhanced durability, the square sink bowl is all sweeping lines and square edges, allowing for a clean and modern aesthetic. Black is renowned for its versatility, as well regardless of the surrounding d cor, this effortlessly stylish sink will slot right into place in your kitchen, combining visual appeal with practicality and reliability.
With an undermount installation, the sink sits underneath the worktop or at mid-level. This not only practical in terms of maximising the surface space available on the worktop itself, but also for maintaining cleanliness and order in the kitchen. It s most suitable for entire worktops which are constructed from a single material, such as granite, wood or plastic. With a depth of 220mm and total dimensions of 380mm x 440mm, it will fit snugly into a cabinet size of 450mm.
Reginox sinks are built to last, made using the state-of-the-art composition metaltek. This substance is a unique marriage of the practicality and longevity of natural granite with the smooth, polished appeal of acrylic resins, binding together to provide resistance to staining, damage from impact and fluctuations in temperature. Metaltek is also enriched with an infusion of silver ions, which actively work to discourage the establishment and spread of bacterial organisms, making the sink the ideal choice for a hygienic workspace in the kitchen.
Despite these advanced safety features, it s important to care for your sink in order to achieve its maximum lifespan. This includes avoiding the exposure of the sink to harsh chemicals (including acid, paint stripping agents, grout removal agents, adhesives, brush cleaners, blue liquid, drain unblockers and metal shavings) and refraining from placing hot pots or pans on its surface for an extended period of time.
Furthermore, regular maintenance using clean water (perhaps strengthened with the use of a mild soap) is important in reducing the build-up of dirt, grime and other detritus, which can impact its appearance over time. Scouring pads should be avoided if possible. Fortunately, the basket strainer waste (BSW) plug allows for easy capture and removal of food particles in the sink itself. Following these guidelines will result in a stunning sink which delivers great functionality and a gleaming appearance for years to come.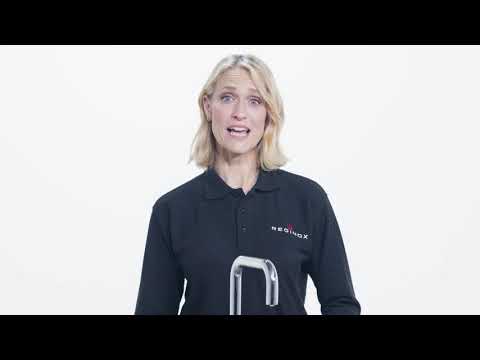 Reginox Granite Sinks

Video will open in a new window
Using the eBay App? Paste link into a browser window:

[isdntekvideo]
Metaltek Granite
Metaltek consists of natural granite and acrylic resin combined with small metal particles to give it a brilliant shiny metallic finish. Metaltek is hardwearing and resistant to stains, impacts and temperature changes. The use of Ceramisation is used to give the granite particles colour through a 700 firing process, making the material highly resistant to discoloration. Metaltek also features silver ions to inhibit growth of any bacteria to keep your sink protected and hygienic, which is super important in a kitchen.
Single Bowl Sink
Single bowl kitchen sinks are the perfect purchase for those with smaller kitchens as they take up minimal room on the worktop. Whilst they may be small, they don t lack functionality, as they offer plenty of space for washing large dishes, pots and pans.

Antibacterial Surface
When it comes to your kitchen, you want to make sure you are keeping things clean and germ-free for the whole family. The material used the make these sinks features silver ions which is a well-documented antimicrobial. It's been shown to kill bacteria, fungi and certain viruses making them very hygienic, an incredibly important feature in a kitchen.  

UV Protection
When you purchase your new granite kitchen sink you want it to look its best at all times. With the UV protection layer you don't have to worry if your sink is placed in a sunny spot in your kitchen, as it is protected from fading caused by the sun, keeping it looking good no matter what the weather!  

Thermal Shock Resistance
You don't have to worry about the strength and durability of this sink, as with the clever thermal shock resistant feature you can use extremely hot and extremely cold water without it affecting or damaging the sinks surface.  

Undermount Installation
Undermount sinks offer stylish minimalism as their rimless design means the worktop seamlessly fits the sink. This installation is best suited for granite, wooden and plastic worktops. As the sink is fitted below the worktop, it makes an easy job of cleaning!

Square Design
To help achieve that minimalistic and contemporary look that is hot in trend right now we highly suggest that you go for a square styled kitchen sink. This sink is the epitome of contemporary kitchen design.

Black Granite Finish
This sink is finished in a stunning black granite to help give your kitchen a completely modern update. Once installed this kitchen sink will add a slice of luxury to your home and make you the envy of all your friends and family!  

450mm Cabinet Width
The style and size of your new kitchen sink is important but what a lot of people forget to check is the size of the cabinet that it s being installed into, especially if you ve had new worktops too. This sink has been designed to fit into a 450mm wide cabinet.  

Matching Basket Strainer Waste Included
Comes complete with high quality stainless steel sink basket strainer waste kit.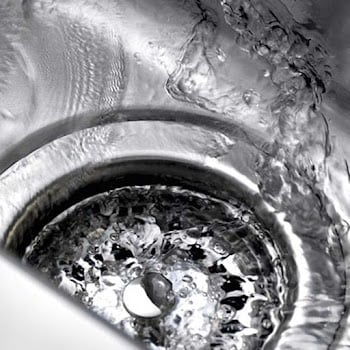 Waste Pipe Kit Not Included
This sink doesn't come with a pipe kit included however it is available to purchase separately.

10 Year Guarantee As Standard
When buying products for your home you need to know that they re going to stand the test of time. This is why this product comes with a fantastic 10 year guarantee against any manufacturing defects should the worst happen and the product is not up to standard.

Dimensions: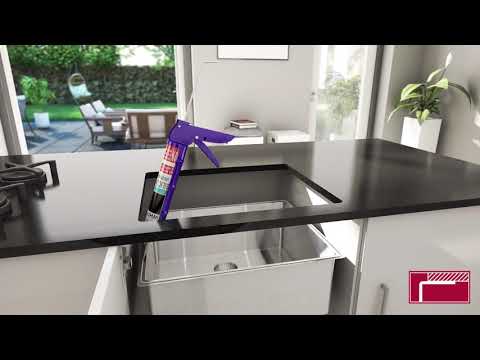 How to Install a Reginox Undermounted Kitchen Sink

Video will open in a new window
Using the eBay App? Paste link into a browser window:

[isdntekvideo]