The kitchen is a really important part of the home which is why it s important that the fixtures and fittings within them are of a high-quality and designed to suit. Thanks to Sauber and their Baden pull out kitchen sink mixer tap this is a reality, blending stunning, functional designs with total reliability.
The brushed finish looks great in modern spaces and because its brass finished with nickel it s extremely rust resistant, a great feature in a wet environment! They re easy to keep clean too with watermarks just wiping off with a cloth.
The flow and temperature aspects of the tap are control by a single, smooth to operate lever. This makes it easier to use and more precise for selecting the water pressure and temperature level that you need.
The spout is the really clever part, not only does it rotate 360 degrees to allow optimal reach but it also includes a three spray pull out nozzle. This gives you the option to use a stream, spray or pause mode allowing you to more efficiently get the washing up and cooking done. And when you ve finished the hose retracts positioning the nozzle back where it started.
Inside the tap is a ceramic disc cartridge for added reliability, keeping things functioning perfectly even after years of use.
Features and Benefits:
  Contemporary brushed finish blends with almost all kitchen decors.
  Rust resistant and easy to clean.
  Easy to operate Single handed design controls both the flow and temperature.
  Swivel on the spout for optimal reach and spout aiming.
  Retractable pull out spout returns to its original position after use.
  Pause button allows you to temporarily stop cleaning while moving crockery around.
  Ceramic disc cartridge for reliability. 
Kitchen Mixer Tap
A lot of properties still feature separate taps for hot and cold water. They take up a lot of space around your sink and make it difficult to wash your hands, providing you with scolding hot or freezing cold water. You can easily avoid this with a mixer tap. They connect both your hot and cold feed to the same tap body, using just a single tap hole. They re easy to control with a single lever and allow you to get your desired water temperature each and every time.




Dual Spray Modes
Food can be stubborn so choose between two different spray modes to find the most effective way of rinsing your plates! 

Single Lever Taps
If you re struggling to find a minimalist look for your kitchen then we understand your plight. Taps can be complicated and in this day and age all you want is something easy to use that looks great. Luckily, we have just the thing for you with our innovative single lever taps. As the name suggests, these taps are easy to use with just a single lever controlling the flow and temperature of the water.
 

Modern Round Styling
Take the overall appearance of your kitchen to a new level by improving the look of your taps. This tap is the perfect complement for your modern kitchen with striking looks, smooth rounded edges, and a contemporary design to suit any space you have.





Pull Out Spout
Washing up is no fun at the best of times, let alone when you ve got a tap that doesn t perform and gets in the way! This kitchen tap on the other hand is the ideal washing, rinsing and cleaning tool. With its pull out spout you can get into all the nooks and crannies of your crockery and sink, making life in the kitchen just a little bit easier. 

Adjustable Spout
The perfect complement for your kitchen sink is a good, functional tap to go with it. This tap not only looks fantastic but with an adjustable spout you can swivel it back and forth to swill or fill different sink bowls. After all you can never have too much practicality in the kitchen! 

Reliable Composite Cartridge
Your new tap will never fail on you thanks to the composite cartridge contained inside. This cartridge provides long-lasting reliability and a smoother lever action for easier operation.We'll guarantee that It's never been easier to acheive the temperature and flow you need!





Solid Brass Body
Is your tap feeling a bit tired and worn out? Is there a serious quality issue? A good, long-lasting tap needs to be made from a good, long-lasting material. And that material is brass. This tap is made from solid brass, precision machined to work flawlessly, and finished to an impeccable standard. It will give your home an expensive, high-quality feel that won t be beaten.

Polished Chrome Finish
If your old taps are starting to tarnish and no amount of chrome cleaner is bringing them back to life then you really deserve to refresh them. Old, well-used taps can really let down the overall look of around your home so bring yours back to life with some simple swaps. This particular tap will bring new elements of style with it s gorgeous, polished chrome finish. Pair it with some new accessories for the perfect contemporary look.

Flexible Tails Included
You get your new tap delivered. You're excited. You open the box only to find out that you re missing the flexible tails to connect it to your plumbing. Frustrating! You can order a new set online or run to a local shop. Either way it s annoying! Thankfully with this tap you don t need to worry as the flexible tails are included. Resume excitement!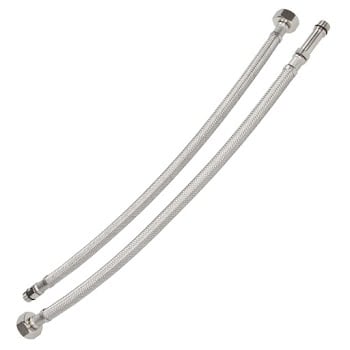 10 Year Guarantee 
High-quality parts and precision engineering put these products together and we want you to be confident of that, so to put your mind at ease we cover you with a 10 year long guarantee.

Dimensions: