The Sauber Square Handle Kitchen Mixer Tap with Pull Out Spray is striking, modern looking and highly versatile. It will make doing the washing up a pleasure, as well as looking great in your kitchen. The contemporary design of this mixer tap is both eye-catching and functional. The control lever has a striking square form, and this single lever lets you easily control both the temperature of the water as well as the flow. The beautiful spiral form of the arm is extremely attractive and will certainly be a talking point in your kitchen. The bright chrome finish of the entire fixture is easy to keep clean and shiny with little work. The tap spout can be detached from its holder with ease, and can be used to aim the water spray wherever it is required. Whether rinsing dishes or washing vegetables, the handheld unit lets you direct the water just where you want, making kitchen tasks a breeze. The extra-long hose extends easily and allows you to reach multiple bowls effortlessly. Yet, the hose hides away discreetly and neatly within the spiral arm when not in use. This kind of technology has previously only been available in commercial situations, such as restaurants, but now you can enjoy the same convenience in your own home With the facility to rotate 360-degrees, there is nowhere that you cannot reach. In addition, the head has two adjustments to provide you with either a direct stream of water or a spray.  Whether you are removing food remains from used crockery before washing, rinsing off soap suds, or cleaning your vegetables for safe consumption, this sprayer makes it fun and easy to do it all. It is also exceptionally convenient for filling buckets, bowls or watering-cans which can be placed on the floor instead of trying to get them in the sink. The Sauber Square Handle Kitchen Mixer Tap with Pull Out Spray is not just good looking and functional, it is also made to the highest standards, with top-class materials.  The solid brass construction ensures a long working life, even with the constant usage that a kitchen tap gets. Within, this state-of-the-art tap there is a ceramic disc cartridge. This cartridge replaces the traditional washers which when worn can lead to annoying dripping. The ceramic cartridge also means that the handle functions smoothly.
Eye catching contemporary design

Highly functional and versatile

Durable brass construction
Bright chrome plated surface finish
One lever controls flow and temperature
Handheld sprayer pulls out
Long sprayer hose length
Allows rotation of spout
High- performance ceramic disc cartridge
Compatible with any plumbing system
All necessary fixtures included

FREE 10-year warranty
Flow Rates (l/min)
0.5 bar - 4.1
1 bar - 5.8
3 bar - 10.4
Pull Out Spout
Washing up is no fun at the best of times, let alone when you ve got a tap that doesn t perform and gets in the way! This kitchen tap, on the other hand, is the ideal washing, rinsing and cleaning tool. With its pull out spout, you can get into all the nooks and crannies of your crockery and sink, making life in the kitchen just a little bit easier. 

Mixer Tap
A lot of properties still feature separate taps for hot and cold water. They take up a lot of space around your sink and make it difficult to wash your hands, providing you with scolding hot or freezing cold water. You can easily avoid this with a mixer tap. They connect both your hot and cold feed to the same tap body, using just a single tap hole. They re easy to control with a single lever and allow you to get your desired water temperature each and every time.




Single Lever Taps
If you re struggling to find a minimalist look for your bathroom then we understand your plight. Taps can be complicated and in this day and age all you want is something easy to use that looks great. Luckily, we have just the thing for you with our innovative single lever taps. As the name suggests, these taps are easy to use with just a single lever controlling the flow and temperature of the water. 

Adjustable Spout
The perfect complement for your kitchen sink is a good, functional tap to go with it. This tap not only looks fantastic but with an adjustable spout you can swivel it back and forth to swill or fill different sink bowls. After all you can never have too much practicality in the kitchen! 

Modern Square Styling
Take the overall appearance of your kitchen to a new level by improving the look of your taps. This tap is the perfect complement for your modern kitchen with striking looks, square edges, and a contemporary design to suit any space you have.




Reliable Composite Cartridge
Your new tap will never fail on you thanks to the composite cartridge contained inside. This cartridge provides long-lasting reliability and a smoother lever action for easier operation.We'll guarantee that It's never been easier to achieve the temperature and flow you need!





Solid Brass Body
Is your tap feeling a bit tired and worn out? Is there a serious quality issue? A good, long-lasting tap needs to be made from a good, long-lasting material. And that material is brass. This tap is made from solid brass, precision machined to work flawlessly, and finished to an impeccable standard. It will give your home an expensive, high-quality feel that won t be beaten. 

Polished Chrome Finish
If your old taps are starting to tarnish and no amount of chrome cleaner is bringing them back to life then you really deserve to refresh them. Old, well-used taps can really let down the overall look of around your home so bring yours back to life with some simple swaps. This particular tap will bring new elements of style with it s gorgeous, polished chrome finish. Pair it with some new accessories for the perfect contemporary look. 

Flexible Tails Included
You get your new tap delivered. You're excited. You open the box only to find out that you re missing the flexible tails to connect it to your plumbing. Frustrating! You can order a new set online or run to a local shop. Either way it s annoying! Thankfully with this tap you don t need to worry as the flexible tails are included. Resume excitement!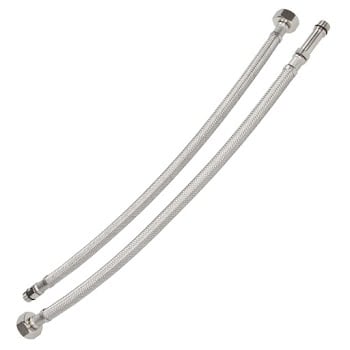 10 Year Guarantee 
High-quality parts and precision engineering put these products together and we want you to be confident of that, so to put your mind at ease we cover you with a 10 year long guarantee.

Dimensions:

 Sauber Square Handle Kitchen Mixer Tap with Pull Out Spray Video 

Sauber Baden Pull Out Kitchen Mixer Tap
Video will open in a new window
Using the eBay App? Paste link into a browser window:
[isdntekvideo]