Most kitchens are the centre point in any home. It's where families gather to prepare food, eat and socialise so it's crucial that you fixtures are of the highest quality.
In particular the sink is one of the most widely used items so you need a tap that's high in quality and robust to match. Take the effort out of washing up with our new offering from Park Lane, the Burford kitchen mixer tap.
The Burford is exquisitely finished in a gorgeous brushed metal effect so it won't look out of the place in any traditionally style kitchen. Underneath is a solid brass body so you know it's the perfect blend of durability and good looks. You'll also be protected from rust and discolouration.
Inside the brass body are ceramic disc cartridges. These are quarter turn so you only need to rotate the handle 90 degrees for full flow, and because they aren't the older style of washer they won't wear out and drip.
As the final cherry on top you'll also receive a brilliant 10 year warranty provided by the manufacturer. 
Features and benefits:
•  Solid brass body is hardwearing for a durable and reliable tap.
•  Stunning brushed metal finish protects you from rust and discolouring.
•  The classic design makes it suitable for any traditional style of sink and kitchen.
•  Perfect for installation on any home plumbing system.
•  Ultra-smooth ceramic disc technology with fluidly operating quarter turn handles.
•  10 year manufacturer warranty also included.  
Flow rates (l/min):
•  0.5 bar: 9.4
•  1.0 bar: 13
•  3.0 bar: 22.5  
Kitchen Mixer Tap
A lot of properties still feature separate taps for hot and cold water. They take up a lot of space around your sink and make it difficult to wash your hands, providing you with scolding hot or freezing cold water. You can easily avoid this with a mixer tap. They connect both your hot and cold feed to the same tap body, using just a single tap hole. They're easy to control with a single lever and allow you to get your desired water temperature each and every time.  

Twin Lever Taps
Finely tuning the perfect water temperature can sometimes be a bit tricky. Adjusting the lever bit by bit is frustrating and unnecessary especially when a twin lever tap can do this for you much more efficiently. One lever controls the hot and the other the cold to bring perfect harmony to your kitchen.  

Reliable Ceramic Cartridges
Are dripping taps starting to drive you crazy? Drip, drip, dripping at all hours of the day? If this sounds familiar then you need to upgrade! This stylish tap contains a ceramic cartridge which provides long-lasting reliability and a smoother quarter-turn action for easier operation. It's never been easier to achieve the temperature and flow you need!  

Solid Brass Body
Is your tap feeling a bit tired and worn out? Is there a serious quality issue? A good, long-lasting tap needs to be made from a good, long-lasting material. And that material is brass. This tap is made from solid brass, precision machined to work flawlessly, and finished to an impeccable standard. It will give your home an expensive, high-quality feel that won't be beaten.
Flexible Tails Included
You get your new tap delivered. You're excited. You open the box only to find out that you're missing the flexible tails to connect it to your plumbing. Frustrating! You can order a new set online or run to a local shop. Either way it's annoying! Thankfully with this tap you don't need to worry as the flexible tails are included. Resume excitement!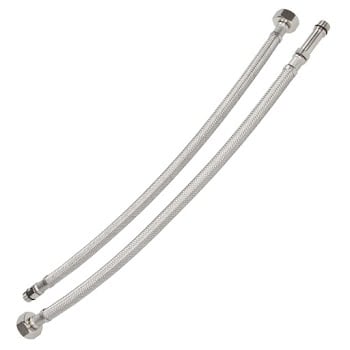 Adjustable Spout
The perfect complement for your kitchen sink is a good, functional tap to go with it. This tap not only looks fantastic but with an adjustable spout you can swivel it back and forth to swill or fill different sink bowls. After all you can never have too much practicality in the kitchen!  

Traditional Styling
Are you aiming for a timeless look in your kitchen but your brassware is overly modern? Maybe your existing taps are traditional in the sense that they haven't looked great since 1982? Either way, with this tap you'll soon forget about your old design faux pas. With it's stunning traditional looks it really could be the epitome of class when you've got it fitted in your kitchen.  

10 Year Guarantee 
High-quality parts and precision engineering put these products together and we want you to be confident of that, so to put your mind at ease we cover you with a 10 year long guarantee.  

Dimensions:

  Sauber Burford Brushed Metal Finish Kitchen Mixer Tap Video

Sauber Baden Pull Out Kitchen Mixer Tap
[isdntekvideo]